This week, FilmDoo is proud to announce the release of At First Glance, the latest in our ever-growing collection of queer short film compilations, offering female-focused stories from the regions of Australia, Spain, Italy, Germany, Norway and France.
To mark the occasion, we thought we'd take a look back at the exciting range of lesbian anthologies we've released over the years. In these compilations, we find a diverse selection of award-winning shorts, showcasing some of the rising talent of international and independent cinema, and the best part is that all of these works are available to watch right here on FilmDoo!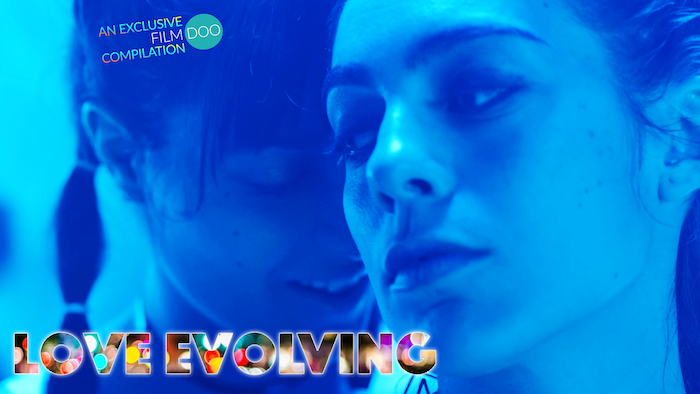 An anxious woman navigates the bustle of modern day Cairo to find her missing lover, a young adult strives for an authentic connection in a future society numbed by alcohol, and two Cold War-era lovers face the consequences of finding romance across political borders.
A vibrant collection of short films – by turns gritty and dreamlike – exploring the changes and complexities of a Love Evolving.
Watch Love Evolving on FilmDoo
Also available on Vimeo.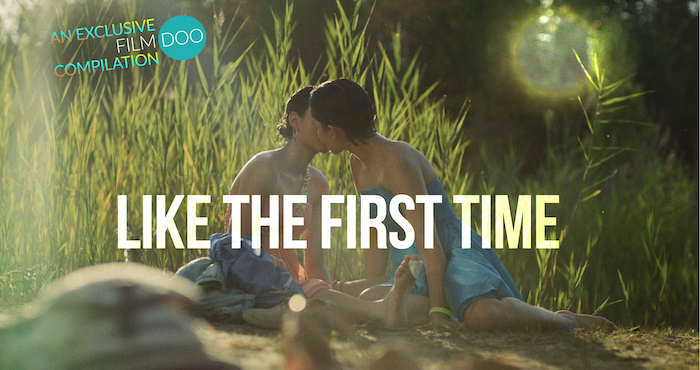 A long walk home sets the scene for young romance, a trip to the beach becomes an opportunity for quiet reflection and self-acceptance, a naïve mother uncovers the secret life of her daughter, and a sullen teenager sees a new side to her mother.
Re-live the journey of young love through six coming-of-age stories exploring chance encounters and hidden longings.
Watch Like the First Time on FilmDoo
Also available on Vimeo, Amazon UK and Amazon US.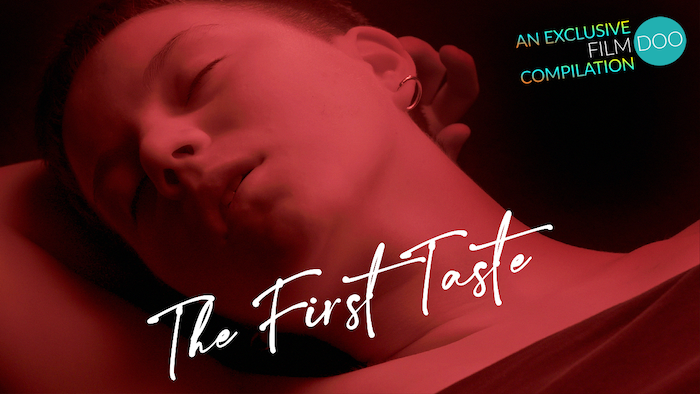 A young journalist receives an immersive introduction to the erotic art of shibari, a non-monogamous couple has their dynamic tested by the arrival of an uninvited guest, and a sleeping stranger on a train sends ripples through the relationship of the man and woman who find her.
An anthology of female-focused shorts exploring six new flavours of love and desire.
Watch The First Taste on FilmDoo
Also available on Vimeo, Amazon UK and Amazon US.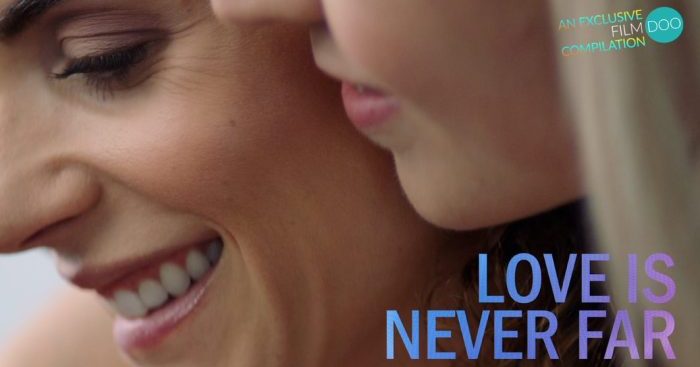 A neglected wife finds hope in a friendly stranger, a single mother finds love in the most unfortunate of places, and a shy young wallflower gets a little closer to knowing what she wants by trying what she doesn't.
A collection of five tender stories that show us, no matter where you are, Love is Never Far.
Watch Love is Never Far on FilmDoo
Also available on Vimeo, Amazon UK and Amazon US.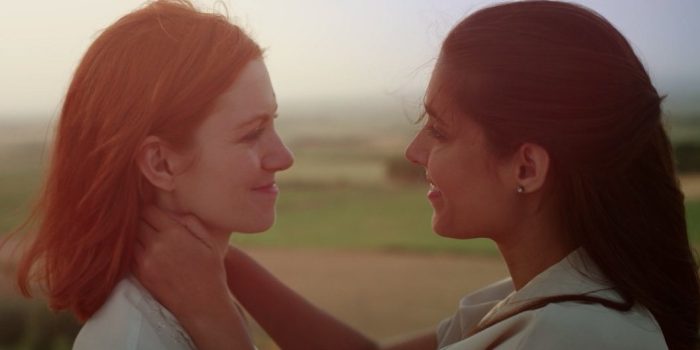 An anxious girl tries to figure out whether or not she's on a first date with a woman she met at a party, the arrival and love story of a beautiful young couple stumps the older local villagers in a small part of Spain, and a bored woman returns to the lake she used to holiday at as a child, to discover someone has been there waiting for her return. An anthology of lesbian-focused shorts where things are rarely as they first seem.
Watch At First Glance on FilmDoo
Also available on Vimeo, Amazon UK and Amazon US.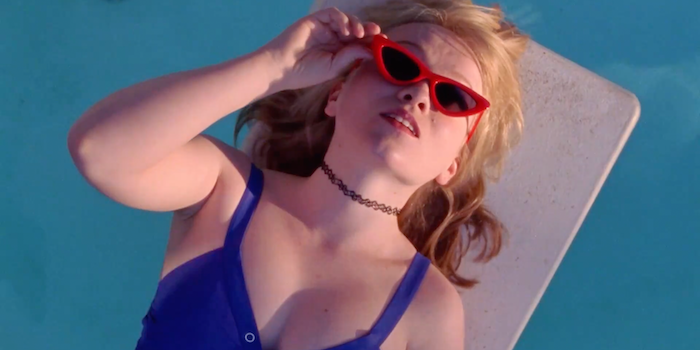 A chance meeting at a swimming pool sparks a change in the life and perspective of a young refugee forever, the morning after the night before has two unfamiliar girls questioning how they awoke in the same bed and a beautiful, carefree adventurer disrupts a homebody's monotonous lifestyle. An anthology of short films led by girls who find their own way in life.
Also available on Vimeo, Amazon UK and Amazon US.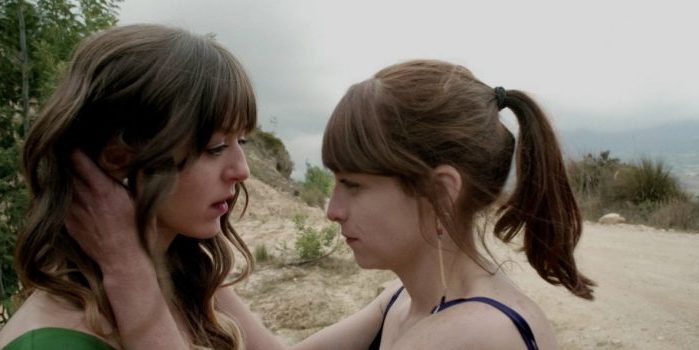 A soon-to-be-bride takes one last night to try something she's always wanted to in Paris, a passionate affair reaches its breaking point in the suburbs of America and two 'friends' finally have a long-postponed conversation about their previous romantic encounter. An anthology of short films from female filmmakers about lesbian and LGBTQIA+ relationships.
Watch Between Me and You on FilmDoo
Also available on Vimeo, Amazon UK and Amazon US.
These women are beguiling mysteries to one another, but not for much longer… A compilation of shorts based around lesbian and female sexuality.
Watch Women in the Dark on FilmDoo
Also available on Vimeo, Amazon UK and Amazon US.
From Germany to Israel, Sweden to Brazil, girls and women face up to their wants and desires – their passions past, and lovers present. A mix of laughter, tears and warm inside feels, come and enjoy these tales and fall in love with the stories upon her lips.
Watch Upon Her Lips: Pure Feels on FilmDoo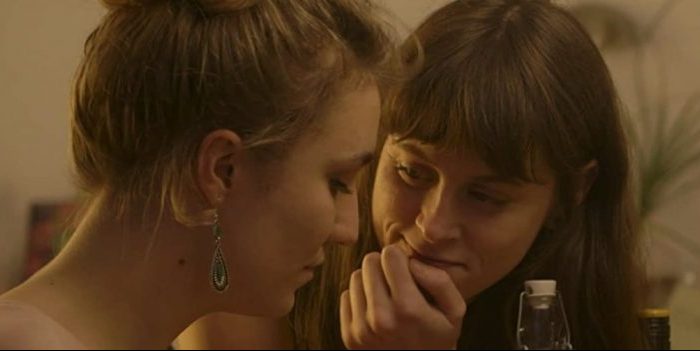 Witness and explore a whole range of emotions and desires in this series of stories about the lesbian experience. From rediscovering a lost parent in Israel, coming of age in rural Appalachia, finding love in friendship through meditation and imagination, to fending off the competition in a boot-making contest in New Mexico – what Upon Her Lips proves is that variety is the spice of life.
Watch Upon Her Lips: Heartbeats on FilmDoo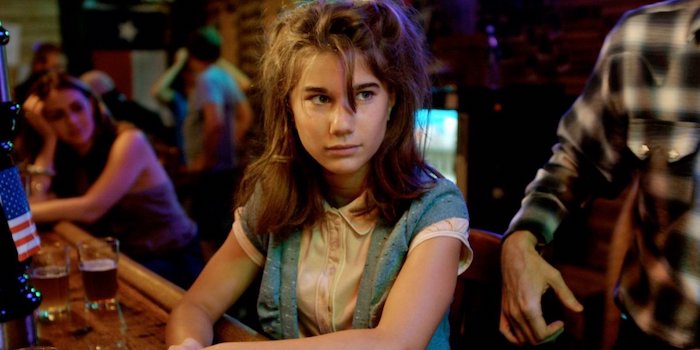 Nine up-and-coming and established female filmmakers bring you a refreshing variety of shorts that look at all aspects of lesbian life and love, from contemporary scenarios of mistaken identity and bedroom hang-ups to period pieces concerning secret rendezvous and forbidden relationships.
Watch Here Come the Girls 1 on FilmDoo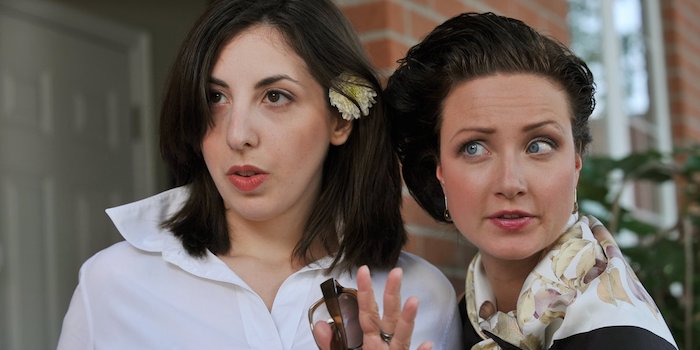 Hot on the high heels of runaway success Here Come The Girls 1, this second compilation of lesbian short films raises the stakes and delivers more bang for your pink buck. Featuring short films from established lesbian film directors from the UK and across the pond, a wide selection of themes and narratives focusing on lesbian romance and women in love are touched upon, from controversial encounters such as rebelling against a homophobic high school prom, first-time follies at the local dyke bar, poisonous potions and gun-totin schoolgirls!
Watch Here Come the Girls 2: Gleeful Desire on FilmDoo
See also: Here Come the Girls 3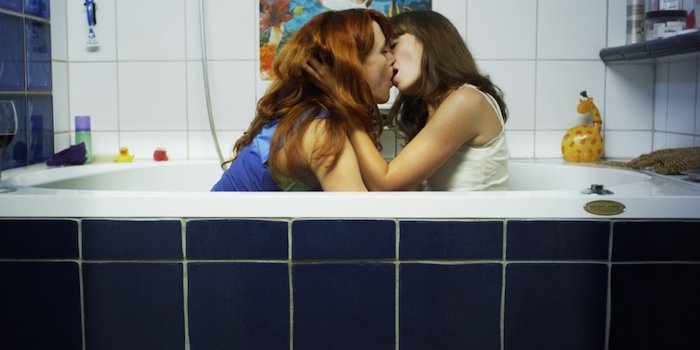 From the distributor that created the world's most successful short film collection, Boys on Film, comes a new series of lesbian short films. Girls on Film features some of the most provocative, engaging and beautiful filmmaking from around the world; featuring award winning lesbian short films and following on from the Here Come the Girls collection, comes a new experience in filmmaking.
Watch Girls On Film: The First Date on FilmDoo
An electric collection of the latest, award-winning lesbian and feminist short films exploring fantasies, dreams, desires, love and transgression. Featuring chance encounters, teenage lust, girl fighters, self-conscious dolls and rampant zombies alongside journeys of self-discovery, the fight for equality and a playful take on stereotypes. Girls on Film 2: Before Dawn takes you on an incredible adventure from America to Australia through Iceland, the UK and Morocco into worlds beyond.
Watch Girls on Film 2: Before Dawn on FilmDoo