By Jessica Duncanson
BFI Flare: London LGBT Film Festival review 
Director: Jakob M. Erwa
Adapted from Andreas Steinhöfel's 1998 novel of the same name, Center of My World (Die Mitte der Welt) revolves around the intimate life of Phil (Louis Hofmann), a gay German teenager. Through his relationships with family and friends, the film lays bare his youthful vulnerability and magnified teenage passion. Phil is a sensitive and warm character who appears to be full of love for whoever accepts it, regardless of various disappointments. Phil has never known his father and refers to this, in addition to the strong women he has been surrounded by, as making the root of his homosexuality a 'stereotype'. Phil's whirlwind teenage romance with the handsome new student at school certainly is a stereotype and his subsequent heartbreak is likely to evoke nostalgic familiarity. In this way, Center of My World does everything a coming-of-age film should.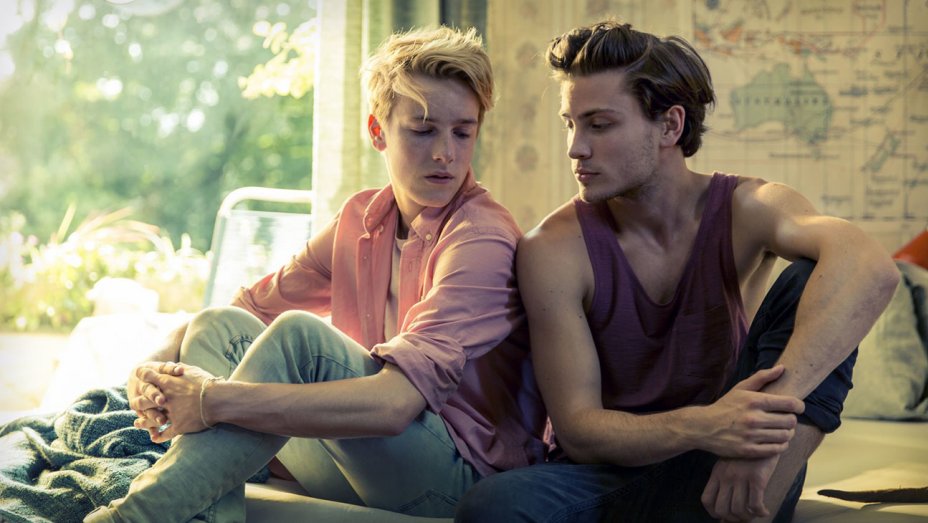 The film opens as Phil returns from camp to find that a storm has devastated the town, both physically and symbolically. His sister, Dianne (Ada Philine Stappenbeck), has become a shadowy recluse and the former tight bond between the two has all but vanished. While Glass (Sabine Timoteo), Phil's mother, has been affected by the storm, she appears vibrant and affectionate towards Phil nonetheless. The darkness that exists between Dianne and Glass remains undisclosed for the bulk of the film; creating a tense and uninhabitable atmosphere for Phil. Through flashback scenes of Phil and Diane's childhood, the film hints at the reason behind Diane's broken connection with her mother. The past lingers ominously among the three family members, stifling them with disdain, regret and misunderstanding.
Aside from Phil's family narrative, the film explores his sexual awakening upon beginning a romantic relationship with new student and childhood interest, Nicholas (Jannik Schümann). While every indication points to the physicality of the relationship, Phil's youthful naivety leads him to become extremely emotionally invested. As expected, this all falls apart when Nicholas's own carefree promiscuity comes to light in a dramatic and devastating way. This revelation destroys Phil's relationships with two of the closest people in his life. While Phil's heartbreak is unfortunate, his comparative privilege (he lives in a literal mansion), can make the story feel a little gratuitous and out-of-touch. If this was in fact the point – if the film was highlighting the absurdity of privileged teen 'tragedy' – the film could be covering interesting ground, however, it seems unlikely that this is the case. Despite this, Louis Hofmann portrays Phil's heartache artfully.
While this whimsical coming-of-age structure may appear a little worn-out, Dianne's character gives the film greater depth. Stappenbeck portrays Dianne with equal amounts of eeriness and omniscience and her performance is particularly standout. For the bulk of the film, we can only speculate as to the reasons behind Dianne's mysterious darkness. Her scornfulness towards Phil and Glass, as well as her arrest for a supposed attack on a young boy, even imply an inherent cruelty. However, when the film's final climax reveals her repression of deep childhood guilt and an unspoken new tragedy, she changes entirely. Despite the film's quick handling of her story's reveal, Dianne manages to become a symbol of perseverance and catharsis.
Center of My World certainly instils a strong sense of déjà vu, both in narrative and style, but remains a solid coming-of-age film nonetheless. While cinema often explores teenage infatuation, betrayal, and growth, the film is a reminder of why these themes remain prevalent. Despite the topic's commonplace, the film still successfully captures the heart-wrenching naivety of young passion.
Center of My World screens Sunday 19th and Tuesday 21st March as part of the BFI Flare: London LGBT Film Festival 2017. Find more info here.
FilmDoo also recommends:

Visit the Center of My World page and help bring it to your region!