In the raw and realist Ekaj, director Cati Gonzalez offers an intimate glimpse into the lives of New York's LGBT outcasts and drifters, with the friendship of teenage runaway Ekaj (Jake Mestre) and hustler Mecca (Badd Idea) at its centre. Through their day-to-day conflicts, Gonzalez delves into issues of homelessness, sexuality, gender, drugs and AIDS, observing elements of tragedy and hope in their stories.
Speaking to FilmDoo, Gonzalez offers some context and perspective on the new drama.
What were your initial goals in starting this project?
When I was initially writing the script I had a Midnight Cowboy feeling in mind, but with "Nuyorican" (New York Puerto Rican) drifters, broke and discarded by society. Once I met Jake (Mestre), I thought he would be perfect for the lead in the film. I already had met another young man that was related to Mike, who was also really beautiful in a rougher way, and I decided that the story would apply to them even better since I had not really seen any hot Puerto Rican "hood boys" that were gay featured in a lot of films.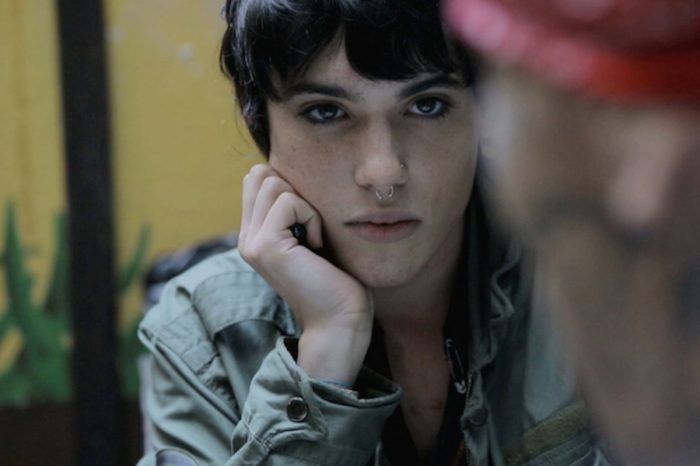 I wrote the part of the older character with AIDS in the film because I had quite a few friends that died of AIDS in the early '90s. I had just started to work as a fashion photographer and everybody I knew was gay. My agent Dennis, who lived on Horatio Street – I used to stay on his couch when I came from Philly to do shoots and he would always say that he was lucky; all his friends were dead but he was lucky because he wouldn't share a needle.
From the very beginning of writing Ekaj, I wanted AIDS to be silent in the film, as if it's so common you don't make a big deal or talk about it every day; it's just there.
How did lead Jake Mestre get involved?
I was a Photographer in Fashion for many years in New York City and I have always liked the real raw beauty in certain people. I found Jake Mestre on Facebook through a friend of a friend's page and fell in love immediately. I rarely go looking for new faces to discover but there was something about his that really stood out to me.
I wanted to make him into a model and took him to several agencies but he was still immature and wasn't quite ready. He would do things like shave his hair or eyebrows off right before castings and was a total disaster. I ended up caring for him instead of dropping him. I had just recently finished writing the script and was about to give up on him but then I thought that he would be the perfect fit for the film, being that he was rebellious like the character, so I cast him. I already had met another young man that was related to my partner Mike. He too was really beautiful but in a different way. Unfortunately, he ended up dropping out in the middle of the film and I had to re-cast. That's when I found Badd Idea. He fit the part perfectly.
Did much improvisation go into the making of Ekaj?
There are a few scenes that are improvised in the film but not as many as most people think. My lead cast never remembered their lines, so I was constantly dictating line by line to them for the most part of filming, which was a challenge.
The characters – and Mecca in particular – seem to retain a sense of humour through some difficult conditions. From your observations, would you say that people in similar circumstances often use humour as a way of coping?
That has always been my experience of bad situations and I have been through many in my life. I find that in the darkest moments someone will say something funny to release pressure from the situation. It happens a lot in real life in my opinion.
The film's realist style and characters remind me of Ben and Joshua Safdie's Heaven Knows What. Do you feel that there has been more of an effort recently to tell these stories of outcasts and homeless people in a way that feels raw, honest and direct?
I don't know, maybe films coming from indie filmmakers are beginning to reflect real life more and more. I have always been into raw realism and the street in my photography (www.catiandmikegonzalezfilms.com) so it was a natural step for me.
Are you working on anything new at the moment?
Yes, I wrote a new feature script, and I'm planning on making a feature documentary also. Don't know which one I will do first right now, still working on that.
Watch Ekaj on FilmDoo