Tragedy and grief take mesmeric form in Courtney Faye Powell's richly beguiling short, The Surf Report. When a young black surfer named K goes mysteriously missing, his lover Freddie seeks answers from a local tarot reader named Vivian who prepares our lost and sorrowful protagonist for an illuminating and fantastical journey into the unknown.
With The Surf Report screening at the East End Film Festival on June 29th as part of the New Queer Visions event, "They Came From the Shadows", Powell discusses her poignant new film.
What made you want to adapt Tate Nova's script?
When we started this film, it was actually Tate Nova who pushed me to direct – I had little say in it! She is my partner in life as well as film and she is a great writer and a determined producer. The film was shot in the Rockaways, a fascinating, urban beach town about an hour by subway from Manhattan, where we were going surfing occasionally. It's such a strange and eerie feeling to be alone out in the water, looking back at a quiet, desolate city from such a distance. We started the project by just looking at the landscape, going from there.
Tate initially wrote a feature script, and as we would go surfing, she was always location scouting and thinking about various ways the film could be shot, until she wrote a short version that we were able to produce. I loved how she mixed genres and characters, abstract and narrative, and urban and natural into a script any director would be thrilled to get their hands on. She created this powerful, mystical story that could act as a container for our feelings about the city. We wanted to tell a love story, a death story, a story about that space in between, where the living communicate with the dead through memory, and we wanted to speak against the loss of black lives in our city that feels even more urgent now than it did when she wrote the script.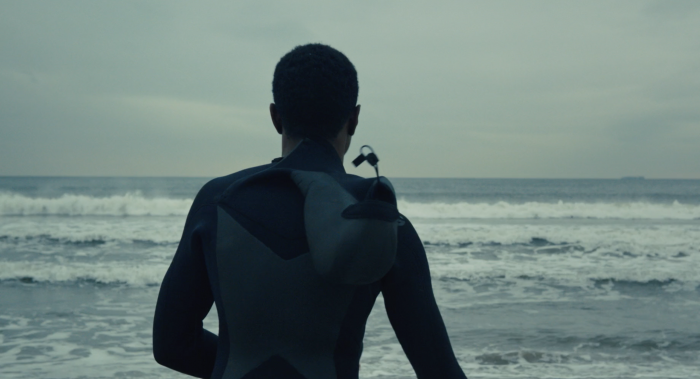 Who would you say were some of your creative influences for The Surf Report?
Preparing for the shoot, I watched and thought about films from Michelangelo Antonioni, Apitchatpong Weerasethakul, Agnes Varda, and Isaac Julien. Our incredible DP, Wyatt Garfield, introduced me to Nuri Bilge Ceylan's films, which I hadn't seen before, and were a great help.
I feel the film develops an intriguing blend of the realist and the mystical. Do you think, in some ways, real life can often embody this same mixture?
I think of things like tarot and divining as a way people process the chaos of life and use symbology to speak to themselves and to their memories of the dead. I don't think of myself as an intensely spiritual person, but I think there's therapeutic value and beauty in ritual across cultures, and I've talked to and honored lost loved ones in a variety of earthly actions. I don't expect that those actions cross into a supernatural world, but the process works internally and mentally. Jodorowsky's Holy Mountain and Kenneth Anger's Lucifer Rising are great to watch to see these otherworldly, mystical spaces, that highlight the insane, totally absurd world of organized religion, while ironically drawing you in with their seductive visuals. We wanted Vivian's "tarot lair" to feel that way – a space totally out of time existing within the real world.
Was it important to you that much of the film was left ambiguous so that audiences could respond in their own ways?
I think it speaks to the nature of closure, in many ways people move on and live their lives, but we carry the people we have lost until we leave as well. There is no end, in a way, just as the ocean keeps coming in, grief hits you again at times you least expect it. We wanted people to sit with their own feelings and memories within this space.
We also wanted to open up a conversation about police state oppression of black people to white LGBT audiences who may not talk about these issues as much as we need to. I think that ambiguity is a way to lead people into discussion and unlock their thinking and emotions more than a direct appeal.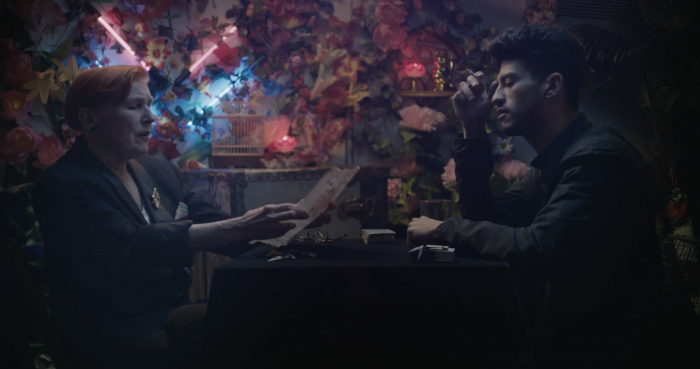 By the end of the film, do you feel that Freddie is on his way to attaining the closure he needs or is he doomed to continue in his state of anguish?
I think he does find closure at the end of the film, by his own making. Vivian is a conduit, and her mystical help gives him that dreamed-of chance to say goodbye, but it's really all happening internally as he processes K's death.
What's next for you?
I just finished shooting another short about a newscaster preparing her segment the night before a deadly clash between Communist union organizers and the Ku Klux Klan at a rally in Greensboro, NC in 1979. I am working on a feature length project about the same events and on the lighter side I am working on a video project with the queer ballet company, Ballez.
The Surf Report screens at the East End Film Festival on June 29th as part of the New Queer Visions event, "They Came From the Shadows". Find more info here.
Banner image by Bex Wade