"South Africa had their Blaxploitation Era and it started with a 1971 film called Joe Bullet"
DAARAC
Today sees the long overdue interna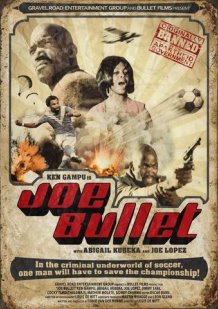 tional release of Joe Bullet, one of the first South African films to feature an all-African cast. The Louis de Witt crime flick, produced in 1971 and released in 1973, was the first of roughly 400 movies produced by famed Apartheid-era filmmaker Tonie van der Merwe.
The Blaxploitation-inspired story of crime and corruption that sees its eponymous hero go head-to-head with a mysterious gangster threatening a local soccer team, Joe Bullet was banned by the Apartheid government after just two screenings and was long thought lost to time. It was only in 2013 that a print of the film was rediscovered in a garage and digitally restored by Gravel Road Distribution Group.
Distributed via Rushlake Media, the Joe Bullet release also comes with the support of new FilmDoo partner, the Department of Afro American Research Arts Culture (DAARAC). "Watching Joe Bullet kinda puts you in that time period," DAARAC creator James Spinks comments, "How were they thinking? How would they go about life? So it was very entertaining."
This historically significant work is one of a selection of African films from Rushlake Media that are available internationally on FilmDoo from Thursday the 29th June.