By William Page
FilmDoo Co-founder
"Warren, what did you do?!"
Today the world woke to a flurry of social media activity around last night's Academy Awards. The evening saw multiple honours go to Damien Chazelle's La La Land and Barry Jenkins' Moonlight but, as is usually the case, the evening's winners and losers consisted of not just the recipients of these awards but also the people who presented them.
In what will no doubt be remembered years from now as one of the great gaffes in Oscar history, actors Faye Dunaway and Warren Beatty mistakenly announced the Academy Award for Best Picture as Chazelle's whimsical ode to classic musicals, forcing La La Land producer Jordon Horowitz to step in and clarify that the true winner was Barry Jenkins' story of a young black man's journey into adulthood.
Such awkward incidents are nothing new to the Academy. In 1934, Frank Capra notoriously ran to the podium to collect his award for Best Director after presenter Will Rogers announced, "Come and get it, Frank!" only to have to turn around and walk despondently back to his seat once it was established that Rogers was actually referring to fellow nominee Frank Lloyd. "I wish I could have crawled under the rug like a miserable worm," Capra later confessed.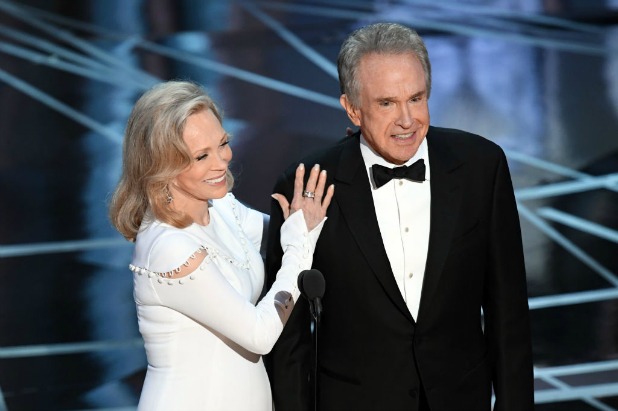 While it's easy to imagine Beatty and Dunaway feeling something very similar, the real blunder of the evening most likely happened backstage. As a flustered Warren Beatty later explained, "I opened the envelope and it said Emma Stone, La La Land." PricewaterhouseCoopers, the official accountant of the Academy Awards, has now admitted that Beatty and Dunaway were given the envelope for Stone's Best Actress win, which was announced just moments earlier, making the look of confusion on Beatty's face when he first opened the envelope seem rather justified.
Still, when the story is told again in the midst of next year's award season, it will no doubt be the Bonnie and Clyde co-stars who are the face of this error. We all remember John Travolta introducing Frozen star Idina Menzel as 'the wickedly talented Adele Dazeem' and while Travolta later spoke of the confusion caused by the phonetic spelling on his Teleprompter, it wasn't the Oscar ceremony's production team who became the punchline of every joke that followed (granted, Travolta only has himself to blame for the uncomfortable face-touching that characterised his second, much-ridiculed meeting with Menzel).
With every new Twitter trend and popular meme that emerges in the wake of such bloopers, it's important that we don't let such comical slip-ups overshadow the cinema that these award shows are supposed to be celebrating. To see a small $1.5m budget film such as Moonlight, which deals with complex themes of race, sexuality and isolation, winning the top prize highlights how far the Academy Awards have come in recent years.
Nonetheless, widely circulated flubs like these can serve as amusing reminders that even at the highest, most prestigious levels of the film industry, mistakes can and will happen.