By Sharon Calingasan
Directed by Susanna Salonen
Funny how a two-week vacation can change and bring about so many things: convictions, prejudices, beliefs and feelings.
Susanna Salonen's Patong Girl tells of the Schroeders' last holiday together before the two sons venture off on their own. They embark on a two-week vacation to Patong on the island of Phuket, Thailand. A rather uneventful and rainy Christmas holiday takes on a colorful twist for Felix, the youngest son, as he discovers love in the company of a vacationing lady named Fai. Their first encounter is due to an unpleasant incident wherein Fai is doused with water by an irritated foreigner because she doesn't want to talk to him – an incident that unfolds to the tune of "Love me Tender" sung by the bar's crooner. As their friendship and romance unfolds, it is met with resistance and negativity from the family, most especially the mother. Over-protective as she is, Annegret Schroeder has internal conflicts of her own; the need to be understood and loved by her husband and the need to be understood by her sons.
Patong Girl is Susanna Salonen's first foray into feature films and, for a debut, it is generally commendable. The premise holds much promise and a myriad of issues are presented: a perfectly imperfect family, a mother's over-protectiveness, a husband's seeming disregard for his wife, a wife's need for affection and intimacy, transgenderism, sex tourism and a two-timing boyfriend, among others.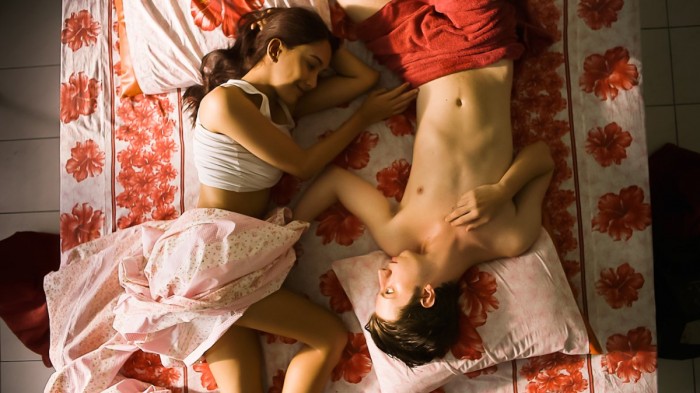 The negativity on the side of the family towards Fai – whom they suspect as a prostitute – pales to when Felix is confronted by the truth that Fai 'was born a male', a 'lady-boy', a transgender. This is still quite a rarity among Europeans in these times, particularly in contrast to Thailand where transgender people are widely accepted (in part, because it is said to be tolerated by the local Buddhist faith). After the reality is revealed, viewers become increasingly inquisitive as to how the story will end. Adding to this is the issue of the mother, who chooses to stay in Thailand and go after Felix. She is not only over-protective but doesn't approve of Fai for her son.
The final scene, where Felix and Fai are talking right after coming out from a hospital gives clues of future things ahead, with Felix asking Fai if she would like to go to Germany. This scene unfolds during the darkness and stillness of the night, with nothing in view but the light from street lamps. It is also interesting to note that, after an earlier accusation of her being a racist, the mother Annegret seems to mellow down in her treatment towards Fai and goes on to tell Fai that her son really likes her, though also discourages her from coming to Germany, warning her, "there are Nazis there".
The cast of Patong Girl is an interesting mix of German, French, American and Thai talent. Max Mauff as Felix is a gifted actor who performs with a natural innocence and just a dash of angst and rebellion. Victoria Trauttmansdorff as Annegret Schroeder, Felix's mother, is cunningly gritty for her role, stubborn, picky yet internally soft and pained. There is a strong comedic side to her maternal character, and Trauttmansdorff's intense features, especially the eyes, are definitely a further asset. Aisawanya Areyawattana as Fai is outstanding. There is a sensitivity and gentleness in her that viewers can sense. Her fragile nature and idealism makes Fai a unique character, and her genuine love and affection for Felix, despite his initial outrage at her sexual identity and orientation, is very admirable.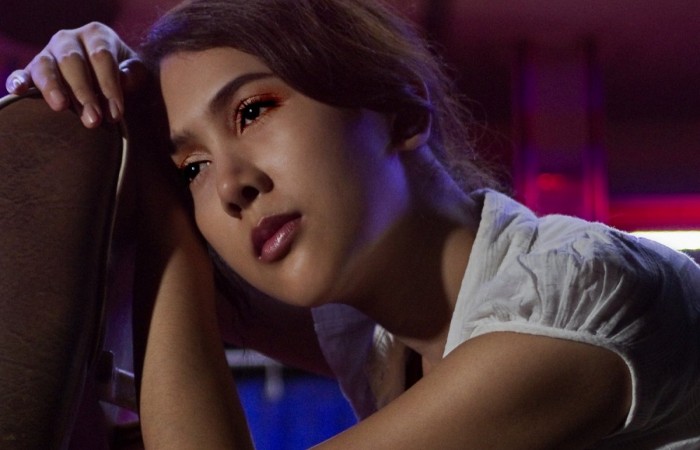 These three central characters alone are enough to keep things very interesting but the supporting cast also contribute worthy performances. At least three minor characters deserve a shout-out in this film: the diving instructor with whom Annegret becomes intimate, played by Gigi Velicitat; Thanyarat Praditthaen as Fai's cousin Kip; and Bonnie Zellerbach, the backpacker and bus passenger who attempts to mediate between Fai and Felix as they argue while on board a bus to Isan. Despite their minor roles, these actors managed to deliver laudable performances that stick in the mind. Worthy of mention, too, is the cameo role (as Fai's father) from seasoned actor Vithaya Pansringarm, notable for films like Mindfulness and Murder, The Last Executioner and Only God Forgives.
Salonen's enticing, impressive imagery makes full use of Thailand's natural beauty (particularly its sandy beaches) and local scenery, while also including footage of the red districts. The film's musical scoring makes full use of upbeat and catchy compositions, namely Burhan Ocal's "Bugu Jazz" and the aforementioned "Love Me Tender" – the latter of which is played more than once, with both positive and negative results, at least for Felix. The Elvis number serves as the perfect mood music when Felix becomes attracted to Fai, and later becomes an excuse for him to flare up after he learns of Fai's well-kept secret.
Director Susana Salonen sure knows how to strike a chord with this film and, through it, she tries to bring an awareness of transgenderism, gender inequality, relationships and family, while also weighing in on the misunderstanding that people of present society still hold when it comes to inter-cultural romance and relationships. She may or may not have succeeded in reshaping people's views but her film, in its entirety, gives viewers a clearer look at significant issues that are best tackled head on, with an open mind and a sense of understanding.
Watch Patong Girl on FilmDoo.com. (Thailand only)
FilmDoo Also Recommends: