By Francesco Cerniglia
Directed by Paul Tunge
Despite a tight run time of 73 minutes and a rather succinct storyline with only two characters, Norwegian filmmaker Paul Tunge manages to keep things moving along at the pace of a morphine-dripping IV line and, by doing so, he builds up intrigue until the cathartic book-ending. Demning is a taut relationship drama with lyrical echoes straight out of a Terrence Malick film, and it powerfully relies on crafting atmosphere with moody cinematography and an inspired turn by a couple of well-cast actors.
The film's premise revolves around two boys' equally intense albeit different responses to a one-night-stand. However, Tunge remains ambiguous for a little while on the nature of the co-protagonists' rapport. Starting the narrative in medias res, Demning opens with a captivating POV shot from the interior of a cable cart going up a mountain. A streamlined piano score accompanies the visuals, setting the tone for what we're about to witness and occasionally returning in sparse form to underline the melancholia pervading the events that unfold on screen.
As J (Jørgen Hausberg Nilsen) and Jo (Joachim Kvamme) arrive at the top, backpacks on their shoulders and smiles on their faces, we promptly think that they might just be two best buddies on a camping trip. However, scattered conversations and Jo's journal entries rendered through introspective voiceover slowly reveal that these two young men have spent the night together after meeting in a bar. Jo has agreed to follow J on an impromptu hike up the mountains, intrigued by such an unconventional and spontaneous approach to the awkward morning after casual sex.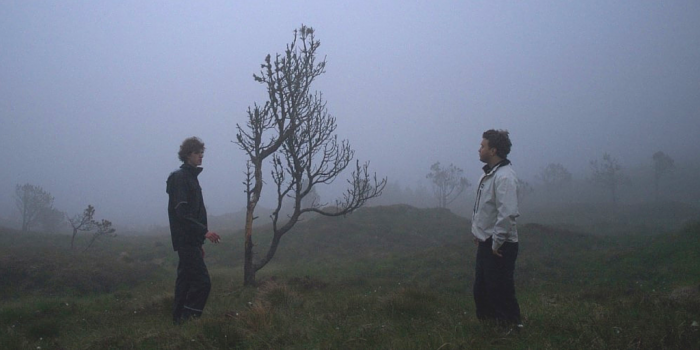 There isn't much to the plot – Tunge's sophomore effort is an intense character study that explores two complex souls who found each other, apparently looking for the same thing, although their complete opposite backgrounds and approaches to their sexual identities lead to something neither of them had expected from this encounter. To avoid spoiling the few details we learn about their lives and the repercussions on their freshly formed relationship, suffice to say that J is crippled by self-loathing whilst Jo is overwhelmed with the need for true love.
The two young actors aptly capture their respective characters' psyches and nuanced emotional state as J and Jo try to understand each other's hopes and fears. But as they spend more time together and dig deeper into their souls, the boys begin to wonder if what they'd initially seen and liked in one another is actually far from who they really are. That's something extremely relatable for anyone who's ever been on a date, let alone anyone who's been involved in a one night stand turned disastrous, rather than the beginning of an explorative dating phase.
The cinematic tools Tunge uses to achieve his goal of getting us inside the hearts and minds of his co-protagonists are indie-film simple but extremely effective. The Norwegian mountains' broody landscape with its grey bleakness amplifies and emphasises these lads' inner turmoil and the rising tension between them. The soundscape is vivid and, given the many silences at play during this journey of self-discovery and mutual investigation, Mother Nature becomes the third character in the picture and at times feels claustrophobic despite the open space. The filmmaker doesn't tie things with a neatly wrapped bow, clearly aiming to leave the audience unsettled by the matters at hand and we wouldn't have it any other way.
To bring Demning to your region, cast your DooVote here!
Recommended Viewing on FilmDoo:
(UK & Ireland only)