Director: Samuel Kishi
There's so much to love about Somos Mari Pepa (We Are Mari Pepa), the feature film debut of Mexican filmmaker Samuel Kishi, developed off of his award winning short film Mari Pepa in what's a common transition for independent filmmakers. This coming of age tale follows four teenage friends over a summer that will change their lives forever as they navigate the uncharted waters of what it means to grow up whilst trying to retain the carefree spirit of adolescence and coping with their hard-to-time sexual desires.
Mari Pepa, a combo of marijuana and a slang word for female genitalia, is the name of their punk-rock band and despite having only written one original song, they dream of participating in the local 'Battle of the Bands'. The song in question, aptly titled "I wanna cum in your face", is basically a hymn to the bustling hormonal energy of youth that's hard to contain and yet often times repressed by societal norms or simply one's own insecurities. It sums up in the end what the film is all about and the filmmaker does a marvellous job at handling the material with authenticity, offering a genuine portrait of teenage wasteland in Guadalajara, Mexico.
At the core, this is the story of a beautiful friendship tested by the ineluctable fate of growing up, and the filmmaker takes time to give us a bit of background on each one of these four friends and their personal struggles. Yet the main focus is Alex (Alejandro Gallardo), the guitar player and in the end, the only one who's truly serious about pursuing his musical passion. He's got an evident artistic inclination and is the actual dreamer of the group, who's often taking photos and filming videos with his crappy digital photo camera.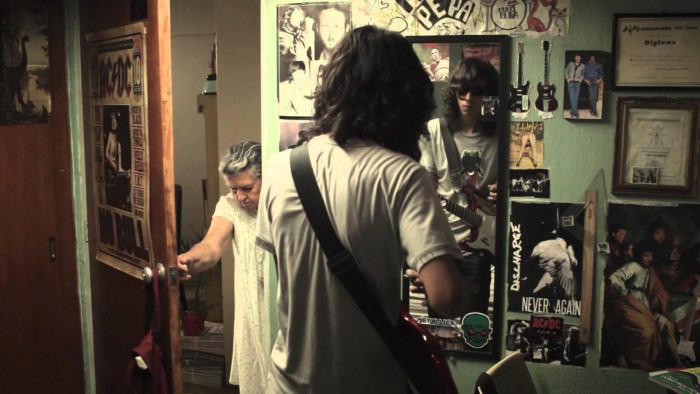 The other 'muchachos' are more of your laid back teenagers constantly distracted by other things in their lives. Bolter (Arnold Ramí­rez), the singer who can't remember the lyrics no matter how simple and sparse they are, and who keeps showing off about his alleged sex life, is often dragged back into family life. Rafa (Rafael Andrade), the bass player, is the only one with a recently scored girlfriend who has him on a leash and keeps texting and calling him whilst he's rehearsing with the band. Last but not least there's Moy (Moisés Galindo), the drummer, constantly hustled by his family about college applications, and who has to eventually get a summer job in order to not be kicked out of the house.
Alex is the only one we see constantly practicing his guitar, trying hard to get better and it's no surprise since music is the only escape from the bleakness of his daily life. He lives with his beloved grandma who seems to be showing increasing signs of a deteriorating health, he can't find a job and he's too shy to approach any girl hence all he's left with is porn plus longing sighs and awkward looks whenever he bumps into girls or even worse sees them making out with other boys.
The cast is wonderful all the way through, giving believable performances in naturalistic fashion and credit of course goes to the filmmaker's ability to draw this genuine vibe of authenticity out of his four stars and the supporting players as well. After all, Kishi himself has stated how this film is a tribute to his grandmother, the neighbourhood where he grew up, his friends and his 'multiple failed rock bands'. And there's no denying he thoroughly succeeds at capturing that feeling of nostalgia that comes with reminiscing about one's adolescence and its related challenges.
Mexico keeps birthing interesting filmmaking talent that often transitions to working in Tinsel Town – and successfully so, as the recent Oscar triumphs of Alejandro Gonzalez Iñarritu and Alfonso Cuarón attest. It wouldn't be surprising to hear Kishi's name associated with Hollywood at some point but even if he were to make a decent career out of independent cinema in his homeland, he registers as the kind of filmmaker with the right sensibilities to captivate audiences' hearts and minds for a long time.
Recommended Viewing on FilmDoo:
(UK & Ireland only)