By David Pountain
Directors: Jonathan Yi and Michael Haertlein
Transcending the limitations of the well-worn rockumentary genre, Jonathan Yi and Michael Haertlein's Mad Tiger draws you in with its promises of fun, episodic times with a joyously goofy band before organically evolving into one of the most poignant studies of the artistic ego to hit screens in quite some time. Taking a tumultuous period in the near twenty year run of New York-based Japanese cult act Peelander-Z, Mad Tiger empathetically captures and dissects the insecurities, ambitions and impossible standards of band leader Peelander Yellow, revealing the bitterness and perpetual dissatisfaction that can lie behind even the silliest of visions.
While 'punk' is a term that has come to mean many things over the years, in the case of Peelander-Z it may best be thought of as the expression of one's inner weirdness. Peelander Yellow, aka Kengo, willingly admits that there are more talented bands than his in America but his live shows still draw a following thanks to their wild, often dangerous theatrics, flamboyant costumes and some of the loudest hair you'll ever see. But while bassist Peelander Red may be the craziest one of them all (seen at one point hanging upside down from the ceiling while he plays), offstage he appears calm, reasonable and even a little shy. Such performances are cathartic displays of absurdity but there is an element of character-crafting to the theatrical personas of the members, with much of the creative construction being done by a passionate Kengo.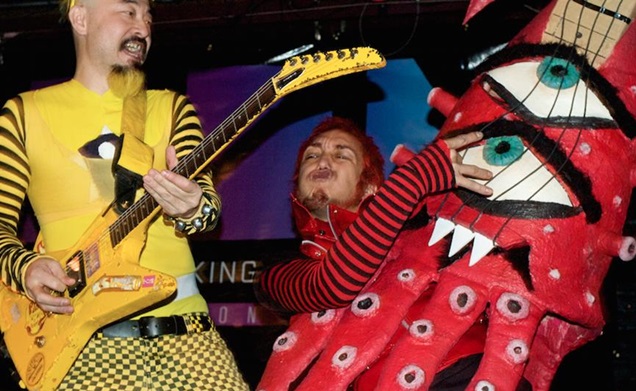 Although this controlling and obsessive side of Kengo's personality is hinted at early in the film, it only truly comes to the forefront once Red quits the band, the first step in what soon threatens to be the complete dissolution of Kengo's project and vision. Red's final performance is a touching early highlight of the film in which the bassist appears onstage devoid of the trademark colour that had previously engulfed his life. "He's not Peelander Red. He's Kotaro Tsukada!" Yellow nicely summarises. Yet while Kotaro has comfortably left his stage name, colour, band and crazy persona behind for the sake of returning to reality to raise a family, Kengo remains wholly dedicated to his art, with even his own wife being part of this commitment as keyboardist Peelander Pink.
The tense times that follow Red's departure as Kengo tries to rebuild their act reveals the staunch, sometimes alienating perfectionism to which he holds himself and often the people around him. Seemingly plagued by ongoing feelings of failure and disappointment, Kengo confesses to having suicidal thoughts and recalls, back when painting was his main focus, how he once destroyed 300 of his own works out of discontent. Aging and mortality slowly creep into the film's second half as surprising – and surprisingly appropriate – fields of contemplation, arising almost incidentally from Kengo's ongoing lack of fulfilment as another of his artistic endeavours risks grinding to a halt. "I'm 45 years old!" Yellow proclaims during a typically energetic photo shoot. The self-deprecating humour seems to mask a real worry that he may be past his physical and creative prime.
Make no mistake, Mad Tiger certainly delivers its share of the funny, delirious, hard-rocking spectacles that its quirky subject would imply. But Yi and Haertlein clearly realise that there's so much more to probe beneath the lively surface and, moreover, they know when to turn things down and amp things up in the suitable measures to get to this emotional, philosophical and psychological meat. This balance continues right into the bittersweet final minutes where things close out with neither a defiant rebel yell nor a sad admission of defeat but a note of quiet self-examination as Kengo sits at a crossroads between a humbling reality and the all-encompassing bubble of his art. It's an appropriately ambiguous conclusion to a deeply human film that asks far bigger questions than you'd think anything featuring more than one scene of a man on a unicycle in a giant squid costume ever could.
FilmDoo Also Recommends: