Director: Terence Davies
London Film Festival 2021 review
Mortality permeates the air in Benediction, a powerfully sombre work where each moment seems to mourn its own passing. As with 2016's excellent Emily Dickinson biopic A Quiet Passion, the latest feature from Terence Davies concerns itself with the life of a poet, and while Englishman Siegfried Sassoon's string of affairs and eventual marriage may place his story in contrast to that of the famously secluded Dickinson, the former's journey is no less burdened by the weight of the passing years.
The national and personal trauma of the First World War ripples through the length of Benediction, just as it is manifested in Sassoon's poems. After speaking out against the war, Sassoon (played in his younger years by Jack Lowden and in his later years by Peter Capaldi) is admitted to a military psychiatric hospital where he meets fellow patient and poet Wilfred Owen (Matthew Tennyson). Though a palpable bond develops between the two of them, the pair are unable to act upon their feelings without drawing suspicion, and eventually Owen is sent back to the front line where he is killed just one week before the end of the war.
As with so many of the details of Sassoon's story, his relationship with Owen leaves a lingering feeling of loss that provides context to his various postwar trysts with a series of mostly vain, callous and artistically inclined young men, including actor Ivor Novello (Jeremy Irvine) and famed socialite Stephen Tennant (Calam Lynch).
Davies has long proven himself to be a master at turning staginess into a strength, enclosing his characters in fastidiously designed sets that evoke both the predetermined nature of his period dramas and the social, cultural and emotional pressures that weigh upon the characters at any given moment. This sense of control has frequently extended to his dialogue, and this is especially true of the middle stretch of Benediction, where lovers and ex-lovers snipe at each other with elegantly savage lines that are dense with wit and implication.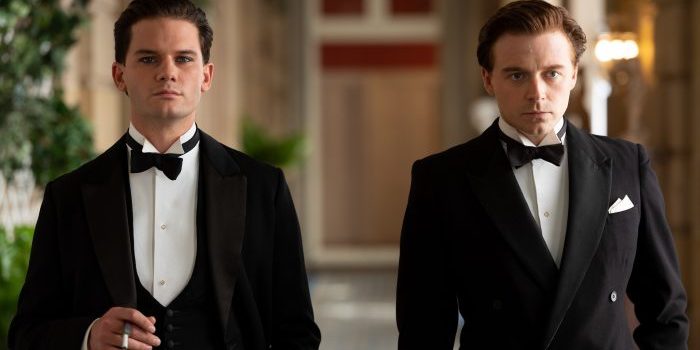 Savouring the complexity and precision of Davies' dialogue can often be a pleasure in its own right, but the sly indirectness of Benediction's most spiteful putdowns also reflects the careful, secretive manner in which Sassoon and his partners must conduct themselves. Stifled by the cultural norms and prejudices of the time, these men must learn to form and abandon their attachments quickly, often impulsively, or attempt to bottle up their feelings entirely. In the cruelty and exactness of their words, they reveal the loneliness and fear that they try so hard to hide.
It's ironic that while Sassoon's reality seems so emotionally oppressive, the film itself moves so freely, punctuating the drama with grainy historical footage and still images, along with the occasional stylistic detour into strange and fantastical sequences. The boundaries of time are especially blurry, as Benediction transitions seamlessly back and forth between the chapters of Sassoon's life, sometimes drawing on digital effects to erase the decades-long distance between moments and eras.
Yet, as with so many Davies characters before them, time might be the greatest enemy of Sassoon and his contemporaries. It challenges their vanity by revealing to them a world they no longer understand and a face in the mirror that they no longer recognise. And while the past seems ever present for Sassoon in his later years, it also feels torturously inaccessible and tainted with regret. In this regard, Benediction doesn't exactly break the mould for the Terence Davies filmography but that hardly makes it any less crushing to experience, channeling the dread and impotence of watching an old way of life and a former self inevitably recede into history until nothing but memories remain.
Benediction screened as part of the 2021 London Film Festival.