Director: Julia Ducournau
London Film Festival 2021 review
In their most visceral moments, Julia Ducournau's films deliver the kind of violence and grotesquerie that can make a seasoned horror fan feel human again, proving that even the last half-century of slasher cinema and torture porn couldn't entirely exhaust our capacity for disgust.
In 2016's Raw, she achieved this through skin-crawling body horror and messy, awkward acts of cannibalism from a young woman still coming to grips with her own bloodlust. Ducournau's new film, Titane, starts off in similar territory – albeit, with a main character more in touch with her own dangerous impulses – only now, these bloody, sticky matters of the flesh are intermingled with new and coldly metallic textures, be it a woman's nipple piercing or the sleek exterior of a pimped out automobile. From here, Titane builds into a strange and extravagant exploration of trauma and identity that finds surprising humanity in a life of artifice and delusion.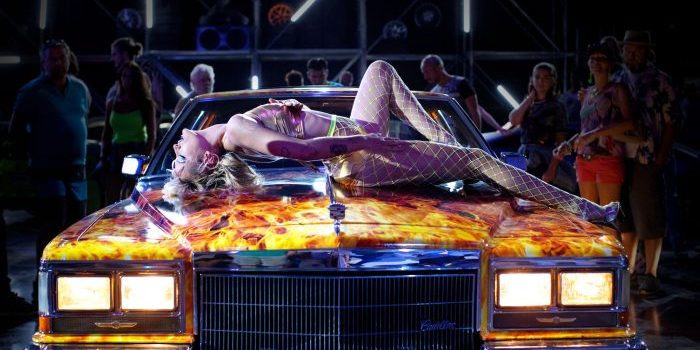 The influence of David Cronenberg can be felt through most of Titane's runtime, but his presence is particularly palpable in the film's opening third, which often feels like a darkly comic homage to the director's 1996 feature Crash. Much like the protagonist of Cronenberg's masterwork and the J. G. Ballard novel on which it's based, Titane's antiheroine Alexia (Agathe Rousselle) has a fetish for cars that's unlocked by a crash. In Ducournau's film, however, the relation between flesh and metal is rendered far more literal.
Following the accident, a pre-teen Alexia is rushed to hospital where a titanium plate is embedded in her skull. After she's released from hospital, Alexia immediately runs past her parents and straight to the family car, which she embraces and passionately kisses. In a later scene, a now-grown Alexia literally has sex with a sedan, which somehow manages to impregnate her with a mysterious metal offspring. Even in a film as perverse as Cronenberg's, the above scenes would've felt excessive, and there's a case to be made that Ducournau is simply pulling the underlying ideas of Crash to the surface in surreal and relatively ambiguity-free form.
But if Titane's symbolism doesn't always leave a lot to the imagination, this obviousness is partially justified by the character of Alexia herself, who, as we soon learn, has grown up to be a serial killer with a habit of stabbing strangers and sexual partners through the head with a hairpin. Given the extreme nature of Alexia's worldview and mindset, perhaps it only figures that the reality she inhabits and the life she leads have the otherworldly intensity to match.
That being said, it also helps that Ducournau's imagery, even at its most on-the-nose, remains vibrant and virtuosic in its execution. One early highlight sees Alexia at her job, dancing erotically atop the aforementioned sedan, thrusting against the hood and licking the paintwork (Is it too early to call oral fixation a Ducournau trademark?). It's a dazzling sequence, elevated all the more by its final pan away from Alexia to the dimly lit expanse of the motor show venue. In this one manoeuvre, Ducournau both reveals Alexia's predominantly male crowd of spectators and highlights their irrelevance. Mentally, Alexia is in her own world, removed from her surroundings as she grinds against the car in a poetic and oddly harmonious display of fetishised trauma.
Alexia's far gone state at this stage could've easily been treated as the troubling end point of a deranged character arc but instead, Titane is only just getting started. About a third of the way in, Alexia's story takes a hard pivot as her murderous actions finally catch up with her and she's forced to go on the run. Her salvation of sorts comes in the form of Vincent (Vincent Lindon), a distraught father unable to move on from the disappearance of his seven-year-old son Adrien ten years prior. When Alexia takes the drastic measure of posing as Adrien in order to take shelter in Vincent's home, she finds herself drawn into a new family dynamic, shaped by its own dark history, while the metal life-form growing inside of her serves as an ongoing reminder of her past actions and former self.
Though the first third of Titane may pack more trailer-friendly imagery and attention-grabbing weirdness than what follows, the final two thirds ultimately resonate more by way of the story's central relationship. After leading a life of violent extremes, Alexia's new role as Adrien serves in some ways as a return to normalcy. And while her relationship with Vincent is based on a lie, the emotional bond they come to develop feels touchingly genuine. Their life together is a mutually beneficial delusion, allowing each of them to stand in for the people and connections that the other is missing.
Given the story's sharp narrative turn into family drama part of the way through, Titane may come off a little disjointed, at least on first viewing. Nonetheless, it seems thematically appropriate that the work should undergo this sudden shape-shift at the exact point that the main character is forced into an identity change of her own. If a human being is a machine akin to a car, then Ducournau's film takes anarchic pleasure in testing just how many modifications and upgrades these fleshy forms are capable of, carving out its own endearingly depraved identity in the process. The director may once again find disturbing new ways to penetrate and reshape the human body, but you could almost swear there's some optimism to be found in this capacity for change.
Titane receives its UK premiere on October 9th as part of the 2021 London Film Festival.