Director: Mahmoud Ghaffari
From its silent opening scene of a young woman weeping as she fiercely combs out her long dark hair (an intensely watchable Shabnam Akhlaghi, her performance both febrile and contained), Mahmoud Ghaffari's exploration of intersectionalities in modern-day Iran captures the attention and doesn't let up until the final, ambiguous frame. Despite a somewhat unsatisfactory denouement, this documentary-style feature is a fascinating social commentary that exposes far more than just the world of women's karate.
The film introduces three young female karatekas, identified as champions by their IR IRAN-emblazoned uniforms in the second scene. The action of a practice session is filmed against the light, reducing the women to near silhouettes. All we hear is their feet – light on the mat as they dance like boxers – and the vocal sounds that accompany their feints and parries.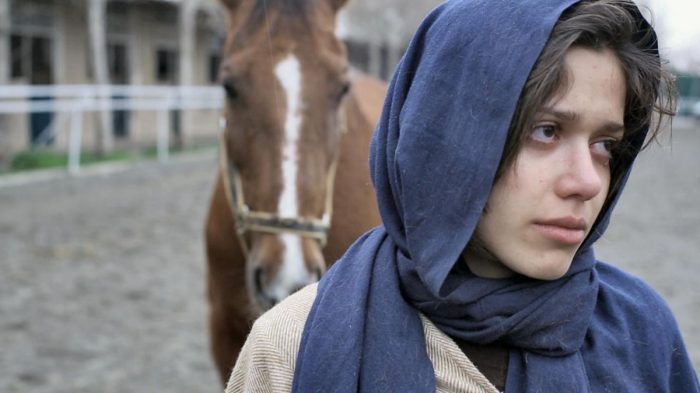 As the story unfolds, it becomes clear that all three are deaf and communicate in Persian sign language. They are indeed champions, living together in Tehran in athlete accommodation while preparing for the world competition in Germany in three days' time. With the audience accompanying the protagonists over this challenging period, their quest to be allowed to participate provides challenging insight into the constraints on women and minorities in Iran. There's clearly more at stake in this story than simply having the chance to compete.
Multi-talented writer/director Mahmoud Ghaffari, who also serves here as editor and producer, makes an interesting choice not to subtitle the signing sequences, possibly as a way to remind the audience what it is like to have difficulty understanding much of what is going on around you. Nothing is lost as a result of this decision and something significant is gained – an under-the-skin recognition of what is faced daily by the central characters.
The cinematography is uneven, with some experimentation that is visually interesting but doesn't contribute to driving the narrative forward. The realist, over-the-shoulder approach works well in places and the final, intense moments of the film are beautifully handled – building on an earlier structural twist that requires the audience to re-think their expectations of the film.
Clever writing connects the opening and closing scenes, giving the piece a satisfying symmetry – although the ultimate outcome is left to the viewer to determine.
Watch Hair on FilmDoo
Recommended viewing on FilmDoo: