Song Yun-hyeok's A Slice Room documents the lives of Korean men and women who have fallen through the cracks of the nation's welfare system. Focusing on a few tenants of the 'jjokbangchon' ('villages of slice') residential areas, the film tells personal stories of underprivileged people faced with systemic neglect while their situations grow ever more desperate.
With Song's documentary screening at the London Korean Film Festival's recent Documentary Fortnight, we spoke to the director about this politically-minded and compassionate work.
What inspired you to make this film?
I was already involved with homeless communities as an NGO activist and I wanted to extend that experience through filmmaking.
When you went into this project, did you have a specific idea of what you were hoping capture in your subjects and what sort of stories you wanted to document?
I would say the film has changed in the process of making. Initially, I wanted to talk about the space – the Jjok-bang, the slice room – but as it developed, focus moved to the people who live in Jjok-bang.
When I was focusing on the space itself, I felt like I was objectifying the people, so I really wanted to find a way to tell real stories about the people. And of course, the subject matter of this film is something that I really already knew as a problem. It was why I started working as an NGO.
The people in this film often come across as quite solitary characters. Would you say that there's a sense of community in these buildings, or are the residents mostly isolated in their own slice rooms?
There are communities. There are community meetings where they're basically trying to solve the issues that the actual public sector cannot resolve for them. So they're trying in their own ways to find solutions to these problems. Many of them are very difficult. Through these activities, they have a relationship. They relate to each other and they support and bond with each other.
Are there any potential solutions to these problems that have become apparent you?
I feel that without fundamentally changing the legal system or social structure, it doesn't seem quite possible to have a complete resolution to the problem. But I assessed that at this stage in Korea, revealing these problems and the people who are constantly carrying these problems with them is something that I can do to help the move forward.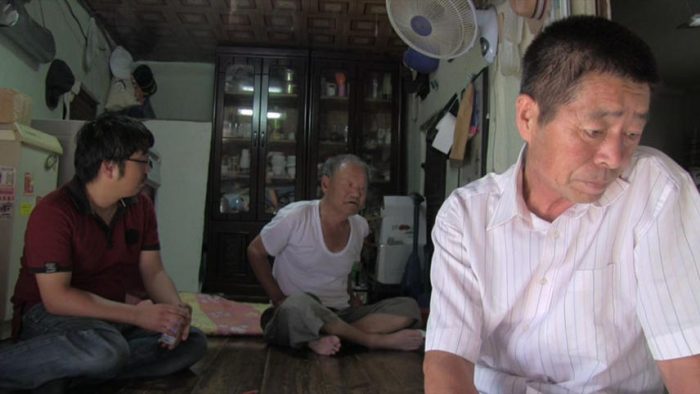 I watched Ken Loach's I, Daniel Blake, and I was really surprised that a place like England, very civilised, had the same poverty, the same worker's rights problems. So I felt maybe Korea has a long way to go to resolve these problems.
And in the same way that I, Daniel Blake surprised you, would you say that this is a side of Korean life that people often don't see?
Yes, I would say this is something not very well known. And the kinds of conditions these people have are, I would say, the most extreme. There have been occupy protests for five years against this particular law.
There's the middle-aged man who connects with his parents in order to get the social support. Basically, this protest is to raise awareness on this particular law, and after five years, the minister of health came and made an announcement that he would remove this law, but it hasn't happened. That was last year.
How have audiences in Korea responded to this film?
There were two general reactions. The first one, people were very shocked by images that they saw. They were particularly surprised by this particular legal system, how if you still have the first blood ties then you're not entitled to have this social support. They were really shocked by this. Only in Korea this exists, because of a particular way that people understand kinship.
The second would be, it was a bit limited, but it was more of a conservative reaction: that we have limited resources, and we should be more selective with people to applying for social help. But in general, I think more people perhaps experienced poverty and more people relate to the first sentiment. They were more shocked and wanted to problematize the situation.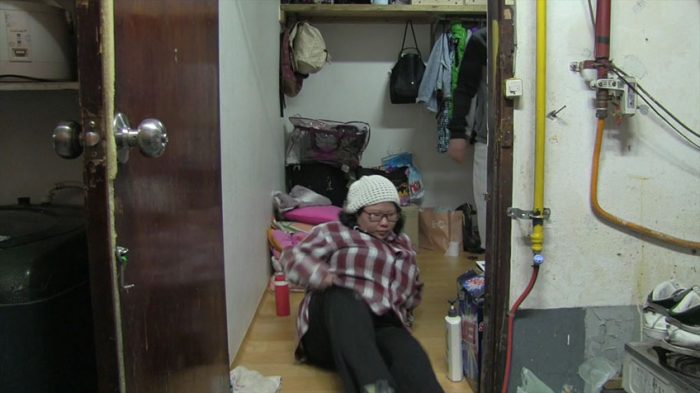 Since making this film, have you revisited these people to see how they've progressed?
Well, legally and systematically, nothing has changed. Their situation hasn't really improved. I know them from before I made the film, so I still see them. I know them. I know how they are. The people you see in the film, they get older, so life gets tougher. And the couple you see in the film, they were seriously considering divorce, because in that case, they would get more from social care.
What are you working on next?
I'm in the middle of shooting a film. It's about the park very close to Yongsan Station. It's kind of in the centre of Seoul. And because of some kind of new road system under construction, the park is kind of isolated, so it doesn't really have an open access. I discovered that twenty-five homeless people are living there in a tent, so I'm sort of trying to follow their lives. So nothing has fundamentally changed. It's just a different space, different people, but still it's about homelessness and poverty.
You see it as a continuation of your last film.
Yeah, I want to continue to explore the homelessness as a subject matter. And if I was focusing more on the legal issues and social system in this first film, I want to focus more on the internal conflicts and issues within the characters with this new film.
A Slice Room screened as part of the London Korean Film Festival 2018 Documentary Fortnight. More info here.