Director: Hong Sang-soo
London Korean Film Festival teaser screening review
The word 'strange' is thrown around a lot in Claire's Camera, and sure enough, in its effortlessly free-wheeling structure and its peculiar yet recognisable take on human behaviour, Hong Sang-soo's mesmerising comedy-drama is a beguiling exploration and embodiment of the term in its most enticingly mysterious sense.
With the Korean and French cast delivering half their lines in English, 'strange' is a conveniently broad adjective that is habitually relied on as a substitute term for the things that characters lack the vocabulary to describe. It is a label often applied in the film to abstract and elusive matters (the effect of a poem read in a Cannes bookshop; a painting that looms over an apartment building's stairwell), and it is in this ethereal fashion that Claire's Camera itself is a strange and extraordinary work. Shot against the backdrop of the 2016 Cannes Film Festival, Hong's film finds richly undefinable truths in the stunted communication between lonely and changeable people, while extending these themes to probe the truth-telling capacity of art itself.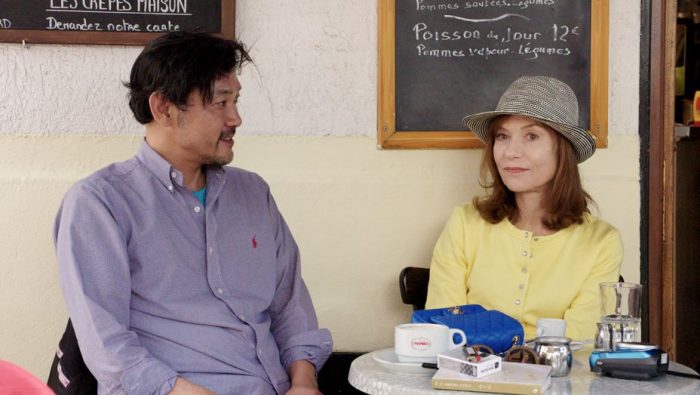 Despite its French setting, Isabelle Huppert stands alone in the central cast as the nation's sole representative. The legendary actress plays the titular Claire, an art teacher, poetry-reader and amateur photographer who evokes a pre-digital nostalgia with the humble polaroid camera she uses to chronicle her surroundings. Through a pair of chance encounters, she serves as the unintentional bridge between the film's three main Korean characters: recently dismissed sales agent Jeon Man-hee (Kim Min-hee), hard-drinking director So Wan-soo (Jung Jin-young) and his partner Nam Yang-hye (Chang Mi-hee) – the last of whom fires Man-hee after learning of her affair with Wan-soo.
Plot-wise, there's not much to discuss here, in that the film is essentially made up of a series of conversations and spats around matters of art, culture, relationships and appropriate attire, while the characters amble between charming beachside locations. And yet, one of most purely pleasurable aspects of Claire's Camera is the seamlessness of its construction as it moves between such exchanges.
With Claire's photos frequently serving as points of transition, the film shifts forwards and backwards in its timeline with the ease of a wandering train of thought. There's simple yet profound satisfaction to be found in the way the film's numerous coincidences and callbacks (be it a big, lazy dog repeatedly seen roaming the streets, or a passage of dialogue that echoes the words of another character) grant an effortless interconnectivity to these scenes while adding cosmic weight to the film's enigmatic vision of life.
But to add a further layer of ambiguity, there is a despondent flipside to this structural equilibrium. Although these various forms of symmetry and cyclicity may suggest the sprightly elegance of an old-fashioned rom-com, these elements can also serve to reinforce the trapped and directionless state of the film's weary cast, most strikingly in Man-hee's eventual one-woman reenactment of her own firing.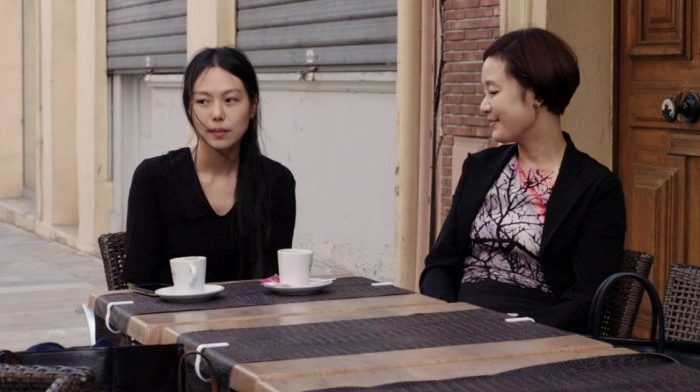 The story's ongoing sense of loss is tied to the slippery notions defined by another frequently used term: 'honesty', a quality that proves to be as obscure as the concepts that the word 'strange' consistently fails to pin down. Though the value of honesty finds obvious relevance in director Wan-soo's affair, the theme applies more broadly to the difficulty of genuine expression in art and in life, whether the problem lies in a lack of understanding or simply a lack of the right words.
But while honesty remains an enigmatic and intangible ideal, Hong Sang-soo knows outright bullshit when he sees it, and the director's own surrogate character Wan-soo has some fertiliser to spare. Hong's films have rarely found much of worth in the typical self-centred artist's clichéd and romanticised notions of self-destruction. And in a work populated by women who gradually reveal the unexpected sorrow, desire and insecurities beneath their initial personas, there's something pathetically predictable about this impulsive egoist who blames 95% of his mistakes on alcohol.
Wan-soo's most pitiful moment comes when he jealously chastises Man-hee for wearing short shorts in public, accusing his ex-lover of sullying her 'beautiful soul'. As much as the filmmaker may try to preserve his naïve and unblemished image of Man-hee, the wider feature serves as an inspired challenge to this simplistic artist-muse dynamic, as it quietly hints at its female characters' buried layers, while simultaneously acknowledging that their complex inner lives can never be fully comprehended by outside observers.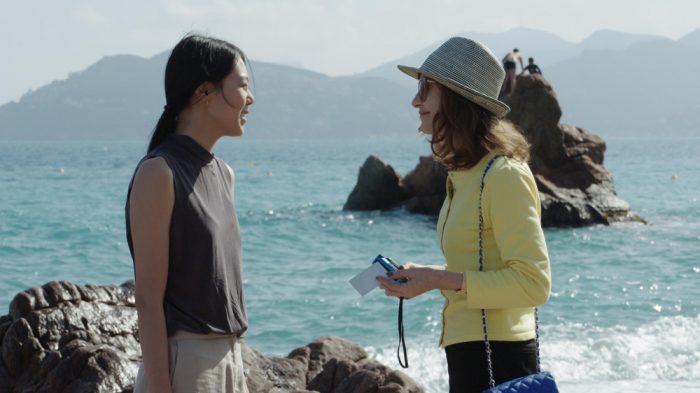 More generally, Claire's Camera excels as a funny and poignant examination of the nuances and impediments of social conduct and human expression. While it would be easy to dismiss the film as a fairly lightweight quickie from a director who's certainly made more explicitly 'heavy' works, Hong shows remarkable insight on the unusual ways that his characters communicate and process their feelings, imbuing each little moment of awkwardness and unpredictability with warm humour and understated melancholy.
For lack of a better word, people are indeed a 'strange' bunch, and with this new film, Hong continues to find fresh and intriguing manifestations of this strangeness while leaving enough space in his interpretations for his characters to maintain their inherent unknowability. In that sense, Claire's Camera is about as honest a film as you could catch in a cinema this year.
The London Korean Film Festival will return this autumn. More info here.