Director: Moon So-ri
Far East Film Festival review
Famed Korean actress Moon So-ri (Oasis, The Handmaiden) has likely been taking notes from her former collaborator Hong Sang-soo for her terrific directorial feature debut The Running Actress, applying a realist, low-key approach to an inherently 'meta' premise to slightly surreal effect. The comparison is earned and transcended in the film's funny and poignant execution, using the daily drama of a stress-ridden film star and mother as the platform for a beguiling contemplation of art, aging, alienation and the fleeting moments of emotional intimacy that justify the drudgery of life.
Made up of three short films that Moon shot during her studies at Chung-Ang University, The Running Actress is, understandably, episodic to a fault, but there's still a fair amount of continuity running through this trilogy by way of its themes and protagonist, not to mention the consistently weary state of Moon So-ri's self-portrayed fictional equivalent. The first two acts in particular feel of a piece as they humorously document the various strange and uncomfortable situations that Moon's occupation places her in, from the mother who uses Moon's celebrity status as a bargaining tool, to the leering fans and filmmakers who treat Moon like an empty vessel of prettiness.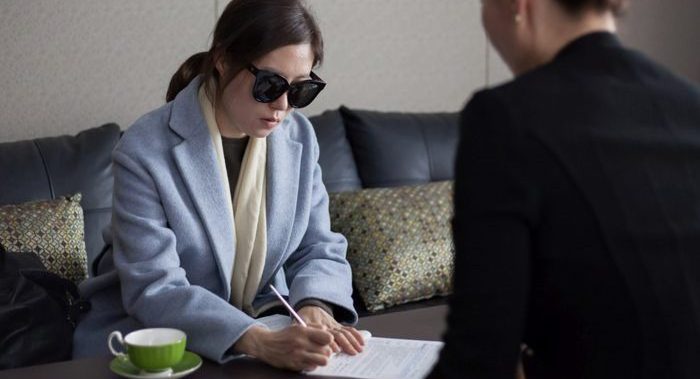 Such reflections on the trials of fame will often be dismissed by detractors as the self-pity of the privileged but any self-indulgence inherent to the film's premise is minimised by the universality of the drama's underlying anxieties. We may not all be award-winning film stars, but how many of us haven't fretted about living up to the expectations of others or lamented our waning youth?
The melancholic undercurrents of these first two acts come to the surface in the film's concluding segment. The humour takes on a darker tone as Moon visits the wake of a largely unknown director and ends up drawing the bitter, alcohol-fuelled resentment of a less successful actor she once worked with. As the conversation transitions into a debate on the artistic merit of the late director's work, an affecting layer of existential weight emerges from the drama that retroactively enriches the previous sections' observations on family, aging, fame and success.
But while life within and beyond the big screen is shown to be a pretty absurd thing, a final moment of clarity – prompted by the screening of some old home movie footage – brings us back to the insight and intimacy that cinema can bring, despite all the complications and contrivances of the industry around it. The extent to which The Running Actress is or isn't showing us 'the real Moon So-ri' feels beside the point. There's truth enough in this film already.
The Far East Film Festival is held from the 20th to the 28th April. More info here.