Director: Nam Ron
Far East Film Festival review
Nam Ron's Crossroads: One Two Jaga is a noirish hyperlink film where the interconnectivity of its characters' lives carries grim moral implications. The violence and corruption that runs through this rough and raw Malaysian drama – centring on the tumultuous experiences of an Indonesian immigrant family – feels both deeply systemic and overwhelmingly messy, suggesting a hellishly skewed sense of order that renders the most appalling of actions par for the course. These are the stories of people who exist in a web of complicity, where everyone is to blame and therefore no one is to blame.
If there is one uncorrupted character amidst the film's sea of overlapping narratives, it would likely be Sumiyati, an illegal immigrant who's now hoping to return to her home country of Indonesia. Her difficult situation puts her family further under the thumb of her brother Sugiman's boss, Park Sarip, who also hires Sugiman's young son Joko to assist in their criminal activity.
The impossibility of living a principled life in this chaotic environment is encapsulated in the pair of cops who regularly cross paths with the local criminals. Rookie Hussein is a relatively straight-laced but dangerously zealous policeman whose ineffective attempts to uphold the law alternate with moments of bitter acceptance that things are how they are.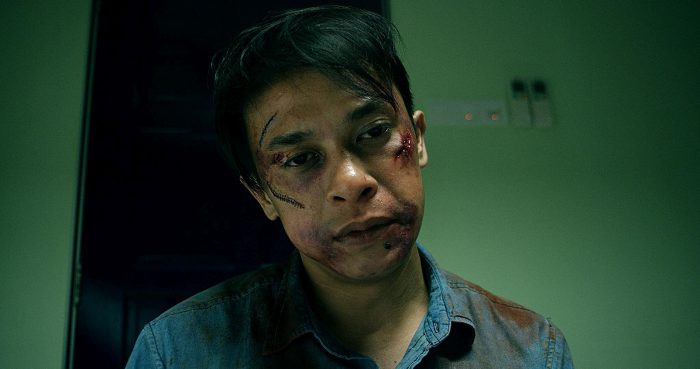 Hussein's crooked partner, on the other hand, has no qualms about profiting from the region's illegal activity, rationalising his corruption with the claim that he's providing for his family while observing how the country's politicians and crime bosses are committing egregious acts on a far larger scale than him. It is a twist of bleak irony that the film's third-act tragedy is brought about not by such dubious compliance with the criminal status quo but by Hussein's enraged efforts to break this cycle of local mob rule.
Though Crossroads is not without its moments of overbearing melodrama and narrative contrivance, Ron packs enough stylishly brutal images and insight into the film's tight 80-minute runtime to evoke an often stirring societal collage that's perhaps best summarised by the picture's vicious third act melee. This poetically graceless sequence sees the central cast of cops, criminals and family men grapple together as the rain pours around them, giving physical form to the mutually sustaining conflicts, dilemmas and resentments that define their frantic lives.
It's an ongoing fight that still doesn't feel resolved by the end of Nam Ron's nihilistic film. But by the twisted logic of their dire circumstances, throwing themselves into this dismal, self-perpetuating struggle may be the best option these characters have.
The Far East Film Festival is held from the 20th to the 28th April. More info here.
Watch on FilmDoo: