Director: Yim Soon-rye
Far East Film Festival review
Little Forest is an understated drama about a young woman taking shelter from the pressures and disappointments of life, and it is likely that Yim Soon-rye's tranquil feature will serve as a similarly cleansing experience for its audience. It is a patient work that evokes the clearing of a cluttered mind, seeking comfort and clarity in the simple beauty of nature, the company of a few friendly people, and above all, the careful preparation of good, home-grown food.
Lovingly concocted dishes aren't quite the only thing keeping Hye-won (Kim Tae-ri) occupied after she leaves the city to return to her roots in her secluded rural childhood home. Though she initially wishes to remain undiscovered, Hye-won quickly begins reconnecting with two of her former school friends – spirited bank teller Eun-sook (Jin Ki-joo) and passionate farmer Jae-ha (Ryu Jun-yeol).
But even Hye-won's friendships – not to mention her complex feelings for her currently absent mother (Moon So-ri) – are defined largely by the produce they pick together, along with the meals and recipes that they share. Though Little Forest doesn't attain the levels of quiet profundity scaled by Robert Bresson's austere screen poetry, Yim's meticulous documenting of the journey that each fruit and vegetable takes from soil to table echoes the fascination and restraint with which the great French director once filmed prison breaks and pickpocketing.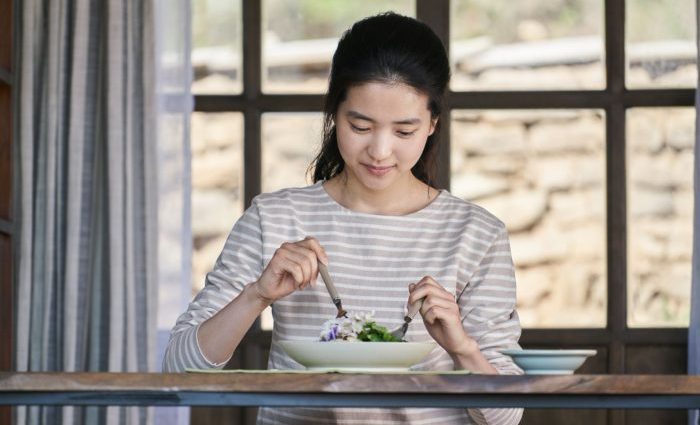 This is not a drama to get the pulse pounding. Rather, Yim's concern is in conveying an existence in harmony with nature via the food that the earth provides, finding enough satisfaction in the mundane and the ecological to suggest that minimalism is the key to personal fulfilment. This simplicity extends to the number of people crowding Hye-won's life as solitude is shown to have a therapeutic, clarifying effect.
Such an isolated way of living, of course, also comes with its drawbacks, and the slight underlying tension that runs through this otherwise serene film stems from the knowledge that Hye-won will eventually have to confront the issues she's hiding from in her self-imposed exile. Though she is shown to be a rather closed-off figure who feels uncomfortable discussing anything too personal about herself, voiceover narration and flashbacks reveal that Hye-won's ever-lengthening stay in the country is partially an attempt to delay dealing with her problems in the city while also working through the emotional hang-ups created by her mother's surprise exit from her life.
Little Forest's endearing purity is somewhat compromised by its efforts at accessibility (some sentimental piano music here; some over-explained character motivation there), and even for a film where the slowness of change is part of the point, the feature struggles to find rich new avenues to explore for much of its second half. But while viewers may feel ready to return to the big wide world a little sooner than Hye-won does, this gentle, low-stakes picture serves nonetheless as a charming reminder of the modest pleasures of simply being.
The Far East Film Festival is held from the 20th to the 28th April. More info here.