Director: Yang Yong-hi
Watch Dear Pyongyang on FilmDoo
How many of us know anything much about North Korea's history? And how many of us are willing to be more curious?
A few years ago, I read Guy Delisle's Pyongyang: A Journey in North Korea, my first window into the nation's capital. Then, came Evan Osnos' September 2017 article in The New Yorker, subtitled "Letter from Pyongyang". Neither prepared me for the intimacy of Yang Hong-hi's Dear Pyongyang.
Over a span of 10 years, Yang shares with us her family's personal history as part of the Zainichi (Koreans living in Japan). As the title suggests, the film is an audio and visual letter-testimony which Yang personalizes by exposing old family photos and a series of filmed sequences where her parents, particularly her father, are the fundamental characters.
The documentary's confidentiality and uniqueness is reflected by the choice of familiar daily scenes and locations. The meals, the lengthy trip to Pyongyang, the bedroom and bathroom scenes are particularly touching and revealing of the family's rapport.
1910, 1945, 1948, 1950-1953, 1959, Zainichi, repatriation, returnees, loyalty, nationality … These key dates and words to understanding Korea's and particularly North Korea's history are important guidelines to penetrating Yang's documentary.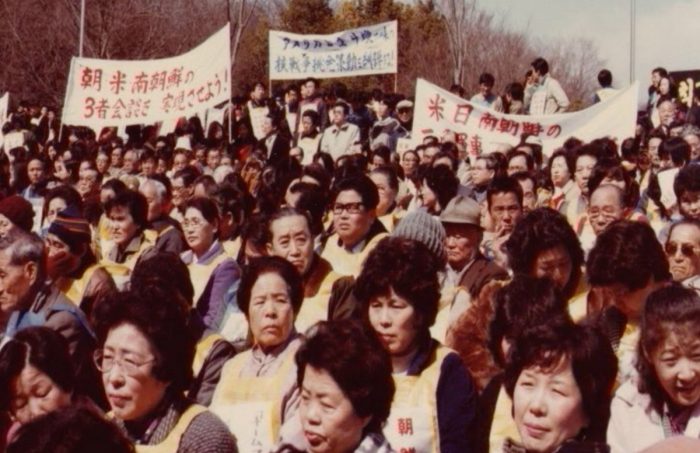 Yang films using the camera as an extension of herself. Only once in a while do we see her hand or her arm, reaching out to her family members, and only once do we ponder her reflection in a mirror in the background.
Pyongyang has a very special meaning to Yang. The capital embodies family: brothers, nieces, nephews whom she sorely misses. Her trips to Pyongyang are sporadic but powerful and emotional. Despite having been born and raised in Japan, Yang is of North Korean nationality, to her great dismay. Unlike a true foreigner, her eye brings a more exclusive point of view.
Her father, an active supporter of the North Korean regime, headed a movement in Japan where he promoted the revolution's ideas. He sent his sons, as very young men, to live in North Korea. That event triggers the start of Yang's reflection on the way of life imposed by the regime – one that forces her mother to regularly send boxes of supplies to her sons and their families.
Unlike her father, Yang expresses doubts surrounding such blind loyalty to North Korea. Will he allow her to change nationality? Why did he choose to send her brothers to the "fatherland"? Why is her father so undiscerning? The last twenty minutes feel voyeuristic compared to the rest of the documentary. But they do reflect Yang's love of her father and her perseverance in obtaining an explanation behind his choice of breaking up their family.
The film does not really answer all of Yang's (and our) questions, but is that really the point? Her documentary sets a precedent and creates interest and curiosity, revealing rare, personal images of life in North Korea.
Recommended viewing on FilmDoo: