London Korean Film Festival review
Watch more Korean films on FilmDoo
Director: Jin-ho Hur
In many ways, Jin-ho Hur's The Last Princess is essentially a 20th century period drama of the post-Spielberg variety. One only has to replace the Japanese with the Germans as the oppressing force and you'll see how the film can be slotted into the trend of Academy-friendly wartime tearjerkers from recent decades. Like many of its western competitors, The Last Princess is a film that goes for big, overwhelming emotions at the expense of thematic depth and originality, but in its quest to attain the old-fashioned 'you'll laugh, you'll cry' variety of big screen bliss, it succeeds more often than it fails, harnessing an enviable degree of charm and emotional power in its best parts.
The true story that the film fictionalises is the life of Yi Deok-hye (Son Ye-jin), the last princess of Korea's Joseon Dynasty. Chronicling her development from a naïve young girl to a frail old woman, the film dramatizes her story as that of a degraded icon, with the occupying Japanese government forcing Deok-hye to stay in Japan as an unwilling figure of propaganda. Though the film's exciting action centrepiece sees a fatality-heavy attempt at rescuing the princess, the tragedy of her story is that she was unable to serve as the beacon of hope that her country needed at the time, remaining in isolation from a spiritually dominated Korea that eventually moves on without her.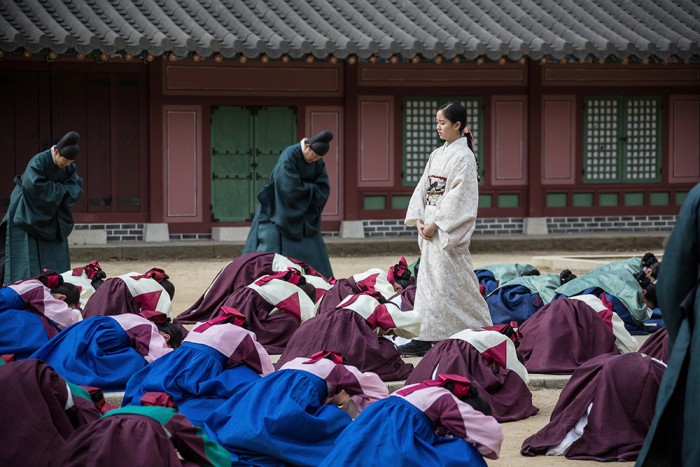 The Last Princess has quite a few things going for it. Its alternately cute and defiant sense of humour, for example, serves to humanise the unwavering spirit of the nation in a way that Son Ye-jin's terrifically measured and always endearing lead performance can only halfway do on its own, due to a case of slightly excessive and distancing saintliness. But if there were just one element of Jin-ho Hur's film on which a recommendation could be based, it would undoubtedly be its ravishing visuals. With its beautifully composed sets and colourful costumes, this is one of those pictures that delivers one dazzling and vibrant image after another, with the royal interiors and exteriors of the film's first section proving particularly inviting. If you're looking for a grittier, more realist representation of this era of East Asian history, you can find plenty of good alternatives elsewhere but The Last Princess's pageantry emboldens the film's romantic and patriotic core.
Speaking of which, Jin-ho Hur's oversimplified vision of history sells short what could have been a richly nuanced drama of national identity – particularly with regard to the film's portrayal of the Japanese, which rarely goes beyond the blandly villainous. Nonetheless, while it's easy to lament the thoughtful, culturally resonant epic that The Last Princess might've been, it's even easier to get swept up in the swooning emotional ride that we get. This is history as escapist spectacle but an engaging and attractive spectacle at that, immersing us in all the heartbreak and triumph of a complex and perilous era filtered through a sumptuous dream.
The 2016 London Korean Film Festival runs 3-27 November. Find the full programme here.
Recommended Viewing on FilmDoo:
(UK & Ireland only)
Click here to visit The Last Princess page on FilmDoo and press the DooVOTE button to help bring it to your region!