By Sharon Calingasan
Watch Japanese Films on FilmDoo
With same-sex relations not an overtly popular topic in Japanese cinema traditionally, the recent years have finally seen the emergence of more Japanese film makers tackling LGBT stories. The formation of various lesbian and gay organizations starting from the 80s and beyond has also helped in building acceptance and understanding from the Japanese people to shake off traditional notions that lesbianism and homosexuality in general are abnormal and forms of mental illness.
Here's a list of some of the popular Japanese lesbian films that give profound insight into the lives and minds of interesting characters.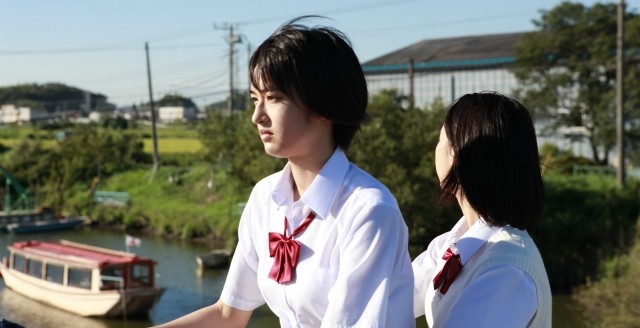 A truthful and bittersweet coming of age film by director Yuichi Onuma with a great screenplay by Shin Adachi. This story of infatuation, youthful love and disappointment centers on Manami Shintana (Aoi Morikawa), the president of their school's broadcasting club. She has a best friend, Ai Morino (Maaya Kondo), who is secretly in love with her. Manami, however, only has her eyes set on the new girl in school, Chiyuki Mitsuzuka (Mugi Kadowaki), who is surly and distant and has a boyfriend who constantly bullies her for money. This film has many tender moments that are nicely captured and with commendable acting.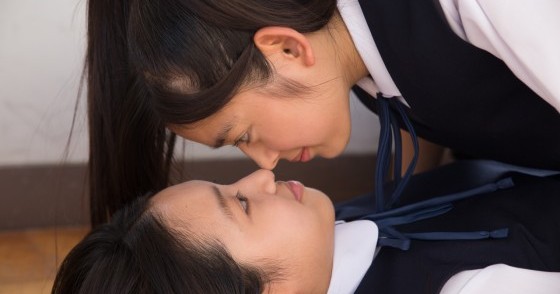 This 2014 film follows Takane (Honoka Miki), a student interested in the arts, and her best friend Mika (Misato Aoyama), who dreams of becoming a novelist. They both discover that they have romantic feelings for each other but conflict ensues when Namie (Yukie Kawamura), a librarian and ex-novelist, enters the picture.
Based loosely on the 1996 Love Vibes manga by Erica Sakurazawa, this movie is about Haru (Hikari Mitsushima), a college student involved with a misogynistic boyfriend, who meets Riko (Eriko Nakamura) by chance. Riko is a prosthetics artist who is attracted to fragile girls and she becomes instantly interested in Haru. There is a sprinkling of little gems of wisdom throughout the film's entirety and viewers with a genuine interest in Japanese culture and its subtleties will find it very engaging.
4. Girl's Blood (2014, dir. Koichi Sakamoto)
An explosive erotic action movie by Koichi Sakamoto, Girl's Blood focuses on an underground fight club of the same name and the club's best fighter Satsuki (Yuria Haga). Her position is challenged by the arrival of Chinatsu (Asami Tada) who is well-versed in MMA techniques but working without the knowledge of her abusive husband, a karate master, who later abducts and brainwashes her back to submission while threatening to close down the fight club. A face-off between his students and Satsuki along with other colleagues ensues, with the condition that if they lose then their fight club will disband. The final showdown and match is between Satsuki and Chinatsu, complete with well-choreographed fight stunts.
With intense expressions of love and lust, this film directed by Yasuzo Masumura, hailed by director Shinji Aoyama (Eureka) as the most important filmmaker in the history of postwar Japanese cinema, follows Sonoko Kakiuchi (Kyoko Kishida) as she falls victim to a school gossip along with Mitsuko (Ayako Wakao), an industrialist's daughter, and soon they form a friendship that becomes a crazy sexual obsession, making Sonoko wild with envy and desire. Sonoko has a questioning husband in the form of Kotaro (Eiji Funakoshi) while Mitsuko has a clingy fiancé named Watanuki (Yusuke Kawazu). Sexual acts are mostly implied with body doubles used for intimate scenes, with emphasis placed more on the mental manipulations and mind games of the four central characters wrapped up in selfish desires and dilemmas.
6. Topless (2008, dir. Eiji Uchida)
This engaging movie directed by Eiji Uchida shows a lesbian perspective on life, love and loss amidst the backdrop of bustling Tokyo. It centers on the upbeat Natsuko (Mina Shimizu) as she engages in a series of short-lived affairs after she breaks up with Tomomi (Erika Okuda). When the latter announces that she's marrying a man, Natsuko becomes heartbroken. Two other noteworthy characters of the film are Natsuko's straight male roommate who has feelings for her, and a young high school girl who's searching for the mother who left her in favor of a female lover. The movie is surprisingly almost devoid of any form of nudity, with the title more of a metaphorical allusion concerning the characters themselves.
This film by veteran director Yoji Yamada tells a story of turmoil, war and tension from a servant's perspective. The young Taki (Haru Kuroki) is a servant of the affluent Hirai family who live in a little red roofed Tokyo house. The lord of the manor is toymaker Masaki (Takataro Kataoka) who spends most of the time travelling Japan and finding ways to lure foreign interest.  His lonely wife Tokiko (Takako Matsu) eventually falls in love with one of her husband's colleagues, Shoji (Hidetaka Yoshioka), and only Taki knows about this. The acting is commendable, especially from Haru Kuroki, Takako Matsu and Cheiko Baisho who plays the older version of the character of Taki.  Kuroki won the Best Actress (Silver Bear Award) for this movie at the Berlin International Film Festival.
8. Helter Skelter (2012, dir. Ninagawa Mika)
Based on a manga by Okazaki Kyoko, this film marks the comeback of former fashion photographer and Japanese director Ninagawa Mika, known for the 2006 film Sakuran. The story focuses on Lilico, portrayed by Erika Sawajiri, a top model and media darling renowned for her elegance and beauty.  She is, however, a cruel and vain woman underneath her beauty who's pressured by her talent agency boss and mother figure Hiroko (Momoi Kaori) to undergo illegal plastic surgery. Pressure soon mounts with the popularity of a new and young model, ultimately pushing Lilico to become hostile. Helter Skelter brings you impressive visuals and a sweeping use of colors, granting viewers an insane look at the Japanese entertainment industry and overall making for a hallucinogenic viewing experience.
Reader Suggestions:
Blue (2002, dir. Hiroshi Ando)
Love My Life (2006, dir. Kōji Kawano)
Watch more Lesbian Films on FilmDoo.com.