By Sharon Calingasan
Watch Japanese Films on FilmDoo
Japan has a reputation for being a conservative society, but with the passing of time and increased westernization, the country has started to open up, even in terms of sexuality. In the post-World War II era, gay films have started to be produced and made available to a wider audience. Let's take a look at some of the more well-known gay genre movies that have caught the attention of local and global audiences.
This film by Toshio Matsumoto, who started his career in the film industry by making experimental shorts, is a loose adaptation of Oedipus Rex and tells the story of Eddie and other transvestites in Japan. It is set in Tokyo's underground nightlife and combines elements of art-house, documentary and experimental cinema. It has been touted as an important work of the Japanese New Wave. The cast includes Pîtâ, Osamu Ogasawara and Yoshio Tsuchiya, among others. Matsumoto also wrote the movie's screenplay himself.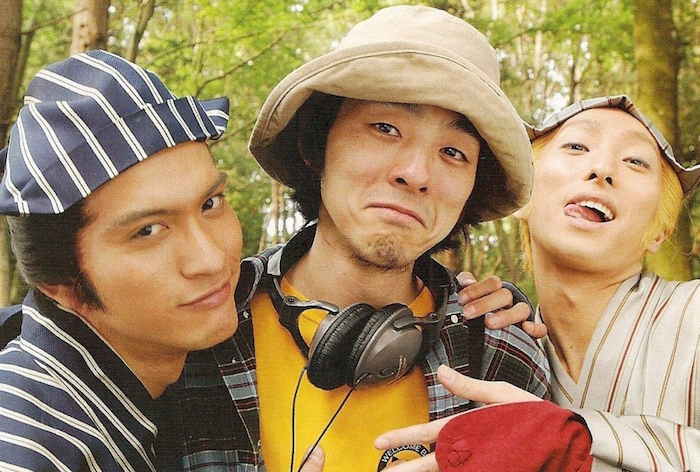 This 2005 film features two popular Japanese actors; Nagase Tomoya (Yaji) of the band Tokio, and Nakamura Shichinosuke (Kita), a well-known kabuki actor. The story follows two Edo-era gay men, Yaji and Kita, who go on a pilgrimage to the Ise Shrine in hope of finding a cure to the latter's drug addiction. Along the way they encounter various obstacles and characters. The film is based loosely on Jippensha Ikku's comic picaresque novel Tōkaidōchū Hizakurige which portrays the misadventures of two travelers on the Tōkaidō road during the Edo period.
3. Boy's Choir (2000, dir. Akira Ogata)
This film is set in the early 1970s, a period that has been described as a time of student unrest and shifting morals in Japan. It's the story of two orphaned teenage boys, Yasuo (Sora Tôma) and Michio (Atsushi Itô), who are part of a boy's choir. Their lives become intertwined when they start to develop romantic feelings for each other. This is Akira Ogata's debut feature film and the screenplay is written by Kenji Aoki. Notably, Ogata received the Directors Guild of Japan New Directors Award for this film.
4. Where Are We Going? (2008, dir. Yoshihiko Matsui)
Where Are We Going is a love story and road movie that features a 'newhalf' transgender character. Akira (Shûji Kashiwabara), is an orphaned gay shop worker who loves to cycle around town on his motorbike. He nearly runs over a woman (played by transsexual actress Anzu) to whom he becomes instantly attracted and is undeterred by the fact that the woman is newhalf. Matsui, who first made a name for himself in underground independent film (jishu eiga) in the early 80s, made this film after a 22-year break from directing.
5. Okoge (1992, dir. Takehiro Nakajima)
The word Okoge is a Japanese slang term meaning 'fag hag', which refers to a woman who associates mostly or exclusively with gay men. The story is about a young straight woman in Tokyo who becomes involved in the lives of a gay man and his married lover. Written and directed by Takehiro Nakajima, who is also known for his 1996 film Village of Dreams, the film's cast includes Misa Shimizu, Takeo Nakahara and Takehiro Murata. Shimizu won Best Supporting Actress at the Yokohama Film Festival and Best Actress at the Hochi Film Awards for this movie.
6. Hush (2001, dir. Ryosuke Hashiguchi)
Written and directed by Ryosuke Hashiguchi, who is popularly known for his films concerning LGBT issues, Hush follows the relationships of two gay men, Naoya and Katsuhiro, and one woman, Asako. Asako proposes to Katsuhiro that they have a child together. The cast includes Reiko Kataoka, Kazuya Takahashi and Seiichi Tanabe. Reiko Kataoka won Best Actress at the Blue Ribbon Awards and the Kinema Junpo Awards, while Seiichi Tanabe won Best Actor at the Hochi Film Awards and the Yokohama Film Festival.

Ôshima's Taboo is about homosexuality in the Shinsengumi special police force during Japan's Bakumatsu period in the mid-19th century. The story follows Kanō Sōzaburō (Ryûhei Matsuda), a swordsman and new member of the Shinsengumi. Tension ensues when various colleagues become attracted to him and the union of the force is compromised. Takeshi Kitano plays Vice-Commander Hijikata Toshizō and Shinji Takeda plays Captain Okita Sōji. The movie won Best Film at the Blue Ribbon Awards and the Awards of the Japanese Academy and was nominated for the Palme d'Or at Cannes.
This film by Takashi Miike, a highly controversial and prolific filmmaker best known for films like Ichi the Killer and Yakuza Apocalypse, is a visually symbolic tale about two male prisoners. Jun (Ryûhei Matsuda) is attracted to Shiro's (Masanobu Andô) strength and intensity and the two form a deep relationship. Alongside the police investigations, the film's highly stylistic approach makes for surreal viewing. The film was nominated for the Grand Prix Award at the Deauville Asian Film Festival.
This is a slow-paced but engaging film about two men that both have painful pasts. When they first meet, Shima's new boss Togawa is grouchy on the surface, but Shima is emotionally drawn to him nonetheless. This movie is based on the manga of the same name by Yoneda Kou. The cast includes Shôichi Matsuda, Yuya Mito, Masashi Taniguchi and Shou Tomita.
10. Junjô (2010, dir. Satoshi Kaneda)
This romantic drama film by Satoshi Kaneda, who is best known for films like Dorei-sen (2010) and Ai no kotodama (2008), tells the story of Tozaki (Rakuto Tochinara), a writer, who has a chance encounter with his first high-school crush Kurata (Yûta Takahashi) while on an assignment. They eventually start a relationship but Kurata's jealousy becomes too much to handle. The film's screenplay is written by Hirotoshi Kobayashi and Hyota Fujiyama.
Watch more Gay Films on FilmDoo.com
Watch Now on FilmDoo: