Over the course of seven provocative, brazenly erotic feature films, writer-director Scud (aka Danny Cheng Wan-Cheung) has carved out a distinct and controversial place for himself in Hong Kong cinema. In his latest work, Thirty Years of Adonis, the filmmaker's unique sensibilities are as prominent as ever, imbuing the fragmented story of a young actor's experiences as a sex worker with dark existential drama and queer sexuality.
We spoke with the director of such challenging releases as Amphetamine and Permanent Residence to find out what inspires this exceedingly independent filmmaker.
In one sentence, how would you summarise the type of films that you specialise in making?
We make bold films. That's also the line printed on our round-shaped name cards. They're about difficult, sometimes impossible loves, as well as death. Yet it seems that it is the direct-to-the-bone style of the depictions that differentiates us.
What filmmakers would you say influence your work?
Pasolini for sure, my mentor since I was small. When Amphetamine was once hailed as 'the Pasolini of our time' by a critic of the Berlin Festival, that was the highest point of my career. I'd also name Almodovar and Greenaway.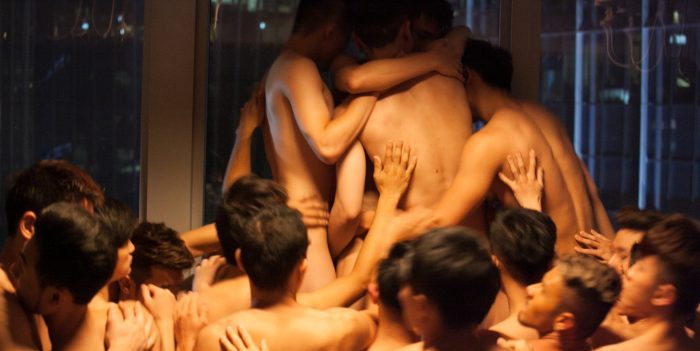 Your films often contain a lot of religious imagery or spiritual references. What's the significance of this theme in your work?
I am not religious but a theist. I have enough experiences in life to be convinced of a spiritual universe in parallel to ours, accommodating those we thought we've lost forever. It symbolizes our quests in vain for the truth that can only be revealed after our present life.
What were you aiming to express with your latest film, Thirty Years of Adonis?
The film visualizes and envisions Tibetan Budhhism's fundamental values and its version of life and afterlife. I've found them closest to my belief so borrow to explore the ultimate question of life: what do we live for after all?
Your films also have a tendency to directly reference your previous works. Thirty Years of Adonis, for example, includes clips from Utopians, and Amphetamine contains images from Permanent Residence. What do you feel this interconnectivity adds to your films?
What observations! I include them because some of my audience, fans in a way, like to romanticize the heroes of my films (who tend to die at the end of the individual films) to be somewhat reincarnated into the next stories.
Do you make your films with a particular audience in mind?
Not at all, or me if I have to surrender one. I can't put all endeavors into making films that can't even satisfy myself. As for the others, as long as they do watch my work, I'd be equally thankful, be them lovers or haters.
Do you have any plans yet for your next film?
I have quite a few 'next films' on my drawing board, one even written years ago, but it's became tougher for me to pull myself together to embark on a new project, despite the technical and human fluency accumulated all these years.