By YeYe Xu
Watch Everything but Oom-Pa-Pa on FilmDoo
In this award-winning documentary, Kerstin Polte and Dagmar Jäger capture both the solidarity and individuality of the women who form the largest female concert band in the world. Diverse in age as well as in political opinion, these women find joy, friendship and inspiration through their shared love of music. We asked Polte why this female orchestra is unique and what she learned from them during filming.
What inspired you to make the film? Do you have any personal experience in music?
My fellow filmmaker saw the orchestra playing at "La Fete de la Musique" in Berlin and was instantly taken by this cheerful and colourful group of women. After visiting one of their rehearsals, I was equally overwhelmed by these different characters, who together formed one manifold orchestra, one sound. We fell in love with them, and after filming for a while, we felt as if we were playing music with them on our own 'instruments' – the cameras!
Three years later, once the film was finished, the women gave me a saxophone and offered to teach me. So I've ended up on the other side and now play in the orchestra too.
You could have chosen to document any type of all-women group. What is the significance of an orchestra, and an all-female one?
As one lady put it beautifully: in an orchestra, it is not about competition, but cooperation. It's not about being faster or louder than the others, but about listening carefully to your peers and matching your individual sound to that of the group. We wondered how a harmonious ensemble could be made from 66 different personalities and wanted to immerse ourselves in this community.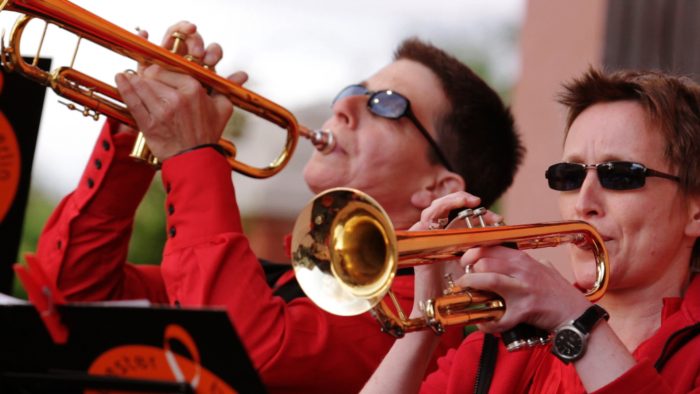 Germany is a country known for its rich musical history. However, funding has recently been cut from professional orchestras and music schools. Do you think there is enough support for music, and do you think women are equally represented in this field?
Female professional musicians still face challenges in the male-dominated world of classical music and orchestras. For example, how many female conductors do we know? Additionally, many female musicians are still judged according to the instrument they play; women in brass or percussion still raise the eyebrows of their colleagues.
Since our orchestra comprises only women, this creates a space free of archaic prejudices. Women have the freedom to pick the instrument that best suits them. I definitely think there should be more funding for women-focused music projects, which are not profit-oriented and still attract the wider public.
Why did you choose to interview certain musicians and not others? Did you have a particular selection process?
We wanted to portray women at various stages of life and facing different issues such as parenthood, retirement, death, love etc. We knew there wouldn't be a lot of time for every small portrait, so we focussed on the characters themselves; not so much their surroundings. Some male family members were too shy to go in front of the camera.
In the film, the percussionist Frauke poses the question, 'What is family?'. Do you think that the orchestra is like a second home and family for some of the women?
Every week in orchestra, the women enjoy a freedom that they don't always have in their family environment. They can take a break from their everyday roles as mothers, wives and employees. So the family metaphor is half-true: orchestra is definitely a place of warmth, sharing and closeness, like a family; but orchestra also lets you break out of your everyday personality and be someone new. Never have I met so many life-loving, funky and silly 'grown-ups' in one community!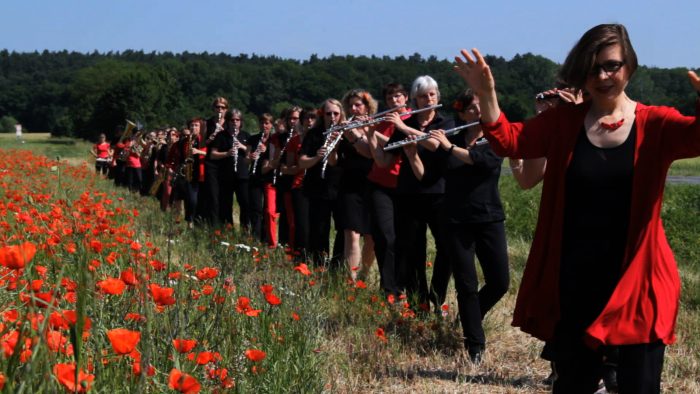 Are there any messages or lessons you took from filming and from the women, which are not conveyed in the finished piece?
Yes, a lot. We filmed for 3 years and had 170 hours of material in the end, so it was really hard to decide which parts to include in the movie, not to mention all the experiences we were unable to document!
There were many funny moments and many sad ones too. The two trumpeters, who played next to each other every week in rehearsal, were actually fighting each other at the 1st May demonstrations in Berlin. One is a policewoman and the other one a left activist. For me, their relationship is a beautiful image that captures the spirit of the orchestra.
Two of the women passed away after we finished shooting. I often think about all the conversations we had, how our friendships had grown and lasted till death. Their portraits were shown at their funerals, which touched me deeply; we were able to capture, conserve and pass on a part of their personality to the generations of women to come.