By Sarah Jilani
Directed by Doris Dörrie
Berlinale review
It's been five years since the inhabitants of the Japanese town of Fukushima and its surrounds suffered a triple catastrophe. Europe looked on, shocked and unnerved in equal amount – then the news slowly faded to the occasional coverage of the after-effects and the no-go zone of radiation. But what of those who lost everything in the earthquake, the tsunami and then had to evacuate the environs of the Fukushima nuclear plant leak? In Fukushima, Mon Amour, acclaimed German director Doris Dörrie takes us back to the human disaster in a black-and-white film that is touching, experimental and eerie in equal measure.
Dörrie shot the film right in the heart of Fukushima's Exclusion Zone only months after the catastrophe. It tells the story of Marie (Rosalie Thomass), who travels to Fukushima shortly after the earthquake and tsunami to escape her own heartbreak. Marie goes to Fukushima with the organization "Clowns4Help" to cheer up the elderly refugees living in makeshift pre-fabricated housing – the young have already left for the cities. In addition to the demoralising nature of the task, Marie herself is not entirely up for either the culture shock or the solitude – she frequently wakes up in the middle of the night with panic attacks, finding solace in accompanying a rather zen and drunken monk in his nightly vending-machine sake binge.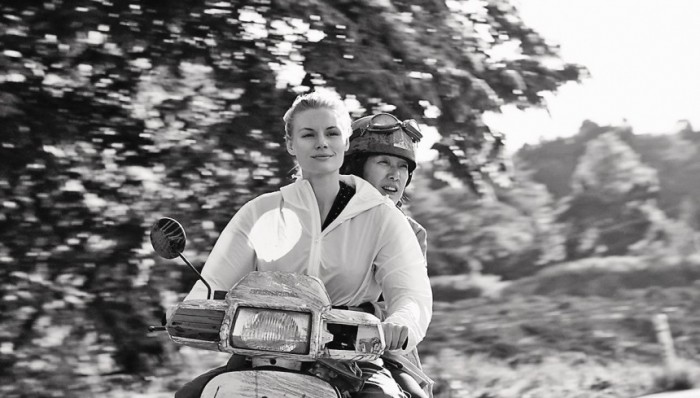 It's hard to feel too sorry for Marie, as Dörrie paints us a picture of a relatively sheltered woman seeking to alleviate a mixture of First World guilt, her own insecurities and a self-indulgent seeking of purpose after a failed relationship. Yet things take a turn when Marie, about to give up and leave for Tokyo, meets the last geisha left in Fukushima. The old woman is adamant about staying in the forbidden Exclusion Zone to rebuild her home. Soon, the labour and companionship involved in this daily task means the geisha Satomi (Kaori Momoi) helps Marie put her pain into perspective, and Marie helps Satomi forgive herself for surviving the disaster while her pupil Yuki perished.
Throughout this film, there are dreamlike sequences that allude to Marie's fears, Satori's guilt, and the spectre of the tragedy that still haunts that landscape. Peppered with archive footage of tsunami waters submerging homes and land, Fukushima, Mon Amour purposefully echoes with both the current Syrian refugee crisis and, with its title, the previous disasters in Japanese history – Hiroshima and Nagasaki. These are the most exciting and promising aspects of Dörrie's film: it jumps through genres easily. The sequences where Marie dreams she is seeing Yuki's ghost are sure to excite any fan of Japanese horror – but it pulls back before it gets too caught up in spooky effects. The at times disjointed and looming actions of the camera, meanwhile, remind us of Surrealist and Dadaist cinema. The Marie-Satori relationship, though, has a somewhat predictable path; for example, it's a familiar oversimplification of Japanese culture when Marie, the tightly-wound Westerner, learns a kind of mindfulness through Satori's Japanese tea ceremony.
This doesn't stop Fukushima, Mon Amour from being a thought-provoking film that plays with its storytelling tools to delve into human psychology, the aftermath of disaster, and how we can survive through small everyday ways. Definitely one for fans of human stories and of experimental film, it's clear to see why it scooped two awards at the Berlin Film Festival.
To bring Fukushima, Mon Amour to your region, cast your DooVote here!
Recommended Viewing on FilmDoo:
(UK & Ireland only)