Director: Saskia Diesing
Dutch director Saskia Diesing's first feature length film is both unique and uncannily familiar, a coming-of-age narrative that reminds viewers that learning to handle moments of change is a deeply individualistic process. Nena (2014), recipient of the Golden Calf awards for best actress and best director at the Netherlands Film Festival, follows 16 year-old Nena (Abbey Hoes) as she grapples with questions of love, both familial and romantic, of sex, and with death. Hoes's titular role is unarguably profound for a young actress (she was 20 at the time), and even in shots with little to no dialogue Hoes's gestures and gazes embed her character with an almost palpable sense of a young adult's struggle of wanting to experience both the life of a teenager and one of an adult.
Set in the summer of 1989 in a town somewhere along the Dutch-German border, the film's opening exposition accentuates the film's underlying themes of transition and instability. Nena splits her time between her divorced mother (Monic Hendrickx) and father, Martin (Uwe Ochsenknecht), but rather than dramatizing this situation, as often done in divorced-parents-narratives, the film instead highlights the ease of love in a family even after a separation.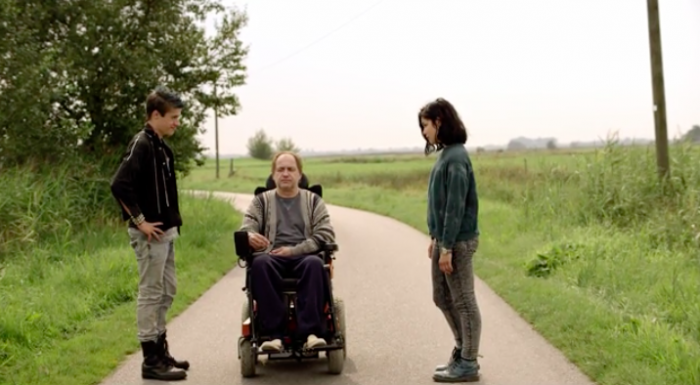 Much of the narrative centers on Nena's introduction to and growing relationship with a local baseball player, Carlo (Gijs Blom), whose unnaturally blue-streaked hair and rebellious air are reminiscent of many first teenage crushes and idols. The film offers a genuine depiction of a teenage relationship and its growth; beginning with minimal dialogue, long gazes, and superficial either/or games in which the couple gets to know each other's interests. As the relationship progresses, so do the teenagers' discussions, choosing questions that are more serious in nature. Nena's experiences with intimacy ultimately offer a realistic, mature rendering of romance that can be appreciated by both young and adult viewers alike.
Her romantic relationship alternates narratively with another dramatic life experience; her father's wish to commit suicide. At the beginning of the film, Martin, paralyzed from the neck down from an undisclosed disease, moves in with his religious brother, choosing to room in a chapel (though he is not religious) rather than live in a nursing home. Nena and Martin communicate largely through conversational games, once again through either/or questions, but also through literary references and quotes. The relationship is bittersweet with an unconditional love bound by unspoken understanding, even during moments of verbal disagreement.
The last scene of Nena at first seems shocking, but it is an ending authentic to the trajectory of the film. The conclusion to Nena's story is less suggestive of a finale than of a teenager's growth and maturity that will continue to expand beyond the confines of the screen. Diesing's work, combined with Hoes's talent, has turned a coming-of-age film into a larger reflection on the transitory nature of life for all ages.
FilmDoo Also Recommends: