Director: Maura Anderson
BFI Flare: London LGBT Film Festival 2017 review
Maura Anderson's first feature length film, Heartland, is a steady-paced and genuine depiction of a young artist's experience with grief after the death of her longtime girlfriend. Despite the story's tragic foundation, the film's superb casting and its choice of folk music and countryside scenery work together to create a story that feels almost soothing in its distance from the chaotic world of big cities.
At the beginning of the film, Lauren (Velinda Godfrey) is evicted from her home and unemployed due to having spent months in the hospital by her girlfriend's side. Following her death, Lauren then returns home to live with her homophobic mother (Beth Grant) in Oklahoma. Shortly after arriving, Lauren is informed that her brother will be visiting on a business trip along with his serious girlfriend Carrie (Laura Spencer), a coupling that feels more like a business transaction than an authentic relationship. In fact, Carrie and Justin (Aaron Leddick) met though work and share a company that acquires investments in local vineyards. After a few days, Justin is called upon for a work emergency, consequently leaving Carrie and Lauren behind to finish arrangements for their local wine tasting. After spending time with each other in the small city and its countryside, the two spark a friendship that quickly becomes more intimate.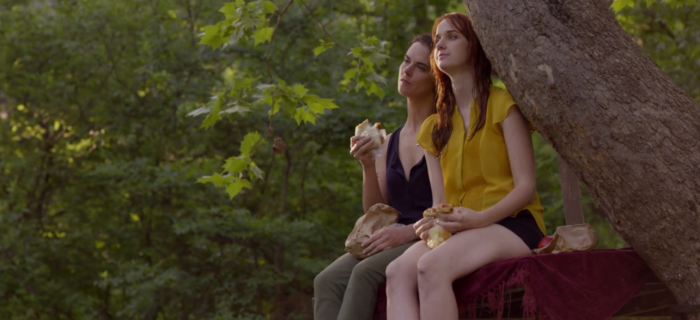 In its bittersweet depiction of coping, the film follows Lauren through a series of distractions. She works for her brother's company by designing wine labels, helps with the tasting party, and spends more time with Carrie in the evening, all in an attempt to put aside the grief she is not allowed to feel at her mother's home. The two protagonists' relationship is a realistic portrayal of an intimacy that grows out of comfort; Lauren feels obligated to hide her grief from her mother, who continuously expresses discomfort about her daughter's homosexuality, and Carrie feels out of place in a small town with largely conservative values.
The two young women grow to appreciate each other's company, finding amusement and empathy with each other while residing in the conservative small town. However, amidst the many scenes in which Lauren and Carrie converse and bond, we are offered glimpses of Lauren's lingering grief in her subtle, yet powerful expressions and somber glances. Godfrey's mannerisms and gestures are incredibly in tune with her character's internal conflict, the tension between wanting to let go and not yet being ready to. This astute portrayal is a testament to the fact that Godfrey also co-wrote the film and likely created Lauren's character.
Lauren's interactions with her mother are the most potent scenes of the film, offering an uncanny feeling for anyone who has felt out of place amongst their own family and loved ones. With a mother who refuses to accept her daughter's sexuality, Heartland is a genuine depiction of what it feels like to struggle with judgement from loved ones, and how to find enjoyment in the gestures of others outside of one's home. Heartland moves slowly at times, but it fits well with the setting of a small town, and it is an apt visual depiction of Lauren's psychology – of the persistence of grief that only time will amend.
Heartland screens Saturday 25th and Sunday 26th March as part of the BFI Flare: London LGBT Film Festival 2017. Find more info here.
FilmDoo Also Recommends:
To bring this film to your region, cast your DOOVote on the Heartland page.