Watch Liberty's Secret on FilmDoo
In Andy Kirshner and Debbie Williams' satirical comedy Liberty's Secret, the 'song and dance of politics' are joyfully literalised in tongue-in-cheek musical numbers that evoke campaign season image-making via cheerful choreography and some delightfully witty songwriting. Elsewhere, the film explores issues of same-sex relations, religion and national division through its tale of romance between spin doctor Nikki (Cara AnnMarie) and singing-dancing political icon Liberty (Jacléne Wilk).
Speaking to FilmDoo, writer and co-director Andy Kirshner discusses how Liberty's Secret came to be and what the film says about our current times.
When did you first conceive of this project? Was it a direct response to the most recent election season or did you have this film in mind for a long time?
I actually developed the project over eight years, beginning it as a response to the excesses of the Bush era. The script went through many revisions, and even changed genres a time or two. While it was always a musical, it was originally a much darker satire – something more like Dr. Strangelove, with song and dance. But at a certain point, Bush-Cheney were no longer in office, and I decided that Liberty and Nikki's story was the most essential aspect of the script, so I made the film into more of a traditional movie-musical – with a lesbian-political twist.
The film satirises the media-conscious image-crafting of politics by comparing it to the choreography and glamour of movies and musicals. Do you feel that the line between politics and show business has become too blurry?
Yes. I wouldn't be the first to observe that the craft of political image making and the craft of creating mass entertainment are very similar. In fact, a lot of modern political image makers (i.e. Steve Bannon, Roger Ailes) have been producers or directors in their previous careers. And the skills required of a politician, as we have seen dramatically with Trump, are many of the same skills required of entertainers: you might say that a politician is a very particular kind of theatrical performer. With Trump, his role as a reality television star has translated directly into his role as President (unfortunately, he has no other expertise). Turning a political campaign into a musical comedy is an exaggeration, but not that much of one, I'm afraid.
You yourself have a supporting role as news anchor Rolf Schnitzel, a parody of celebrity-journalists like Wolf Blitzer. Is this is a character that you enjoyed bringing to the screen?
Yes, I always enjoy performing in ridiculous wigs! It was a lot of fun to play the self-important Rolf, and we had many laughs on set. John Lepard, who plays the presidential candidate, is a great improviser. He kept feeding me hilarious lines, and it was all I could do to keep a straight face (in fact, I didn't always succeed, so there are still many outtakes on my hard drive).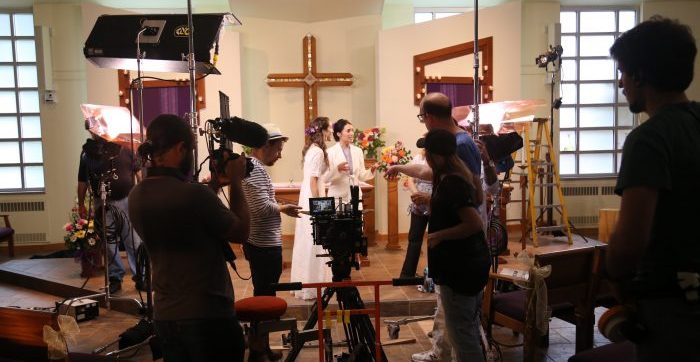 While Liberty's Secret pokes fun at many different groups and people, I feel that the film never truly villainises anyone. Was it important to you that the film wasn't too confrontational or exclusionary in its messaging?
I know people like Liberty's father, the preacher who cannot initially accept his daughter being queer. They are not bad people, but like Rev. Smith, they are encumbered by a big blind spot of prejudice. So it was important to me not to demonize Rev. Smith, but, instead, to give him a chance to change. He loves his daughter very much, and she him, so this intensifies his conflict. If he were just a hateful bigot and intentionally cruel to his daughter, I don't think the story would be as compelling.
I do believe that people's attitudes can change – as we have seen with shifting public attitudes on same-sex marriage – and I want to do my best to invite that change. Maybe it is a naive hope, but I really want some religious conservatives to see this film. Some of them will hate it, but maybe it will give some of them pause. It's pretty hard not to fall in love with Liberty and Nikki and root for their relationship to succeed.
As an artist who's heavily involved in music and theatre, how do you find the process of translating your ideas to the language of cinema in comparison to these other mediums?
I've been making music and theatre for many years, but film is relatively new for me. In fact, I had to study and learn quite a lot to make this film – which is part of the reason it took so long to complete (my initial drafts and test shoots were pretty terrible). I'd say that, for me, the biggest difference between theatre and cinema has to do with what can be communicated through images and sound alone – that is, without words. Once I got the hang of it, I found myself writing much more concisely, and beginning to imagine the story more as a sequence of images, songs, and dances. Fortunately, I also had a great Director of Photography working with me, Tripp Green. And my collaborating director and choreographer, Debbie Williams, has an amazing knack for translating the evolving dynamics of a relationship into dance. The film was a real team effort.
What are you working on at the moment? Any plans for a next film?
I'm currently working on finishing the final mix of the soundtrack to Liberty's Secret, which we are going to be releasing as an album next month. I've also begun developing a new film, a kind of experimental musical documentary, about another iconic American populist tycoon – not that unlike Trump – Henry Ford. And recently, a producer approached me about the idea of turning Liberty's Secret into a stage musical, so we are exploring that too. Finally – this is probably several years off – I would love to make a sequel to Liberty's Secret. We had so much fun making this first film, and I enjoy Cara, Jacléne and the other actors so much, that I'd be delighted to get everyone back together again for round two. Who knows, maybe it will become the lesbian equivalent of the Star Wars franchise! I did promise my family that I would wait a few years though.