By David Pountain
In Chloe Jury-Fogel's charming and insightful Stevie, a series of small, low-key moments and exchanges prove pivotal in the coming-of-age of the film's tomboyish title character, played by Jury-Fogel herself. Capturing the quietly awakening sexuality of the young Stevie amidst dating a boy named Justin and meeting his sister Angie, the film presents its relatable conflict between personal identity and the expectations of others with affecting warmth, humor and sensitivity.
With Stevie featuring on the newly available shorts collection from New Queer Visions, we spoke to writer-director-actor Chloe Jury-Fogel about this endearing work.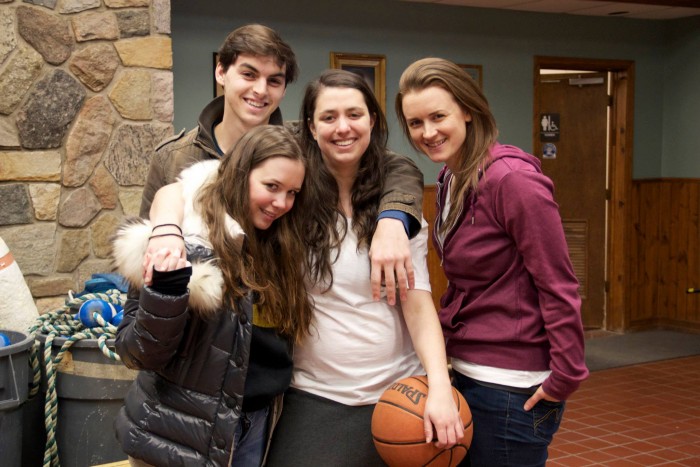 Unlike your other shorts, for Stevie you chose to play the lead yourself. Is this a character that you feel a particularly personal connection to?
Stevie is absolutely a part of me. First of all, I was a huge tomboy growing up and played a lot of sports, so that part is obvious to anyone that knows me. The first draft of this script was kind of like a diary entry. I was exploring my own thoughts about sexuality and romance and what it means to have different types of feelings for different types of people. I was 20 years old, living in NYC, and there was a moment where I had to take a step back and think about my identity in a new way. I felt like all of a sudden there was some sort of pressure to define myself in a certain way, and I wasn't sure how to do that, so I channeled everything through Stevie. The film that you see now is very different than that original draft, but Stevie and I share an extremely personal connection.
Would you consider it a more challenging process to direct a film that you yourself star in?
Since Stevie, I've directed other projects that I did not act in, and although it was nice to just focus on the directing aspect, those projects are nowhere near as personal to me as Stevie is. I didn't necessarily think directing myself was that challenging, obviously it required some extra logistical maneuvers like checking the monitor before and after every shot, and relying heavily on my AD and DP to get things done, but it felt like such an honest way of making the film. In some ways, it was actually easier that I played Stevie, because nothing was lost in translation between the writer, the director, and the actor, because they were all me. I think that's why this film feels so authentic, and why it's resonated with people more than I could have expected.
Would you be able to single out any specific creative influences for this film, or for your work in general?
I find creative influences everywhere. For Stevie specifically, Dee Rees's Pariah and a French film called Tomboy, directed by Celine Sciamma, were films that I watched while writing the script initially. I was lucky enough to have Susan Seidelman as a professor at NYU, and she was a constant source of inspiration and mentorship for me – she has an incredible body of female-centric work, like Smithereens, and Desperately Seeking Susan, and she was also just an amazing person to talk to and have on my side during the whole process. I also got a lot of inspiration from my gay, lesbian, and bisexual friends. I owe a lot to the conversations I had with them where they openly shared their experiences and thoughts and questions about being members of the LGBTQ community.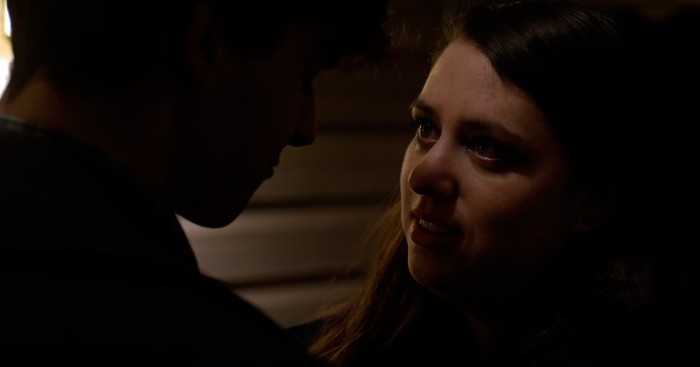 In terms of my work in general, I love artists that can do it all. I remember seeing Adrienne Shelly's Waitress and Zach Braff's Garden State when I was in high school and thinking it was so cool that they directed and wrote and acted in their films. Today, there are the Broad City ladies, Lena Dunham, Mindy Kaling, Amy Schumer, the Duplass Brothers. I super respect those people. They took complete control of their careers and have made some of the best work on TV. Also Diablo Cody. Juno is one of my favorite films. If we're talking about the past couple of years, I really loved Obvious Child and am excited for Gillian Robespierre's new work. Short Term 12 is another favorite. I watch it every time I'm feeling stuck. I also see A LOT of theater here in NYC and listen to a lot of music. Some of my biggest inspirations are musicians.
One element of the film that really stood out for me is the sometimes tense relationship between the personal and communal – specifically, the way someone's dating and sex lives might be scrutinized or intruded upon. Is this a subject area that's of particular interest to you as a filmmaker?
I don't necessarily think the subject of personal vs. communal is something I consciously want to explore in other projects, but I think with Stevie the theme is very prevalent because it's such a big part of coming out. If we as people didn't think we would be scrutinized by our communities, we would live our most honest lives. But because there is so much intrusion in our culture, we "edit" what we do because we want to be perceived in a way that doesn't make us feel like outsiders.
This is especially true when it comes to sexuality. If we come out as gay or bisexual or whatever, we fear that the people that surround us are going to view us negatively, or even just differently. Think about how much easier coming out would be if we didn't care what people thought about us. We wouldn't even have to "come out" at all, we would just be. The tension that Stevie experiences with her sister and with her friends is something she has to overcome in order to be honest with herself. I know I'm guilty of saying to myself, "what will people think of me if I do this?" That's definitely something I'm working on.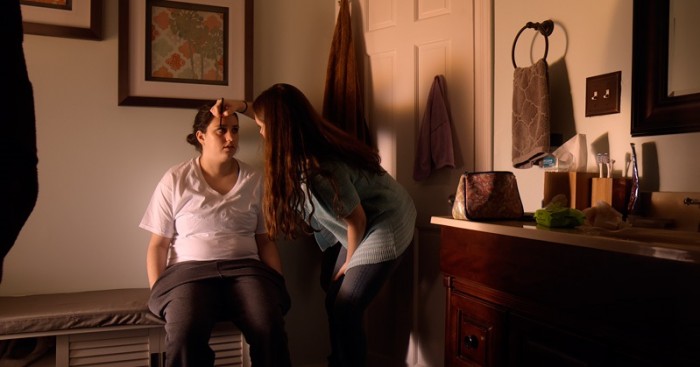 What was the inspiration for the film's snowy small town setting?
To be honest, the snow was just happenstance. We shot in February after a very snowy winter, so there was still a lot of snow and ice on the ground. In fact, we were supposed to shoot on a different basketball court, but it was under a foot of ice when we got there. The parks department in Wayne, New Jersey (where we shot) had plowed the snow in the parking lot, creating those large snow banks you see in the basketball scenes. My DP took one look at those snow banks and said, "We have to shoot here." We bought a basketball hoop from a sporting goods store that day and made our own court. Real independent filmmaking.
In terms of the small town aspect, I thought it made sense that Stevie would have grown up surrounded the same people her whole life, so it would really rock her world when someone new arrived. She's lived a pretty sheltered lifestyle, and has probably not met that many gay or lesbian people, which allowed for a really prominent shift when she meets Angie. I think it also adds to that element of "personal vs. communal" I talked about earlier. If the film were to continue, it would be fun to explore how the other members of the town would react to the whole situation, and what other obstacles Stevie would have to go up against.
What would you hope any young viewers still working out their sexuality might take away from this film?
It's really awesome to think that someone could take something away about their own sexuality after seeing my film. It was never my intention to make a statement about sexuality, but it's really an honor to have people come up to me after screenings to let me know what they took away from it. That's the highest compliment.
I guess I would just want young people to realize that there's no "right way" to go about figuring out your sexuality. Also, sometimes there's nothing to "figure out" at all. There's just living your most honest life. I'm still working on it myself. I hope they see that it's not about gender or sexual orientation, but a genuine connection that two people can share, as unexpected as that connection may seem. Sometimes attraction or love takes you by surprise, and it's okay to allow yourself to feel those things, even if it scares you or confuses you. You are absolutely not the only person that has felt scared or confused by love. Also, there isn't one right way to be a girl (or a boy). If you want to be a tomboy, be a tomboy. It doesn't mean you're a lesbian, or not as much of a girl as anyone else. Someone will think you're cool and gorgeous and sexy even if you wear men's jackets or shove chicken wings in your mouth while you watch a football game. It worked for Stevie.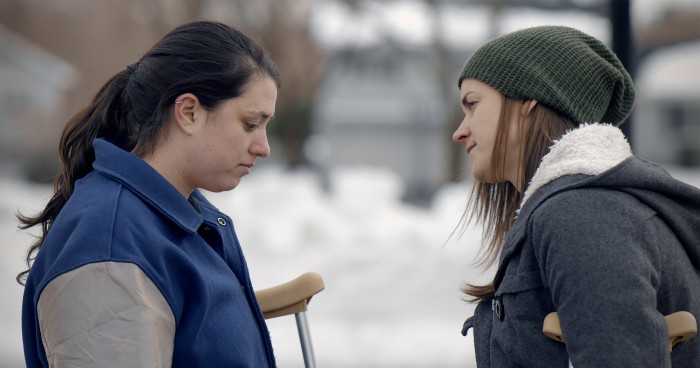 Do you have other any projects in the works?
My latest short, Noah and the Band, will start a festival run at the end of this year. It's about an up-and-coming folk singer who gains custody of her 6-year-old nephew as she's about to go on tour. Kind of like Almost Famous meets Little Miss Sunshine. I've had the feature script written for a while, so my hope is that we'll generate enough interest to find funding for the feature in the next couple of years. In addition to that, I'm in the early stages of writing my next project, tentatively called Cherry, so I'm excited to see where that goes. I'm also pursuing an acting career, auditioning and taking classes in NYC. Finally, I'm very active in the NYC improv community as a student and performer at the Upright Citizen's Brigade Theater. Every filmmaker should do improv! You can keep tabs on me (and contact me!) at chloejuryfogel.com.
Watch Stevie as part of the New Queer Visions: Lust in Translation compilation on FilmDoo.com