By Sharon Calingasan
Everyone loves a good action-packed movie where the fast-handed hero bests a mob of bad guys with a combination of kicks and jumps amidst shouts and shrieks. Here is a list of bone-crunching features with deftly choreographed fight scenes from the Land of Smiles and exotic beaches: Thailand! These films feature notable and not-so-known Thai actors, some of whom went on to pursue international acting careers in the US.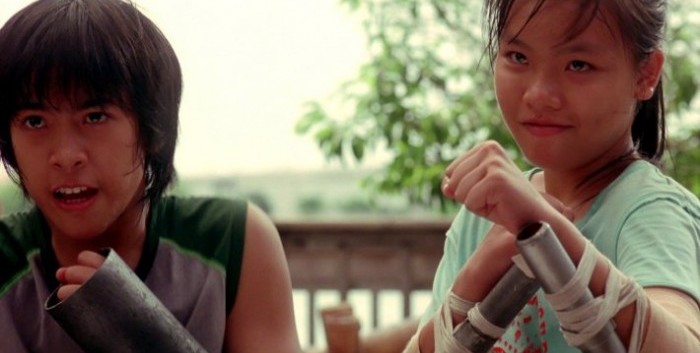 10. Power Kids (aka Force of Five) (dir. Krissanapong Rachata, 2009)
Kids will always be kids – but then there's Power Kids! This film features a group of youngsters – Wuth, Pong, Catt and Jib – charged with tackling the armed terrorists who take over a hospital. What's special about the hospital is that this is where the donor organ is, which can save the life of Wun, younger brother of Wuth.
Why you should see it: These kids can deliver no-nonsense Muay Thai moves that are way too powerful even for the adult antagonists. Watch them dismantle their enemies with high jumps -complete with flying knees – and don't blink during the final battle with the terrorists' leader, played by none other than popular Vietnamese action star and Hollywood stuntman Johnny Nguyen.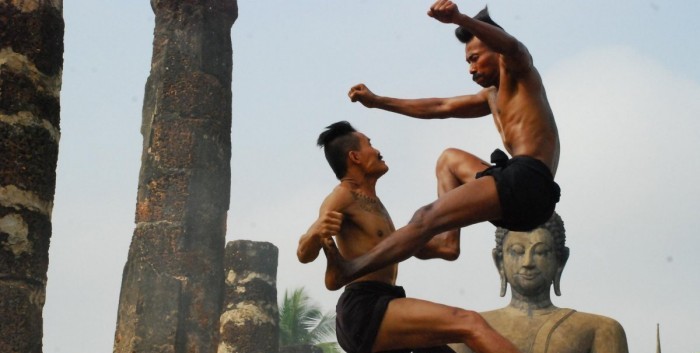 Awarded for Best Score at the 2011 Thailand National Film Association Awards, this inspiring film depicts the true life story of Japanese adventurer, Yamada Nagamasa, who was left for dead by Japanese soldiers but saved by Thai warriors in Ayothaya. In the process, Nagamasa learns the Muay Thai fighting style, leading to nonstop action as the titular hero fights back against his own countrymen who terrorize the region.
Why you should see it: Outside of the impressive action stunts and bolo fighting scenes, the film also has its share of scenic visuals. However, it's really those action-packed set pieces that will really draw the viewer, along with a laudable portrayal of the title character by Thailand-based Japanese model Seki Oseki.
8. Fireball (dir. Thanakorn Pongsuwan, 2009)
Basketball and martial arts come together to bring viewers an action-packed spectacle! The story revolves around Tai (Preeti Barameeanat) who discovers that his twin brother Tan is in a coma and vows to seek revenge. This leads him into the underground world of gangs and Fireball, a violent game that requires a combination of basketball and Muay Thai fighting in order to win. Killing an opponent is okay as long as it's done within the court.
Why you should see it: Viewers who fondly recall older movies like Bloodsport or even Stephen Chow's Shaolin Soccer should take notice, as Fireball promises even more intense fight scenes, well-executed stunts and no-holds barred fighting.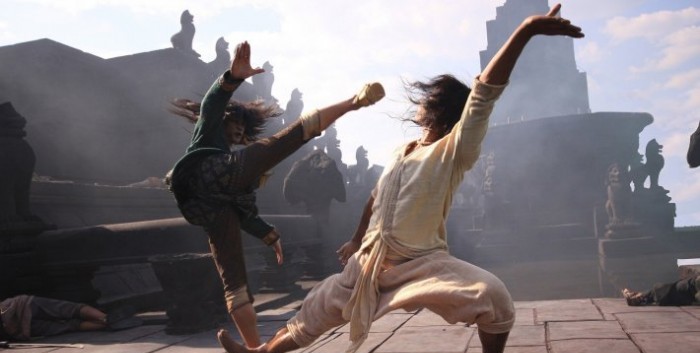 7. Ong-Bak 3 (dir. Tony Jaa and Panna Rittikrai, 2010)
The third instalment in the popular series sees actor Tony Jaa continue to amaze viewers with his world-renowned abilities. After nearly being beaten to death by the men of his enemy, Lord Rajasena (Sarunyo Wongkrachang), Tien (Jaa) is saved and nursed back to health at Khan Khone village. Here Tien is taught how to deal with his karma and to unlearn everything so he can learn again, undergoing a spiritual transformation into a Buddhist monk.
Why you should see it: Taking advantage of Jaa's impeccable Muay Thai skills, the film incorporates graceful dance-like moves into its action scenes. Jaa also co-directs this film, making it extra special.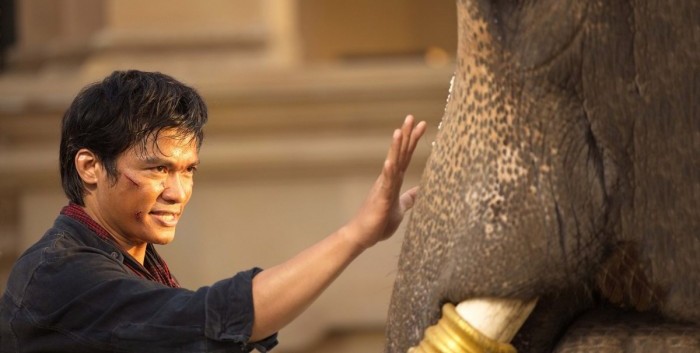 6. The Protector 2 (dir. Prachya Pinkaew, 2013)
A long-awaited sequel to the 2005 original, Kham (Tony Jaa) experiences the same predicament as before; his elephant is stolen again, this time by arms dealer Mr. LC, played by the Wu Tang Clan's RZA. Now Kham must tackle Mr. LC's elite fighters, with help from his old friend Mark, played by Petchtai Wongkamlao, and a lady played by Jeeja Yanin of Raging Phoenix and Chocolate fame.
Why you should see it: You will marvel at the fast-paced fight scenes and steady rhythm that is on point throughout the film's entirety. Despite the heavy use of CGI and some visible wireworks, the film is sure to keep you on the edge of your seat for the entertaining action stunts and bone-breaking choreography.
5. Chocolate (dir. Prachya Pinkaew, 2008)
Awarded the Federation Asian Award by the Puchon International Fantastic Film Festival, Chocolate gives its top billing to an extraordinary woman. Thai actress and martial artist Jeeja Yanin shines in this film about an autistic child named Zen who picks up the passion for martial arts from obsessively watching it on television as she indulges in chocolate candies. Living next to a fight school allows her to sharpen her technique and, when it is time to collect a debt some gangsters owe to her sick mother, Zen's skills are put to good use.
Why you should see it: Watching Yanin on-screen as she topples countless foes with her elbow and knee attacks in classic Muay Thai style will leave you with your jaw wide open.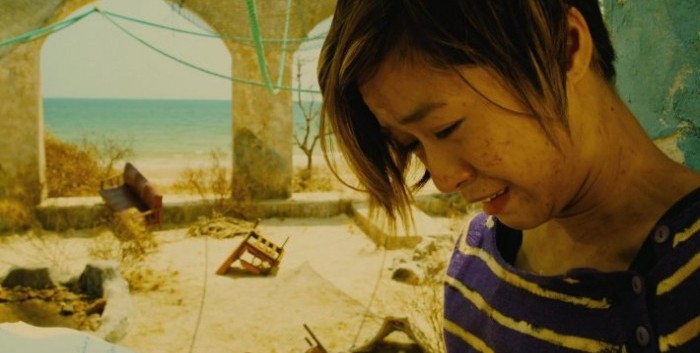 4. Raging Phoenix (dir. Rashane Limtrakul, 2009)
With choreography from the notable Panna Rittikrai of Ong-Bak fame, the film showcases once more the extraordinary skills of Jeeja Yanin. The story follows Sanim (Kazu Patrick Tang) and his friends as they wage war against a violent gang that's been abducting women all over Thailand. With their loved ones kidnapped, the group vows to dismantle the gang with the help of Yanin's punk drummer Deu.
Why you should see it: This is a must-watch for its peculiar drunken fighting style, featuring a range of intricate and hard-hitting moves that the protagonists unleash against their enemies. Don't miss that definitive final scene where Yanin fights it out with the evil transsexual Jaguar London, portrayed by Asia-Pacific Women's Bodybuilding Champion Roongtawan Jindasing.
 3. Ong-Bak 2 (dir. Tony Jaa and Panna Rittikrai, 2008)
Tony Jaa, touted as the greatest Muay Thai artist of his generation, stars again in this 15th century sequel as the son of murdered royalty. After surviving a thrashing in a crocodile pit, he is trained as a fearsome warrior to later take revenge on his enemies.
Why you should see it: The Muay Thai action that Jaa is famous for is in plentiful supply, plus you can see Jaa using a variety of weapons like swords and staffs. As a bonus, he also throws in some kung fu moves, plus the film's fight scene atop an elephant is something quite unique.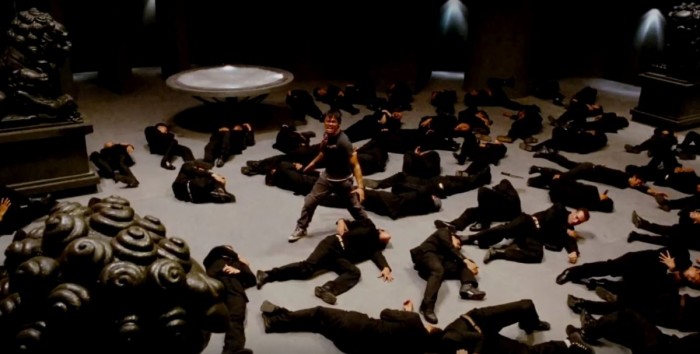 2. The Protector (dir. Prachya Pinkaew, 2005)    
The unparalleled Tony Jaa stars as Kham, a young man with pet elephants that he regards as part of the family. Unfortunately, the animals have been stolen and brought to Sydney and leaving Kham tasked with tracking them down and bring them back safely. With the assistance of his friend Mark (Petchtai Wangkamlao), he must take on a series of opponents played by up-and-comers like Johnny Nguyen, Jon Foo, Lateef Crowder and former WWE wrestler Nathan Jones.
Why you should see it: Amongst the many fast-paced and suspenseful fight scenes, there is a must-see motorcycle stunt where Jaa backflips and topples his enemy from above. There's also the more-than-human strength of Jaa that propels him leaping into a helicopter from a nearby building; quite an unthinkable thing to do but something that only Jaa can pull off with surprising agility and speed.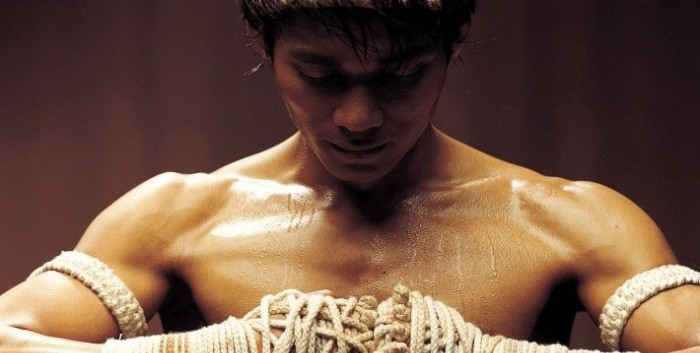 Earning the Action Asia Award at Deauville Asian Film Festival, as well as the Orient Express Award from Sitges-Catalonian International Film Festival, Ong-Bak: The Thai Warrior is widely regarded as a breakthrough for the Muay Thai fighting style. Foregoing the use of wires, CGI and stunt doubles for Tony Jaa and the cast, the film dazzles viewers with its death-defying set pieces. A trademark motorcycle scene performed by Jaa in The Protector is seen in an early form here, and the Fight Club duels between Jaa and his opponents are something to relish.
Why you should see it: This film is considered the gold standard for Thai martial arts cinema and the film that allowed the world to come to know of the articulate yet deadly Muay Thai style that can break bones to oblivion. It also rocketed Jaa to international stardom alongside his idols Jackie Chan and Jet Li.
Muay Thai, kung fu and taekwondo, among other disciplines of self-defense, have formed the basis of many a Thai movie to win the hearts of viewers worldwide. For those of us who grew up watching international stars like Jackie Chan, Bruce Lee and Jet Li, these ten films provide fresh twists and ideas on the genre, while keeping that essential grit and determination that martial art thespians embodied, then and now.
(UK & Ireland only)