By David Pountain
Directed by Natalia Leite
Tribeca Film Festival review
Bare, the vibrant feature-length debut of Natalia Leite, is a drama that's refreshingly submissive to the whims of the night. It's not that the film is oblivious to the dangers of living impulsively. But, through the experiences of the still developing Sarah, Bare is profoundly absorbent to the spontaneous pleasures and free-spirited logic of the nocturnal mind, to the point that daytime activity is virtually background noise. Trust is sharing a flask with a stranger. Success is finding a generous client at the strip bar. Drugs are a medium for self-discovery. The luminous night holds the pulse of melancholic romanticism that defies the oppressive and purposeless daylight hours – consequence-free trumps the inconsequential.
Played by Dianna Agron of Glee and Heroes fame, Sarah begins the film bored and sullen in a painfully quiet small town in Nevada. Shortly after getting fired from her job at a supermarket, she comes across Pepper, played by Paz de La Huerta, sleeping on the sofa of her father's now shuttered store. While Sarah is unsure at first of how to respond to this uninvited guest, the two soon begin to make a connection. In their early exchanges, Pepper may initially appear to serve as just another representation of Sarah's despondent feelings of nowhere-ness but the world of possibility the relationship opens up for Sarah is evident from their trip to Vegas that very night.
That Sarah eventually finds new work as a stripper seems to place Bare in a long tradition of cinematic tales of young, work-hungry heroines who end up making money through their sexuality. What distinguishes this particular story is how lightly it's treated. It isn't 'tragic' or 'depressing' that Sarah has taken up this occupation. Neither is it a reluctant last resort or an especially unpleasant means to an end for the character. Sarah gets on stage on a cocaine-informed whim and the film respects (and perhaps even celebrates) her choice.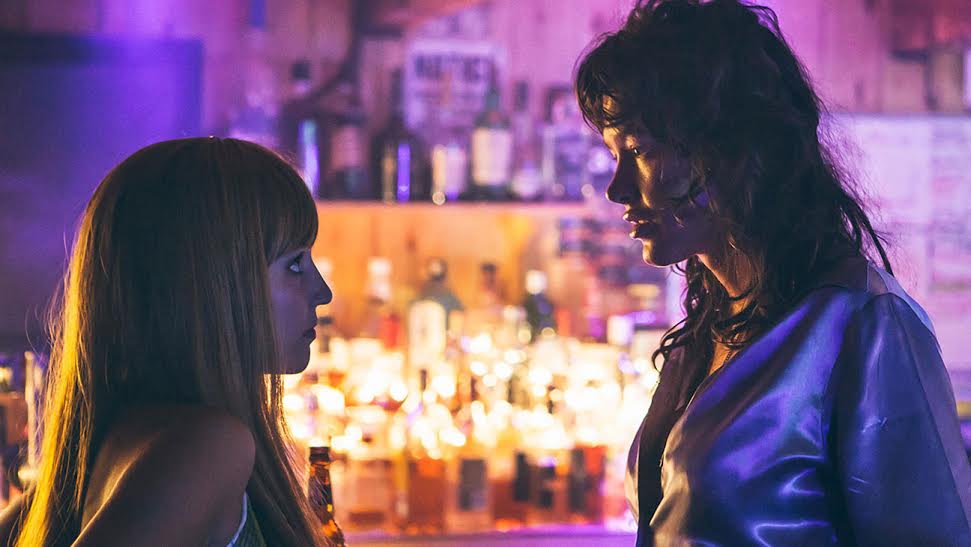 Likewise, the aimless wanderer is as much a staple of American independent cinema as the introspective man-child but Pepper's lifestyle isn't treated as the embodiment of any national sense of dejection. She's simply one individual living the erratic, risky life that's right for her. Paz de la Huerta balances her character well with a performance that's endearingly sincere and accessibly awkward while maintaining a believability to her outcast status. Dianna Agron, meanwhile, is the sympathetic heart of the film, delivering a performance more identifiably natural than what we've seen in her higher profile works.
Of course, it doesn't hurt that the two actors are supported by a committed crew unified in maintaining the film's ethereal, amorous tone. Aided by the radiant, almost aquatic cinematography and sharp editing, Natalia Leite seems intent on capturing every interaction from the best possible angle. At its most passionate, the visuals are almost rhapsodic, but never distractingly so, while the story floats along the shimmering synths of the soundtrack which includes compositions from TV on the Radio's Kyp Malone.
There's a strange ambiguity to the film's third act. It's unclear the extent to which Leite is warning against Sarah's actions or condemning the protective, judgemental reactions of her friends and family – though the transcendent final scene goes some way to defining the film as a whole. Bare is best viewed not as a cautionary tale or a call to action or a plea for recognition of some group or lifestyle but as a simple, compassionate document of a personal transition. You can decide whether this transition will ultimately be for better or worse but there's no denying that Sarah feels a little freer by the closing credits.
Read our interview with director Natalia Leite here.
Discuss Bare at FilmDoo.com.
Recommended Viewing on FilmDoo:
(UK & Ireland only)