By Leni De Castro
The last two decades have seen cinema from the Southeast Asian region find exposure on the world stage. More and more features with contemporary concepts, reflecting and representing the mindset of the people in this culturally diverse area, are finding popularity. Western influence, particularly Hollywood's, have guided SEA cinema in its evolution to find its own form, independent of the lavishness and clichés of the west. Social issues, as well as the absorption of prevailing and universal cultures, have become a touchstone alongside stories of hope and dreams, friendships, anger and revenge, and love and relationships.
Our top 10 SEA films reflect the contemporary lives of people in the region as they cope with the changes that come with opening up to global expectations. Films that reflect the sentiments of Asians with regard to migration, identity, evolution of gender roles – and reconciliation with past omissions and commissions, with the possibilities of truth and freedom that the present and future promise – are what inspire most Asian auteurs.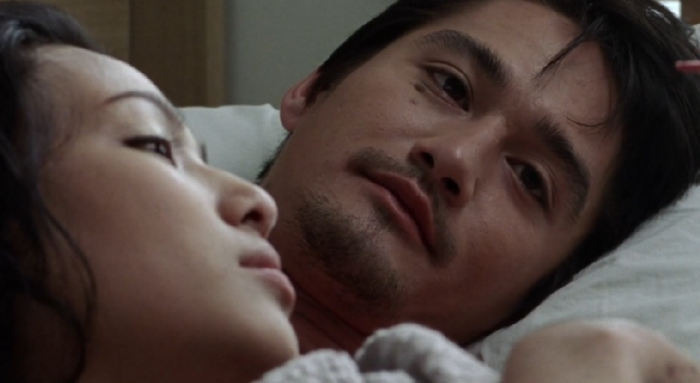 1. Sway (dir. Rooth Tang, 2014, France/USA/Thailand)
Sway is a triptych that explores the marvel of love as related to geography and individuality. Rooth Tang proves that a flower can indeed bloom through a crack in the concrete. Thus love can thrive in a new transitory region but with varying degrees of commitment, assertion and individuality. The three stories in the film examine the lives of three Asian couples amidst unfolding current events. This wider context constitutes the backdrop, enabling audiences to observe reflections of the mood and theme of each story.
In Paris, while the intervention of the French military in Mali creates a controversy, love intervenes at a micro-level to shape the individual plans of two people in what is a seemingly fleeting relationship. In America, Obama wins another reelection which signals a big step in bridging racial issues in the country. At the same time, an L.A. couple in an interracial marriage iron out the cultural differences that come with the union. In the time of the violent protests of the red shirts in Thailand, a country pregnant for change, a Thai woman, involved with a man whose business dealings take him everywhere, becomes expectant herself, and must deal with her inner revolution and decide on whether to follow her man or stay put in the country that she calls home.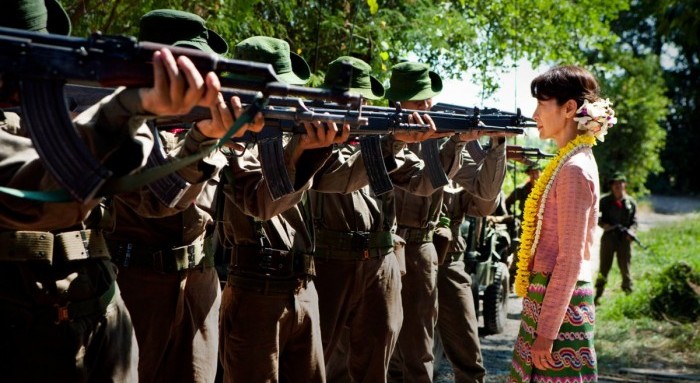 2. The Lady (dir. Luc Besson, 2011, Burma)
The clamor for change and love for one's country is depicted in this bio-film by Luc Besson about Burmese activist and leader Aung San. The stoic lady sacrifices everything, even personal happiness, for the love of country and takes measures to drive her people towards true democracy and change. Aung San's strength comes from her family who stands by her through all these testing times. Her activism is a family affair, with even her children speaking loud enough for the entire world to hear. They all believe that if they are loud enough, the Burmese government might refrain from assassinating Aung San. The efforts of Aung San's husband to support San's politics until death was felt worldwide by many parties, particularly the Junta leadership, British Government, and United Nations.
This film was not created to become an aesthetic commodity that would claim its share of the film market, it simply told the truth as it is. Because of it, people worldwide have been pouring in support for the martyrs who opposed the repression. It aims to expose the abuses of the military Junta that ruled Burma by heartfelt activism, as an effort to stand up and be heard and be put within the crosshairs of a self-indulgent regime.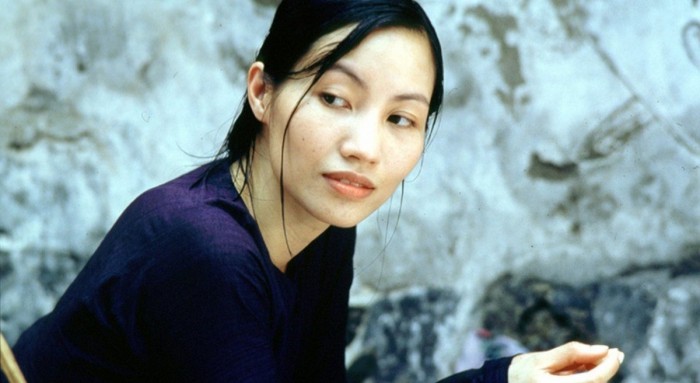 The Vietnam War has left scars so deep that many in the world still perceive Vietnam as war torn with broken people. While that is true, they have also started to heal and Trần Anh Hùng wants the world to see a different Vietnam, as well as the tranquil disposition of the Vietnamese people. In his third feature, for instance, happiness subtly overpowers contentment – a process which has never been more clearly conveyed as in the delicate silence between a couple.
In one standout scene, both enjoy being submerged in the tranquility of each other's presence. There are no words, no radio music, no nervous tapping of fingers or knees ever necessary nor even wanted, for they already have each other, as well as this endlessly beautiful moment. The viewer is then astounded by the amazing composure of overwhelming joy that comes with announcing a pregnancy, the eloquent moment embodying the delicate sweetness that is all over this movie. This is balanced by the strength and determination behind the revelation of a secret. There is no haste in this beautiful promenade, for all around are the colorful blossoms of real life that they stop to smile at. They float as they would on a cloud that is as soft as silk and far from the dangers of human frailties and suspicions. Overall, The Vertical Ray of the Sun is a delightful representation of completeness that comes with harmony and fulfillment in the littlest yet most essential things of life.
Reconciling the past with the present in relation to the future is a common theme among Asian films. Misdeeds haunt and cast long shadows that loom in the present and, in a way, predict things to come. Woo Ming Jin's intricately woven narrative is one such case. Although The Second Life of Thieves is not for general patronage, it is honest, revealing, and fearless. It is intentionally aggressive while emphasizing reciprocity in the way that the subjects treat one another.
The film starts with Tan's wife and best friend fleeing their village. Tan, feeling betrayed, develops a relationship with his best friend's regretful daughter, Sandy, in this hushed movie about homosexual lust and love. Gentle and reticent yet unapologetic, there are plenty of languid moments to emphasize the ongoing tragedy along with many opportunities to reflect on specific scenes and on the film's message and objectives as a whole. One such aim is to give the gay rights movement a voice. The past's connection to current times becomes a hazy trek that connects a Burmese girl's murder to the fleeing couple. The intimate focus on the story rather than on setting and sound gives the film the contemplative self-absorption that makes it more like poetry in search for truth.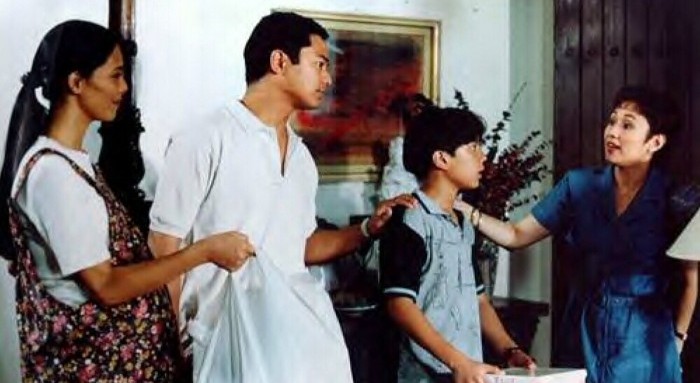 5. Lea's Story (dir. Chito S. Roño, 1998, Philippines)
The beauty of this film is the philosophical adventure that Chito Roño invites us to join in on – based on what is the common dilemma of women who have been stigmatized as unprincipled field players. The world was not designed for such women; it was created to preserve the status quo that protects men from the indignity.
Honest and candid Lea is seen as a needy person clinging to men for emotional support while simultaneously living a seemingly independent life. She is a subject of scrutiny for many, including her neighbors, co-workers, relatives and family, and to some extent her own children. But as the drama ensues, we find that she is genuinely happy. The most important thing is this: she never lies to anyone and she never hurts anyone. Her sincere enjoyment of her coquettish relationships become misinterpreted in a society that is gravely critical of extra-marital affairs, especially for separadas like her who have long been alienated by their spouses.
In a judgemental world, especially in a largely devout Roman Catholic population such as in the Philippines, the response to affairs tends to be stereotypical, leading to an adventure that has its own share of laughing and crying moments. Women's rights, which have been violated for centuries and continue to this day, have resulted in rebellion or perhaps indifference in people. Roño's film is an eloquent statement on these ongoing issues and the evolving role of women in Asian societies.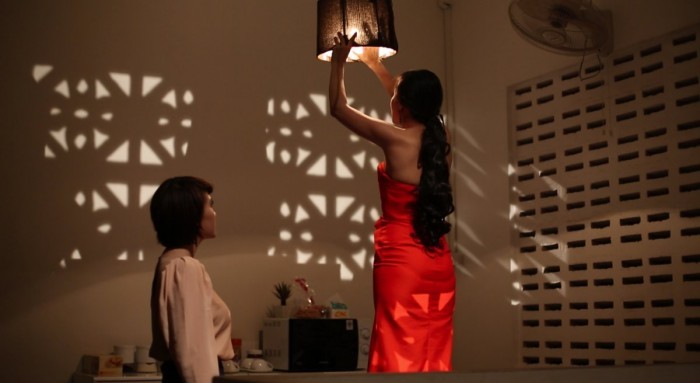 6. Vientiane in Love (dir. Phanumad Disattha, Xaisongkham Induangchanthy, Anysay Keola, Vannaphone Sitthirath, 2015, Laos)
This five-in-one film on the different phases of love aims to showcase Laos' capital in a light mood that features four filmmakers and a cast of Laotians who are eager to show off their city as well as their specific talents. Update Status, the first story, depicts the tendency of social media to take root in our lives and the responsibility that comes with using it. The second story scrutinizes a failed relationship and shows how closure and forgiveness are given due importance. The segment also gives the viewer a quick tour of the westernized side of Laos – the BMX bikes, skateboards, smart phones and European fashion.
Darkness looms in the third story as a wife seeks vengeance on a cheating husband and uses his mistress in the execution of her plans. Laotian women are not meek but they seek out truth and contend for the vindication that they deserve. In the fourth story, loneliness becomes more than just the longing for loved ones, it is a longing for home. The need for familiarity in place and occupation is, in itself, as essential as familial love and friendships. The fifth and final story, Longing for Love, is a pragmatic look into the possibilities of love. This segment also tackles forbearance of one's circumstance and one's limitations with the apt addition of humor – because Laotians are an optimistic people even when faced with possible rejection. Together, the filmmakers show the light and dark sides of love, including the side that is motivated by anger and hate.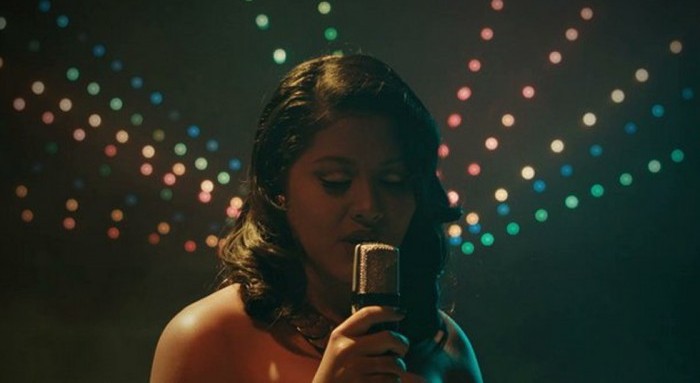 Lucky Kuswandi's bold, feature-length undertaking is well calculated, precise and magnifying like a vessel. The director's efforts to precisely tell both personal and national stories of Jakarta and the Indonesian people coping with progress and development are to be commended, showing human beings to be containers of emotion magnifying the inside that is clamoring to be expressed.
In the first of three stories, two friends feel awkward towards each other after one arrives from New York. The narrative sees a clash of the internal and external, with the former holding an altered conception that that yearns to find an outlet. And after an evening of openhanded exchanges, the two of them eventually find each other.
The second story begins with a poorly designed container: a man who is not a gentleman, thus unable to keep a young woman's attention. The insults and disappointing moments of this first date transition into the woman finding another, more appealing companion, her waiter. Meanwhile, heavy issues bring a widow to the illuminated streets of Jakarta to look for her late husband's mistress. Moving reflectively of her own accord through this unfamiliar environment, the widow realizes that she has been in one place for too long. She finds herself in a lounge bar containing the singer mistress who will free the widow's mind and bring back her shape.
Jakarta, and that hotel specifically, is like a plastic sheet that gets to be shaped and then reshaped by the experiences, traditions and the struggles of different people. The desire to do, to be happy and to share this happiness with the rest of the world is a well-pronounced ambition of every Indonesian.
8. Singapore Dreaming (dir. Colin Goh, Yen Yen Woo, 2006, Singapore)
This film is about the people who live in the most progressive and competitive society in the region. The conundrum of charm and unhappiness creates interplay in this story with dashes and pinches of humor in the lightest of manners between the lead character, the father and head of the family, and his traditionalist wife. The father is heavily in debt in order to support the education of his only son abroad and his dutiful wife, one with a penchant for making herbal tea for her family. The daughter is expecting her first child. Her husband is an unhappy bloke who works for an insurance broker and is being pressured by his wife to work harder to bring in more money. Their only son graduated from the United States, and is hoping to land into a lucrative position with his diploma.
Hope and despair come when the father becomes the winner of a lottery. The dream of owning a condominium rather than staying in state housing projects; owning luxuries like jewelry, cars, and credit cards to buy one's heart's desires; and being a member of a prestigious country club were once unreachable but are now within arm's length. Giving value to material things over integrity and family is keeping the family apart as they deal with a tragedy. The first independent film in Singapore to garner enough audience to break even in the box office is seen as a feat reserved for a theme that reflects the sentiments of its citizens. Singapore Dreaming evokes the pressure felt by Singaporeans to work hard for material gain and respect.
Tom Waller's The Last Executioner is the story of Charovet Jaraboon, the most prolific executioner in the state penitentiary of Bangkok, with 55 executions to his record. Tom Waller brings us deeper into the rooted psyche and motivation of the guilt-ridden Thai people as they reconcile traditional beliefs with western influences.
Chavoret, or Chow, is a person of ambition and passion who was meant to be a rock star. But this was interrupted by life's responsibilities as he falls in love and starts a family. Landing a job as a state penitentiary guard helps to fulfill a prediction given to him by a fortuneteller who informed him that he will be working with death.
All throughout his professional life he is plagued by guilt for executing prisoners, yet he keeps the outer facade of integrity in his work. The Buddhist teachings emphasize that karma works within the machinations of detachment from desire and gloomy feelings. But the western influence of guilt and conscience as well as societal disapproval with his profession haunts him in his sleep and waking hours. Profession and beliefs seem to clash a lot and are often hard to reconcile when the work in question has something to do with the harming and killing of another person, and even after the assurances from religious authorities, the nagging feeling of guilt lingers.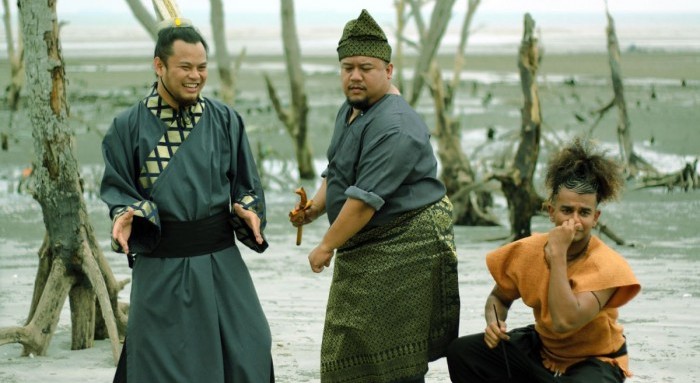 10. Nasi Lemak 2.0 (dir. Namewee, 2011, Malaysia)
Nasi Lemak, the rice dish, becomes Namewee's device for redefining what a movie is to Malaysians. They seek what is "normal" and expected, and he designs a dish to strike an inner chord in the very heart of the populace. Nasi Lemak is about racial harmony. Therefore, in the movie, ethnicity is disregarded, and Malays, Indians and Chinese become part of a story chronicling the search to find a rice dish that would be enjoyed by all the three cultures of this multi-cultural society.
The titular meal is used to help Chef Huang's family gain control of the Gong Xi Restoran, eventually proving to be the rice dish that will unite a divided nation. This unity is a call to move forward together in this new global age of dazzling speed, technology and competition. Again, as he did years ago when he wrote a rap song fused to the Malaysian National Anthem – shocking and infuriating a lot of people, including the government – Namewee attempts to put in a light-hearted context what he perceives to still be the persisting problems of his country. Nasi Lemak 2.0 is to be his new rap song, his renewed call for social equality, and his revived call for racial harmony in a society that sees persisting gaps that separate the three races. It is slipshod at times, and some critics find it to be lacking of artistic merit, but it entertains enough, packs sufficient humour (particularly the Singlish jokes), and the best thing about it is that it makes people aware of the problems that continue to choke society.
As clearly indicated in the above list, South East Asian efforts are finally finding footing on the international stage. These movies recognize political, cultural and emotional idiosyncrasies, giving the world a chance to get involved in what once was an ignored region. Via the medium of cinema, previously overlooked countries are showing that they have raised the bar in storytelling and the creation of films that express situations, mindsets and evolving cultures, as the area merges with rest of the world in globalization.