By Zara Saeed
Director: Neil Armfield
This visual representation of Timothy Conigrave's memoir acts as a sobering and compelling lesson on the trials of being young, gay and in love. Spreading over a 20-year period against the backdrop of the AIDS crisis, we are first introduced to the unassuming leads during their high school days, as the date 1976 streams across the frame. As the film shifts between different times in the characters' lives, we follow Timothy and John through the trials of adolescence and their strife to be accepted within society as they mature. The film beautifully demonstrates the aches and pains of young love in a realistic, nuanced way. Armfield manages to highlight the development of each character over time, emphasising how societal notions and constructs impact even the closest of relationships – particularly those between a parent and their child.
The clash of religion with sexual freedom that Tim and John experience is highlighted by the presence of Catholicism within the film, seen at their school and in their home life. Instantly we are made aware of the reasons behind the lack of sympathy and help throughout the AIDS crisis in this period. The audience joins the cast in questioning if these rules against homosexuality (and religion) have ever been adhered to within society, engaging with the plight of forbidden love.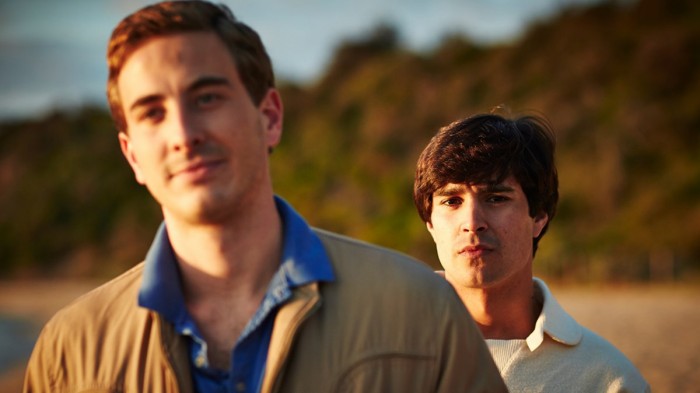 Armfield draws parallels with Shakespeare's Romeo and Juliet throughout the film, further stressing the conflict that the boys face. However, Tim and John don't let anything prohibit their love, allowing us to witness the consequences of following through with this romance, unlike in Shakespeare's tragedy; yet this narrative also ends in untimely death. The idea of such an engulfing emotional and physical dilemma strikes a powerful chord in the viewer. Ultimately we root for each character, not only in showcasing their love but in finding medical help for the spiraling AIDS pandemic that they find themselves in.
Finally, Holding the Man is perhaps made all the more resonant when we debate how much the prejudice against the gay community has improved over time. Whilst many of us consider our society to be liberal and tolerant, recent events in Orlando would suggest otherwise. The film also explores how sexuality inhibits the characters in terms of their careers. For example Tim (an aspiring actor) plays a secondary role in the school adaptation of Romeo and Juliet (Paris as opposed to Romeo) and is also stripped of his role as Stanley in A Streetcar Named Desire, whilst at acting school. He is criticised for letting his boisterous personality affect his performance, something that we regard as unjust and frustrating for Tim. The compelling performances from each character make it easy for viewers to contemplate both the emotional and physical trauma of Tim and John's relationship, especially in the final scene where we see what has become of Tim following John's death. Overall, the film has an extremely profound impact as a brutal memoir of a young man's life.
Watch Holding the Man on FilmDoo.com. (UK & Ireland only)
FilmDoo Also Recommends: