By David Pountain
As his body of work will attest, Portuguese director José Pedro Lopes has a clear penchant for the macabre, often presenting grimly comic scenarios which see the crueller and more reckless sides of human nature come bubbling to the surface. His tautly constructed 2011 short Survivalismo, for instance, sees a man go through the five stages of grief after he wakes up with a bag over his head, a rope around his neck and a wobbly chair beneath his feet. Next Lopes aims to expand on his unusual sensibilities in his first feature film, The Forest of the Lost Souls (original title: A Floresta das Almas Perdidas), due out this fall.
Speaking to FilmDoo, Lopes discusses this upcoming project and reflects on the dark, playful artistry of his output so far.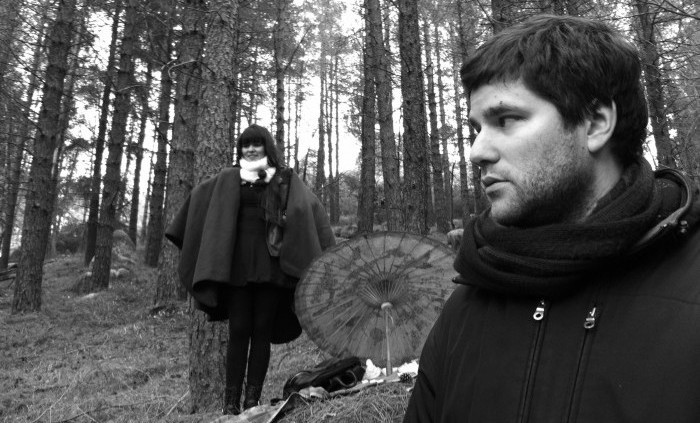 First off, can you give us a quick summary of what your upcoming feature, The Forest of the Lost Souls, is about?
The Forest of the Lost Souls is a coming of age slasher movie, as I pitch it. It is set in a suicide forest in a remote place between Portugal and Spain. Two strangers meet there: one is a father who is looking for the place where his daughter died, the other is an inconsequent young girl who goes there because she is all about darkness and sad indie music. It starts out as a coming of age drama and a buddy comedy. But then it gets darker and darker – up until it becomes something of a John Carpenter-inspired thriller.
It was shot in B&W and I think it will be a very unusual film.
Your shorts tend to involve a blending of horror with dark comedy. Can we expect something similar for your first feature?
Yes – I'm very much into genre crossovers and on one side I love horror movies and horror storytelling, but on the other I can't help but to have characters who talk a lot, argue a lot and make crazy choices. It's a bit of a Portuguese thing – we're very light hearted people. The Forest of the Lost Souls is about loss and sadness, so it is a bit darker than the shorts.
Shorts like Survivalismo and M is for Macho also have a singularity of time and place while suggesting a wider story beyond what we see – something implied in the former work by the man's confessions, and in the latter by the presence of zombies. Does your new film use the extended running time to explore multiple settings or is there still this focus?
When we (Anexo 82) decided to move into feature films with The Forest of the Lost Souls, it was mostly because we wanted to tell larger stories, showing consequences and how the events changed the characters' lives. You can do this with a short – but usually when we write a short you end up being more factual and less about what happens next. Survivalismo and M is for Macho definitely have larger storylines that didn't make it into what we presented as a short. The other reason was that we wanted to make a film that people who are not into films would watch – it's frustrating but, after twelve shorts, I still feel only other filmmakers watch shorts.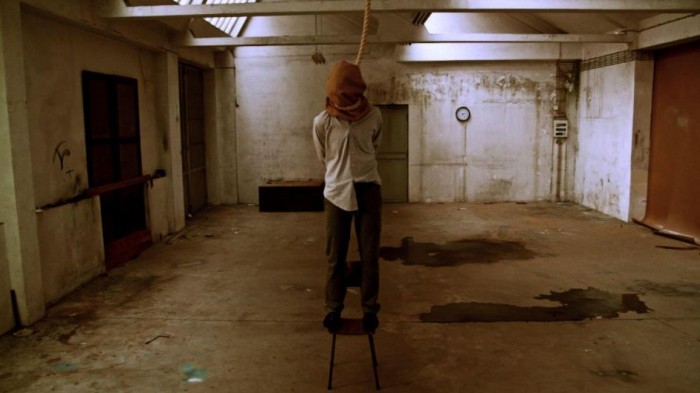 Would you consider there to be an underlying philosophy on life and death that runs through your work?
I actually think there is more a way I see society rather than how I see life and death. Survivalismo and The Forest of the Lost Souls both deal with how evil is always there when it has a chance, and how people do terrible things and live on normally afterwards. M is for Macho also handles this but in a more light tone: how people live and play on, even when the world has already ended.
When there is an earthquake or some disaster, you still have people who sing songs to make someone happy, and you still have some idiot who tries to steal and take advantage. So I guess these films have been about this: how people live on in the wake of terrible events, in a positive or in a negative way.
What was the inspiration for your short, Survivalismo?
Survivalismo was written in 2011 when I was attending an event called European Short Pitch in Strasbourg, where my producer Ana Almeida was pitching to financers her short Video Store (that was made in 2014). After hours of watching filmmakers on a stage pitching ideas, I had the idea: what about a Saw trap (from James Wan's horror classic) with someone who has to talk their way out of it.
The idea of including the five stages of grief came afterwards as we were prepping to film, but it is actually the thing I like the most about it.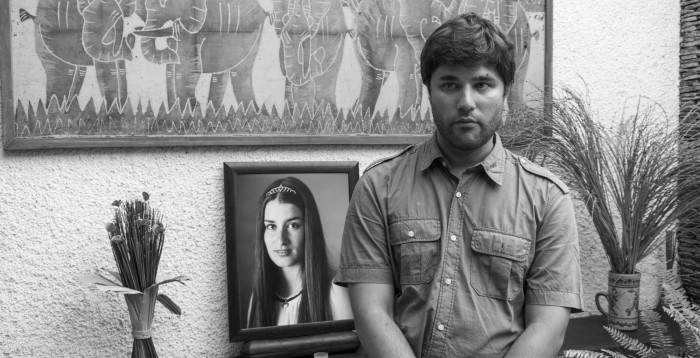 It's a short that makes for tense, uncomfortable viewing. In your experience, did it prove divisive with audiences?
I saw it in about ten festivals, two of them outside of Portugal. Visually, on a big screen, it is a very uncomfortable film, but very nice to watch as it is very still and visual. Portuguese audiences actually react to it as more of a comedy towards the end – while in Spain when I saw it, people felt it was a pretty sad ending.
I think this will be the case also with my feature The Forest of the Lost Souls. There are things there that will appear fatalist in a funny way for Portuguese audiences, and in a sad way to everyone else. We're the country of 'fado' music, so we're very into fatalism.
 Are there any other filmmakers working today who you'd compare your style to?
I don't feel confident enough – or that I have the experience – to draw comparisons. But there are filmmakers that inspire me, of course. I love John Carpenter, as is obvious, but I was very excited with recent movies such as Jennifer Kent's The Babadook or David Mitchell's It Follows. For my feature, the main inspiration was Sabu's Miss Zombie.
Watch the teaser trailer for The Forest of the Lost Souls here.
Watch Survivalismo free on FilmDoo.com.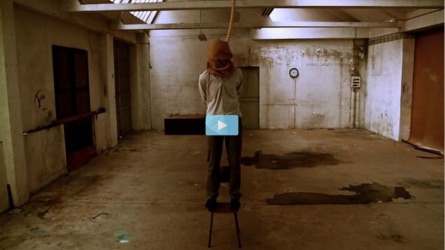 Find more shorts on FilmDoo here.