By Sharon Calingasan
Cockatoo is a light-hearted comedy about a man who is still coming to terms with his failed relationship.  On the sixth month of the breakup, he decides to hire somebody from the Reality Dreams agency to pose as his former girlfriend in the hope of fixing some yet-to-be-resolved issues. The short's strength comes not only from its unique plot and savvy dialogue but also from its actors who are distinctly brilliant in playing out their respective roles.
Let's get to know more about the film and the man behind its success, director and writer Matthew Jenkin.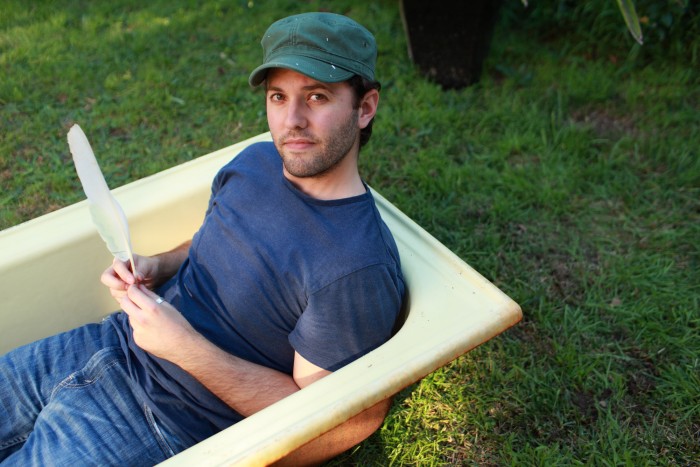 It is very inspiring to know that aside from directing this film, you were also the one who wrote it.  What do you like doing more, writing or directing?
I love doing both but if I had to pick one I'd probably say directing. I enjoy the collaborative process with the actors and the heads of department and you have to think on your feet from the moment you arrive on set to the moment you pack down.
Why did you specifically choose the bird cockatoo? And not a pet dog or cat perhaps?
The story Melanie tells to Michael about her client needing to "˜find another bird' played as a metaphor for Michael's journey and using the old expression of referring to women as "˜birds' (It's a very Australian expression). I chose a cockatoo because I wanted the bird to be noisy so I could get the sound gag in where Melanie squawks loudly. I think part of me also wanted to see if Matilda could impersonate a cockatoo, purely for my own entertainment!
Is there any inspiration that led you to write this interesting short film?
The inspiration for the story came to me after I read an article about a personal services agency in Japan where men could hire women to pretend to be their wives in preparation for married life, as many couples don't live together de facto. It was purely a non-sexual arrangement and I found the concept fascinating. So I explored other reasons why someone would want to hire someone and I recalled a script I had written 10 years earlier about a break up and the main character's inability to move on. So I meshed that old script with this new concept and Cockatoo was born. I had just met Matilda a few weeks before this and we discussed working together so I wrote the role specifically for her.
As much as we have our own favourite scenes, what would be your favourite part of the film?
My favourite scene would be toward the end, where Melanie apologises in character to Michael. Alan and Matilda's performances are sublime.
Being an actor yourself, did it in any way help you in making sure that the three characters were attuned to their roles?
I'm actually not an actor! I have appeared in some things but purely due to necessity (ie. no budget) or as favours to friends. But in terms of the actors, I find the best approach is all in pre-production. I sit down with each of the actors and we discuss in great detail every aspect of the character. I feel it's important to allow the actor to bring their ideas and I just mould and shape it a little and once they've got it down, I sit back and enjoy watching them work.
How was it working with Matilda Brown, Alan Dukes and Kate Worsley?
The cast are brilliant and I'm incredibly lucky all three of them responded to the script and were available. I had seen Alan in a play seven years before we filmed and I said to myself that one day I was going to work with him. I wrote the role of Michael specifically for him. And Matilda is now one of my closest friends and we've worked together many times since. It's been a real blessing.
Little Old Lady and Family Values were hilariously tasteful, just like Cockatoo. Can you say you are a natural when it comes to writing comedies?
That's very kind of you. I love writing dialogue. I love sharp wit and quick remarks so writing comedy seems to come naturally to me. I generally try to find humour in all aspects of life so it seems to flow into my writing more often than not.
Could you name one or two filmmakers that you consider great influences?
The Coen Brothers – the way they can shift genres and master them is inspiring and their ear for dialogue, particularly with their comedies, is outstanding. And Paul Thomas Anderson. He is the master.
Cockatoo garnered many awards from prestigious film festivals. How has the impact and the positive response from critics and viewers affected you? Was there any pressure on your part with regard to the succeeding projects?
The positive response has been overwhelming actually! It's wonderful that it had a successful film festival run but since it's been online, it's had a bigger, second life. It's been viewed in over 200+ countries around the world and still gets regular hits. It's truly incredible! Yes, there was pressure but only what I put on myself, which I always do with any project I make. I always want to improve, I want the films to be better, I'm always striving for more which motivates me to tell better stories. So self-imposed pressure or expectations is good, I believe.
Please share something about your upcoming projects/ films.
I've just completed a dark dramatic short film called Stye which we're currently entering into film festivals at the moment. It's a far cry from the comedies I usually make. It was incredibly ambitious (about five times the budget of Cockatoo) with a much bigger cast and crew and I'm really proud of the end product. Hopefully it will make its festival debut mid this year. And I'm hoping that we'll do a second season of Let's Talk About this year which Matilda Brown created (watch the trailer for the first season here). I wrote and directed several episodes last year and we're currently working on getting some financing in place to make that happen, so fingers crossed. Plus I have a few ideas I'm trying to flesh out and see where they take me.
Watch Cockatoo free on FilmDoo.com.
Find more shorts on FilmDoo here.
Find out more about Matthew Jenkin and his production company Ninja Milk here.