By Lauren Hurrell
Directed by Takeshi Kitano
One of the director's only films in which he does not make an acting appearance himself, Dolls is a highly stylised Japanese art film that is written, produced and directed by Takeshi Kitano.
The story follows three unique narratives that are vaguely weaved into one, simply by the appearances of the respective characters within the same scenes. Their stories, however, are unrelated. Whilst this seems to cause a narrative disjunction at first, it allows us to meet several unique individuals who, as a common occurrence in Kitano's films, are received with much affection as we partake in their emotionally twisting relations of the past.
We are introduced into the story with a performance of Japanese Bunraku theatre in the first sequence, which then closes on a lingering shot of two traditionally dressed male and female dolls, an image which does not hold much significance to us, yet. This image then fades into a human couple who walk beside each other beneath a vibrant canopy of cherry blossom, instantly demonstrating the impressive cinematography that is maintained throughout this film; the vibrant colouring of Japanese maple leaves later in the film brings out, and contrasts with, the colours in the elegant, traditional clothing worn by two of the main characters. There are also long, elegant shots that freeze the mountainous landscapes as a stunning backdrop for our characters where, despite an absence of dialogue in these scenes, we are still being sensually stimulated; as well as the intense silences in acting, these spectacularly visual scenes are frequently paired with sensitively provoking music that we notice continually in the film's background, and emphasises the catharsis of the film's story.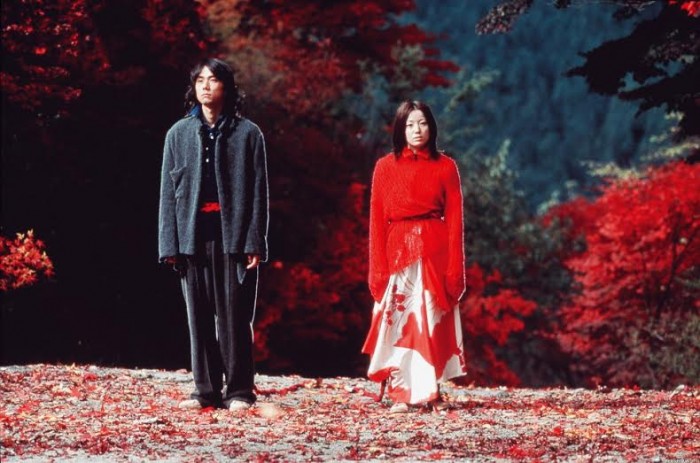 Curiosity is raised instantly in the early sequences when we realise the two figures are attached to each other with a loose red rope. One of these figures is our first main character, a young man named Matsumoto (Hidetoshi Nishijima) who rejects his engagement to his fiancée, Sawako (Miho Kanno), to marry the daughter of his company's president. However, his literal attachment to his former fiancée is a response following Matsumoto's decision to take her out of hospital and run away. Her semi-vegetative state, a consequence of her recent suicide attempt, makes their journey difficult due to her unpredictable behaviour, which reveals a conflict of emotions within each of them as their story from the past is revealed to us.
Another of our main characters is also a young man, named Nukui (Tsutomu Takeshige), who is obsessed with the beautiful Japanese pop-star Haruna (Kyoko Fukada). His obsession takes him so far as to make a great sacrifice in order to meet her. The third less pivotal story follows an aged yakuza (a member of transnational organized crime syndicates originating in Japan) named Hiro, (Tatsuya Mihashi), who tries to meet a girlfriend from his youth.
The film seems to take on a cyclical structure where images from the beginning of the film are transposed into similar forms in the ending to provide us with a complete understanding of these relationships. Furthermore, the chronology of events in which we learn about these characters' relationships is fragmented between the narratives in reverse order. This causes us to revisit each narrative throughout the film with more emotional weighting each time as the present state of the protagonists' relationships with others are contrasted with the past, and reveals changes that move us or surprise us with an added sense of nostalgia, which seems to be a central theme of the film, as well as the stasis that emphasises a nihilistic philosophy, a common concept expressed in Kitano's films.
Watch Dolls on FilmDoo.com. (UK & Ireland only)
FilmDoo Also Recommends: