By Lauren Hurrell
Directed by Omer Fast
Berlinale review
"We've had this conversation before, don't you remember…?"
Based on the cult novel by Tom McCarthy, Omer Fast creates this gripping adaptation which will have you shuffling closer to the edge of your seat, testing your concentration as you begin to question our central character's decisions throughout, and what you know about him.
Our intriguing male protagonist, played by Tom Sturridge is a young, seemingly reclusive Londoner who has his memory snatched from him following a curious accident where he is struck by fallen debris from a glass ceiling.
He wakes up from a coma to find that he has been offered £8 million in compensation. However, in order for the deal to be sealed, he must drop any legal charges regarding the incident in return. Newly wealthy, he decides to put this fortune towards his new, obsessive interest in reconstructing past events that appear to him in fragmented, vivid images for forensic observation, for which he hires the well-connected Naz (Arsher Ali) to manage the process. He also buys a London apartment block which he fills with a recruited cast who are paid to re-enact the roles of his neighbours. Here we realise the obsessive nature of our main character, for the way that his attention to detail is explicitly expressed, even to the extent that he insists on cats being cast to sit on the neighbouring roof just as he pictures in his mind, and each cast member must re-enact the exact mundane routines and tasks that his neighbours would carry out. The cast must be ready to pause, rewind and repeat said movements; whatever our nameless main character demands.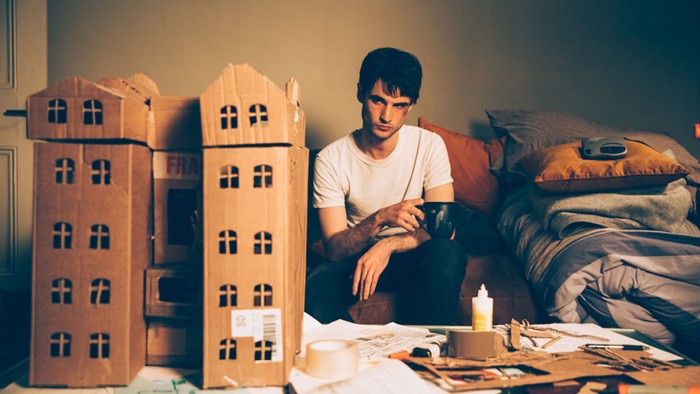 We are constantly unsure as to whether these allusive scenes he recreates (or intends to trigger into his imagination once more) are real memories from his own past or constructions from his imagination, which adds to our developing curiosity of the plot. As particular scenes, characters and pieces of dialogue are repeated throughout the story, becoming recurring motifs, we begin to question the reliability of our narrator as his obsession becomes increasingly dictatorial with violent ends.
The tension increases over the course of the film, sharpening our curiosity as we wish to delve into the mind of our main character. The apprehension is intensified in specific scenes, such as the stilted intervals in which the paid cast members in the house are directed to pause their movements, leaving us poised in the suspense.
With moments eliciting both empathy and fear towards our main character's unremorseful behaviour, we see in Remainder a much grittier Tom Sturridge than the modest, endearing role he performed in The Boat That Rocked as seventeen-year-old Carl. In this film, he is demanding, enigmatic and unpredictable; he is likeable but challenging, as is this excellently directed film as a whole. There is a jarring twist towards the end involving a death, but do not be fooled, for the biggest twist arrives right at the conclusion and will cause you to question the chronology of the plot.
To bring Remainder to your region, cast your DooVote here!
Recommended Viewing on FilmDoo: