By David Pountain
Speed Dating, a sprightly comedy short from Meghann Artes, holds a timid energy in its style that amusingly reflects the jittery mindset of a woman straying from her domestic comfort zone in a brave attempt to socialise. With its whimsical production design and dedicated employment of stop motion animation with live actors (i.e. pixilation), Artes creates a spirited reality of outlandish, often unpleasant personalities but inviting sweetness.
Speaking to FilmDoo, Artes discusses the work and the inspiration that went into this unique and entertaining short.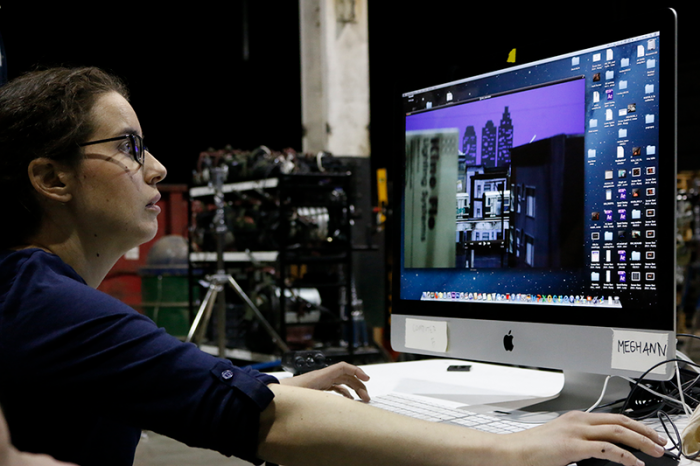 Who would you say were some of the creative influences for Speed Dating's eccentric style?
I think in terms of my style, it comes from a couple of places, but two in particular. I am heavily influenced by the incredible pixilated work of Jan Švankmeyer, especially his penchant for the absurd and the grotesque. And for the look that I like, I really like the work of Jean-Pierre Jeunet, especially Delicatessen and Amelie.
What was the inspiration for applying this style to this particular story?
Well, the story comes first, of course, and then the technique. So it's just a matter of the seed of an idea taking root and growing and expanding out from there. I happen to be fascinated with pixilation and stop-motion right now so a lot of my ideas tend to lend themselves to that technique. I also have a background in live action filmmaking as well as stop-motion animation so I wanted to incorporate both of those styles of filmmaking.  As it turns out, the story ended up with a lot of things that could really be exploited to great effect with pixilation and stop-motion. It's a very hands-on type of animation and a very collaborative process. The crew and the actors also contribute greatly and all bring their own ideas and inspirations. That kind of input can really take the project to the next level.
Is it a challenging process to apply stop motion animation to 'real' people?
Pixilation can be a very time consuming process that really tests your patience. But as difficult as it is at times for the animator, it's probably twice as difficult for the talent. They really have to get into a zen-like focus in order to control their bodies over long periods of time. It's almost like choreographed dancing, but very slowly!  Once you get going though, you get into a rhythm and start to just let it flow.  I've also been incredibly lucky to work with some amazing actors on my projects like Baize Buzan, Michael Woods, Russ Williamson and Thomas Kelly among others.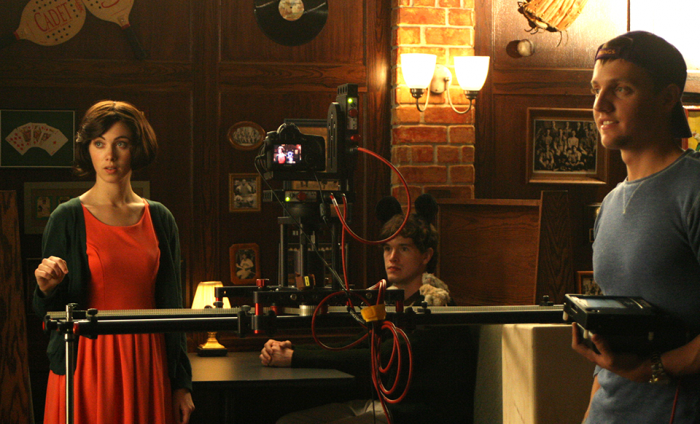 In a film for which every frame is specifically planned, how do you coordinate the art and animation departments to ensure that everyone is artistically in sync?
In some ways, having the film pre-planned out with an animatic actually makes it easier to coordinate those departments because everyone is working from the same "roadmap."  The production designer/art director/set dresser can see what will be in frame and what needs to be ready at what time and the animators know exactly what they will be working with on set and roughly how much space they will have to do it.
Did you draw from any personal experiences in creating the story or characters?
In terms of the storyline, I was at a point where work was keeping me very busy (I had just finished my second year teaching at DePaul University in Chicago) and I hadn't had time to make a film in a while. Looking for inspiration, I called up one of my best friends and began to reminisce about the time we both went speed dating. We moved on to the subject of dating in general and our memories of dates that went less than perfectly. Almost everyone has had an experience like that. I compiled some of our most off the wall stories and then began to put my spin on them. I have a tendency to lean toward the absurd, so my mind just let loose on all the crazy things that people encounter when looking for love.
Are you currently working on anything else?
I've just finished another pixilated short film called Sleepy Steve, which is out playing at festivals now. I love what pixilation allows me to achieve and I'm always thinking of new things that I'd like to try with it. For my next project, I'm currently in the concept stage. It's very early in the process and I don't want to say too much but I can tell you that it's going to be different in tone and style than my previous work.
Watch Speed Dating free on FilmDoo.com.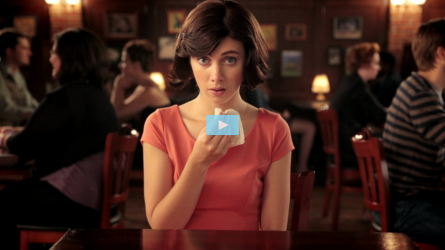 Find more shorts on FilmDoo here.
Find out more about Meghann Artes on her official website here.