By Lauren Hurrell
Directed by Udi Aloni
Berlinale review
"Humus, salad, fries on the side…You like to eat at our restaurants…But when you see too many of us…Coexistence turns into a demographic threat."
Junction 48 tells an inspiring story of a struggle for success which demonstrates music's influential power in the poor Israeli town of Lod, a mixed Jewish-Arab crime-ridden ghetto several kilometres east of Tel Aviv.
The story follows the experiences of our main character, Kareem, a young Palestinian musician, who is played by thirty-seven-year-old Arab-Israeli rapper Tamer Nafar. Having known the 56-year-old director for quite some time, Tamer has teamed up with Israeli filmmaker Udi Adoni to transform his personal experiences into the voice of a new generation of young Arabs.
Tamer was born in the city of Lod, Israel on 1979. Having been writing and making rap music previously, his brother Suhell and their friend Mahmoud Jrere joined him in 2000 to start the first Palestinian-Arab or Arab Israeli rap group, DAM, who write and sing in the Arabic language about social, political and personal issues that are largely influenced by the Palestinian-Israeli conflict and the struggle for equal rights for Palestinians or Arab Israelis inside Israel.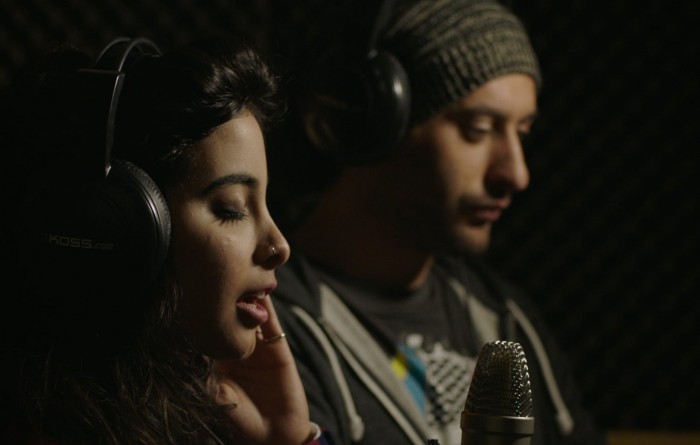 This film follows the same path. Kareem passes time between casual office jobs and often spends his days hanging out with his drug dealing friends. Following a string of events with negative consequences which strengthen the bonds between him and his girlfriend, Manar, Kareem finds refuge in hip hop. Kareem and Manar become inspired to use their songs to fight against the external oppression of Israeli society as well as the internal repression of their own crime-ridden, conservative community that tampers with their desire to live an independent life. It depicts a new generation of young Arabs who seek normality through their love and music against all odds.
At a concert, Kareem's girlfriend Manar's lyrics incite an attack from violent nationalistic Jewish rappers and, in his neighbourhood, the group face government-imposed gentrification and troubled drug-dealing friends. When Manar's family threatens to harm them if she performs publicly with him, the time comes for Kareem to either surrender to conservative tradition or stand up for the woman he loves, the artist he respects.
The urban setting of this important film successfully encapsulates the violence and danger involved in the political and social issues of Lod, making this film a moving depiction of an attempt to change attitudes and create room for a new way of life. Although the ending of the film is strewn in ambiguity, there is a profound sense of hope. As Kareem raps over a packed crowd with intelligent and political, yet vulnerable lyrics, the film concludes on a poignant note as the lyrics resonate between different cuts, revealing the hope and ambition for a new generation of unity.
To bring Junction 48 to your region, cast your DooVote here!
Recommended Viewing on FilmDoo:
(UK & Ireland only)