Written by Eleonora Mignoli
Dir: Ferzan Ozpetek
Watch Loose Cannons on FilmDoo
Ferzan Ozpetek, a Turkish-Italian writer-director, has often favoured homosexuality and its social and emotional ramifications as a central thread of his most famous films. Whether it's a reviving attraction born in the steamy rooms of a Turkish Bath (Hama", 1997), or a wife coming to terms with the discovery of her deceased husband's affair with another man (The Ignorant Fairies, 2001), Ozpetek has the gift of painting delicate frescos where people's feelings and fears ripple against death or revelation.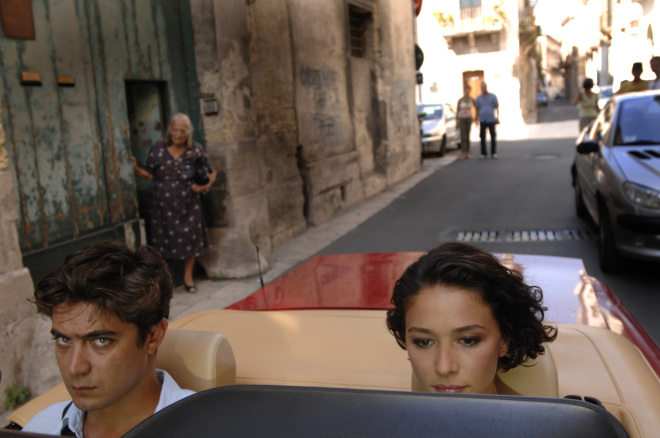 In his 2010 comedy Loose Cannons (Mine Vaganti), we are welcomed into the bourgeois Italian family Cantone, owner of a flourishing pasta factory in the conservative Salento. The story begins with Tommaso (Riccardo Scamarcio), the youngest son living in Rome, returning home with a plan to announce his homosexuality and his desire to be a writer. He's however beaten to the draw by his older brother, the serious and business-minded Antonio (Alessandro Preziosi), who confesses to being gay himself and storms away. Shocked by the news, their father collapses and Tommaso is left with no choice but to lay off his plan and momentarily take the reins of the family business.
The aftermath of the emotional earthquake reveals that the conformism ruling the Cantone family fails to control the true nature of its components. While Mr and Mrs Cantone try their best to cover up the scandal and silence the gossipers, the silliness escalates when Tommaso's friends come to visit and clumsily try to hide their queerness with hilarious results. Heading towards a bittersweet ending, the film is directed with a delicate touch and an attentive eye for the nuances of the soul. Punctuated with vintage music, the story mixes time and places to connect the likelihood of situations, exposing the family's mechanisms as an entertaining and realistic clockwork.
Loose Cannons is a reflection on women's sensitivity, on the different forms of love, from unrequited, to parental, to passionate, and on that seed of folly that, thankfully, seems to inhabit all of us.
Watch Loose Cannons on FilmDoo (UK & Ireland only)