By Alice Pickard
Dir: Céline Sciamma
Award winning coming-of-age drama Tomboy tells a sensitive story through a hugely talented young cast.
Ten-year-old Laure is moving house to a new town with her father, pregnant mother and adorable little sister. It's still the summer holidays and Laure quickly makes friends with the kids in the neighbourhood. However they don't know her as Laure but rather as the boy next door, Mickí¤el.
In the first few scenes, we ourselves are unsure as to whether the family have two little girls or one of each and it doesn't seem to bother the family that their eldest likes to have her hair like a boy, dress like a boy and play with the boys, but they do show their surprise when Laure tells them she's made friends with a girl, Lisa.
The innocent friendship that develops is one we really want to see last but can it when there is such a big secret looming close to the surface?
Kids can be cruel –we all know that, but in this film they also show a mature side and are perhaps more forgiving and accepting than adults would be. That said, Laure's parents are understanding and the challenges they face are clearly illustrated. They obviously love their child and only want what's best for her, but at the same time need to do what's right, whatever that is.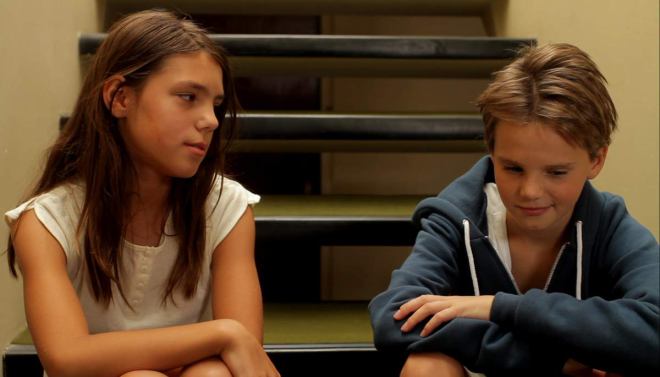 Tomboy seems to highlight how society's obsession with giving labels to everything can be damaging, as sometimes it really isn't necessary an can lead to complications.
Zoé Héran, winner of the Jury Award for Best Performance at the NewFest Film Festival, is brilliant in the leading role, as is her on-screen sister played by Malonn Lévana. The most heart-warming scenes are when these two are together, supporting each other in ways only siblings can. Little Jeanne is proud of her elder sibling whether it be as her sister or brother.
Tomboy has a storyline that raises important issues that minimalist director Céline Sciamma turns into a beautiful film, showing French cinema at its best.
Watch Tomboy on FilmDoo (UK & Ireland only)