by Matej Vujasinovic
Emir Kusturica: "My purpose is to make a movie to make you warm. To give you some heat. Now, this rational world has become a place where only what is cool is good. Do you cut the movie on the basis of the beat of modernity or the basis of the beat of your own heart?"
One of seven directors with two films to have won the Palme d'Or at the Cannes Film Festival. A Serbian film director Emir Kusturica is definitely a very interesting person. Born in 1954 in Sarajevo, he graduated at the prestigious Academy of Performing arts (FAMU) in Prague. He made a spot of himself with his début feature film called Do You Remember Dolly Bell?(1981), by winning the prestigious Silver Lion for Best First Work at Venice Film Festival.  His second feature film When Father Was Away on Business (1985) earned a Palme d'Or at Cannes Film Festival , as well as a nomination for Best Foreign Language film at the Academy Awards.
In 1993 he made his American début with a black comedy Arizona Dream, starring some big Hollywood names like Johnny Depp , Jerry Lewis and Faye Dunaway. However, he didn't really like the Hollywood scene and returned back to Serbia. In one of his interviews he explained "What you have now is a Hollywood that is pure poison. Hollywood was a central place in the history of art in the 20th century: it was human idealism preserved. And then, like any great place, it collapsed, and it collapsed into the most awful machinery in the world. Why don't I see a Frank Capra today? Because people aren't like this any more? People haven't changed that much in 60 years.". As soon as he returned to Serbia he shot the film named Underground (1995), which is his best work winning the second Palme d'Or award.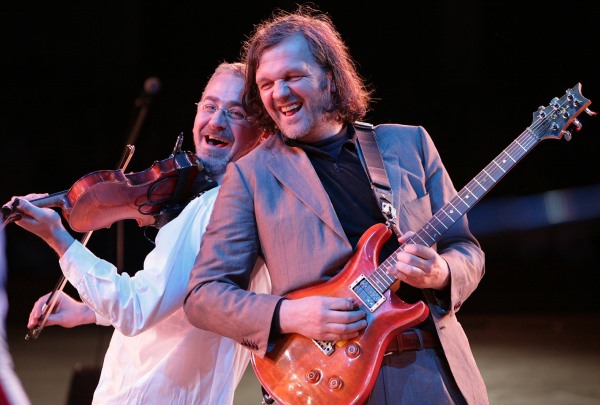 However, Emir Kusturica is not only an amazing director, he is a very well-known musician as well. In mid-1986, Kusturica, already an accomplished film director at the time, started playing bass guitar in Zabranjeno Pusenje, a very well- known punk rock band all around Yugoslavia. Later,  two of the band members moved to Belgrade, while Kusturica and his friend stayed in Sarajevo and did their own band, The No Smoking Orchestra. Both bands are still performing.
He also became a UNICEF national ambassador for Serbia and also organises the private Kustendorf Film Festival in a village built for his film Life is a Miracle.
He was a member of the jury at the Cannes Film Festival and acted in more than 10 films during his career. As he was born in Sarajevo, he refuses to see himself as either Bosnian or Serb, he continues to insist that he is simply Yugoslav.
Emir Kusturica is an all round very interesting person, always thinking with his own head, no matter how crazy it might be. For example in 1993, he challenged Vojislav Seselj, leader of Serbia's ultra-nationalist movement, to a duel. He suggested that it should be in the heart of Belgrade, at high noon (!), with any weapon Mr. Seselj chooses. Vojislav Seselj refused this offer saying that he "…didn't want to be accused of the murder of an artist".
On the 12th May 2012, Kusturica received the Order of St. Sava, First Class, for his selfless care and presentation of the Serbian nation in the world.