Dir: Srdan Golubovic
By Matej Vujasinovic
"You throw a mere rock into water and something happens… Those circles appear"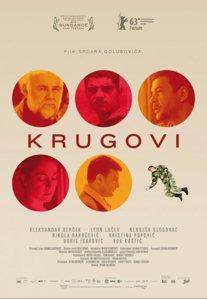 As for when a war happens, it is not just a one time event, and when it passes it's not gone. It stays in people's minds and does not vanish, but grow inside of them. Then generations are unknowingly influenced by the war through the mindset of those who survived it. If you have ever wondered what happens with a persons emotions and what they go through after horrible acts, if you are interested in psychology, you won't regret a single second of this film.
Official selection of 2013 Sundance film festival, Circles is a film inspired by true stroy of a five people affected by a tragic heroic act that occured in a town named Trebinje. Trebinje layed on a Serbian territory during the 1993 war between Serbs, Mulsims and Croatians. After the war most of the Muslims decided to stay in the town , with the events of the film taking place 12 years later. When each of those five people happen to get involved in each other lives again, it reminds them of their horrific shared past. Each of them is throwing a blame on each other, as it is the only way to keep their mind calm. But there is a difference between those who are always trying to do their best, those who just observe and those who did terrible things in the past. Do they ever learn from it? Does their conscious bother them at all, how can they live after they did something horrible? Do they ever realize what they've done, or do they have their own excuses for it? And what would be the best way to give them a lesson? Watch a film to find that out!
What is really interesting is that there are two stories happening at the same time – if you pay attention. Not just the story with those five characters, but their kids as well being affected by their parents past and having to go through unreasonable painful emotions every day. Circles in this film therefore has two meanings; firstly as a circle of people. It seems like they cannot escape each other, as they meet again 12 years later. The second meaning though is a circles that appear in the water. An act happens, a gun shot only once, but generations after suffer from it.
A film that will make you hate the war even more than you already should and that will make you think for a while after watching it. Worth every second of it!