FilmDoo wins at TiE Sydney Pitching Competiton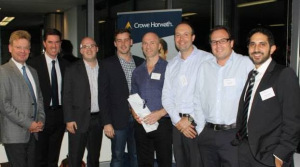 We're very excited to announce that FilmDoo won third place at The Indus Entrepreneurs Sydney pitching event. FilmDoo was one of seventeen businesses presenting their pitches before a live audience on April 17. Faced with some stiff competition and a panel of expert judges, we were thrilled to be amongst the winners.
"We're delighted to win," said FilmDoo co-founder William Page. "It validates our business model and plans of being a niche player for independent and foreign language films in the Video on Demand market. It is a tremendous source of encouragement to myself and our team in Sydney and London, who've been working on launching the business for the past few months. Thanks to TiE Sydney for the support and opportunity to speak".
As FilmDoo continues to grow, events like the TiE pitching competition are a fantastic opportunity to get the word out. We received overwhelmingly positive feedback and expressions of interest, all of which bodes well for the future of FilmDoo. Our win at TiE Sydney is a great sign of things to come!