By Giulia Baroni
Sometimes we thank Mother Nature for things like the beauty of a sunset or the colours of a rainbow, but we should also thank her for giving us Raoul Bova. Born on August 14, 1970 in Rome, young Raoul was a rising star in competitive swimming, but he dropped his sports career (Ringrazia dio!) to pursue acting.
His first appearance on the screen was in the 1992 movie Mutande Pazze (Crazy Underwear) but his first big success was a year later, with Piccolo Grande Amore.
In the 90's, Bova starred in Italian films (Milano Palermo solo andata, Il Testimone) and TV-movies (La Piovra). But it was impossible for someone like him to be confined to Italy, and in 2002 he started to work in American productions, first with Stallone in Avenging Angelo, then with Diane Lane in Under the Tuscan Sun, and in 2004 film Alien vs. Predator.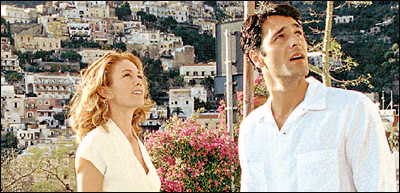 Beauty – oops, I mean "Bova" – has worked with international directors such as Ferzan Ozpetek (Facing Windows, 2003) and Florian Henckel von Donnersmarck (The Tourist, 2010).  Despite his roles in international movies, he remains dedicated to the Italian cinema. According to him, "Hollywood is a jungle: while in Italy everything is still human. Over there, they give importance to the camera, your wallet, everything is based on your appearance and on what is more convenient for the business aspect of movie industry."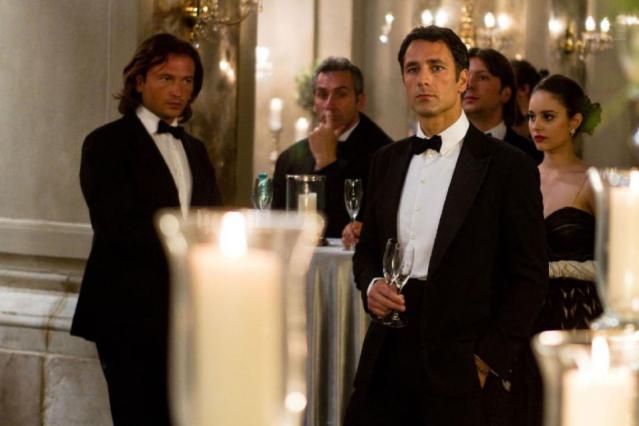 Between 2011 and 2013, he was involved in various Italian projects, acting in films like Immaturi and also TV series as Come un Delfino, playing a professional swimmer. Easy job for someone with his experience and body!  As I said at the beginning, Raoul in his teens was a rising talent in the swimming world.  At the early age of 15 he won the youth national championship in the 100m backstroke and, despite his career as an actor, swimming has always been an important part of his life: "I spent the first 14 years of my life swimming, which is very important to me. Wherever I'm filming I always try to find a swimming pool."
Beautiful, talented, athlete, devoted to his family – Raul is happily married and has three kids. What else? Oh, yes, there is more! Raoul Bova is also very much into charity: in 2007, he made a calendar with fellow Italian actors to help the AIPD (Associazione Italiana Persone Down). He often takes part in the "Partita del Cuore", a football match that helps raise money for various voluntary associations.  He also created an Onlus association "Fondazione Capitano Ultimo"(inspired by one of the characters that he has played on screen), aiming to oppose racketeering by promoting justice and legality.  On October 15, 2010 he was nominated ambassador to the worldwide food association FAO (Food and Agricultural Organization of United Nations).
"Anything I can do to make the world a better place, even the smallest thing, is something that feeds my soul." Ok Raoul, do you want to know something? You definitely make the world a better place.
For more info about Raoul Bova, check out these websites: