Dir: Paolo Sorrentino
Contributed by Oliver Thom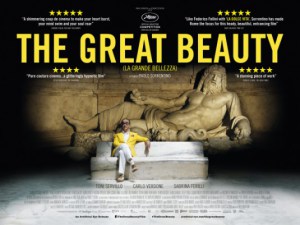 "The best people in Rome are the tourists".
An affecting portrait of a man and his prison, The Great Beauty which premiered at the 2013 Cannes Film Festival,  is an arresting and compelling character study of one time writer and aging, over-sophisticated and out of love socialite Jep Gambardella. "Beauty" is a picture of a detached modern Italy, a satirical profile of Rome and it's moneyed overclass ("What do you do for a job?", "I'm rich." "Great job.") – a circus of guilty self-obsessives who party 24/7 and pursue youth and energy and faux creativity with a near fatal apathy.
And their King is an underwhelmed Gambardella – The writer of a brilliant but now obscure novel (his friends all remember it as a masterpiece) who has spent 40 years as one of Rome's greatest landmarks – a permanent fixture of the city, a human monument to a cripplingly leisured mentality who is smart enough to know it, but too smart to change.
A  construct of Sorrentino and stage and screen veteran (and frequent collaborator) Toni Servillo, Jep is immediately hypnotizing – there is both a sympathy and a reverence for Gambardella that lends to "Beauty's" sometimes vulnerable and sometimes affirming moments, but Gambardella can bite, too – Jep is a painfully sardonic vampire.
Hitting 65, The Great Beauty launches Jep into a winding and emotionally layered "˜Passeggiata' – an evening walk through a disconnected series of vignettes of the human experience – love, friendship, spirituality, mortality, regret and ("the most important") roots. Jep takes his stroll with humour and sincerity and vulnerability and melancholy, always watched by Rome; the beautiful and eternal city. Lost lovers die and new lovers arrive, friends reappear and friends disappear. Perhaps some patience is required to navigate "Beauty's" 140 minute runtime, the film's later scenes all seemingly ending with a sense of a final resolution, but there is a gratifying weight in its wisdom.
The Great Beauty is in every frame and note beautiful but never shallow, and its soundtrack only heightens the emotive pureness of the images. Baroque filmmaking by definition, Luca Bigazzi's cinematography is perfectly measured sensuality. The camera moves like a fly on the wall with the eye and touch of a great artist, but it also knows when to stop. Rome the city is beautiful, yet it is populated by a creative elite who do not deserve her. Rome is everything, and hidden somewhere inside there is that moment of great beauty, that moment of sweet inspiration for those that look that can justify it all.
The Great Beauty won this year's Academy Award for Best Foreign Language Film, as well as the BAFTA (The British Academy of Film and Television Arts) and the Golden Globe in the same category.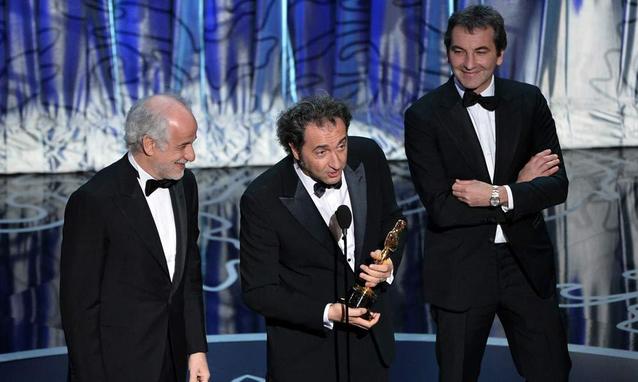 Director:  Paolo Sorrentino
Screenplay: Paolo Sorrentino & Umberto Contarello
If you want to know more about Italy's Academy Award wins, check out our Trivia.