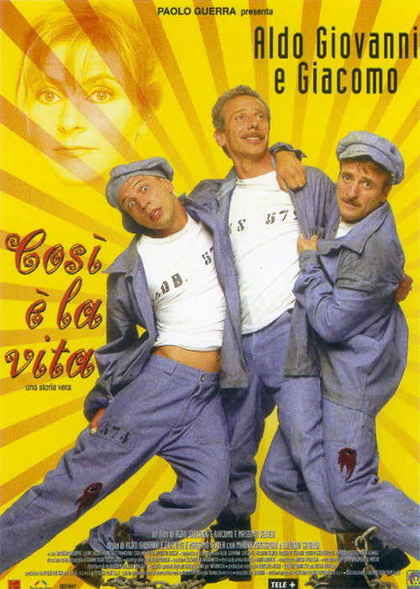 Dir: Aldo Baglio, Giacomo Poreti, Giovanni Storti and Massino Venier
Review by: Monique Rossi
Così è la vita – That's life, a typical expression used when things don-t exactly turn out the way we planned them and quite frankly there is nothing we can do about it. Pretty funny, right? Well, maybe not when it happens to us, but as the central theme in this Italian comedy by Comedic Trio Aldo, Giovanni e Giacomo, I can assure you it is nothing but hilarious. A brilliant story full of humour, heart, adventure and hope that will leave you grinning from ear to ear.
The story follows the lives of Aldo (Aldo Baglio), a thief currently in jail for credit card fraud, Giovanni (Giovanni Storti) a married children's toys inventor, and Giacomo (Giacomo Poreti), a wanna-be novelist and a police officer. Their encounter happens by chance one morning: while Giacomo is escorting Aldo to hearing, they get stopped by Giovanni, who wants to report a theft. Giovanni invites himself into the police car, and in a quick turn of events, both the police officer and civilian find themselves kidnapped and taken hostage by Aldo. It is here where the adventure of a lifetime begins, as the three embark on a remarkably eventful road trip.
The movie takes you on a sidesplitting journey as the trio encounters all sorts of situations from delivering a baby, to finding love, and ultimately being mistaken for dead after a car explosion. The three fated strangers soon realize they are in this together, and a friendship begins to blossom.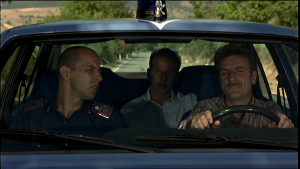 The script is flawless, with every joke timed to perfection. Aldo, Giovanni and Giacomo are animated vivid breaths of fresh air, bringing this incredible story to life and allowing you to appreciate the humor, even if you may not understand Italian. As a road trip movie, we can most definitely appreciate the exquisite scenery, with most of the outdoor scenes shot in the Abruzzo's biggest national park, Gran Sasso and Monti della Lega.
This film is one of my Italian favourites of all time: it's radiantly funny, witty but most of all, full of heart and hope. It leaves you seeing the beauty in life, perhaps making you realize that we can't control everything, and sometimes that's OK.
Don't miss the great opportunity to watch Così è la vita in original language with English subtitles right here in London, at the Rossocinema night on May 19th at the RossoPomodoro Italian Restaurant in Chelsea.  Click here for all the details.