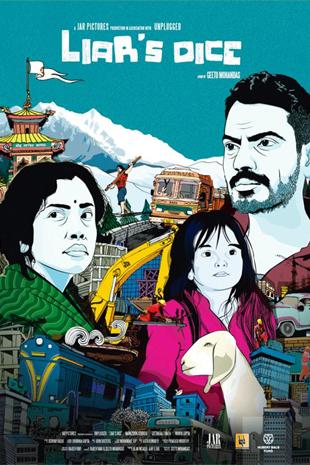 Having premiered at Sundance Film festival this January, actress-writer-director Geetu Mohandas' first film Liar's Dice is – like the lead character – intelligent, quiet, and moving.
Starting off in the mountainous Indian region of Himachal Pradesh on the Indo-Tibetan border, the film follows Kamala (Geetanjali Thapa) as she defies the advice of the village elders, setting off for Delhi with her young daughter (Manya Gupta) to find her husband Harud. Since he has gone to the city some months before to look for manual work, Kamala has not heard anything from him. A chance encounter on the road has her reluctantly accept the company and protection of gruff, short-tempered but steadfast Nawazuddin (Nawazuddin Siddiqui), an army deserter heading for the anonymity of the metropolis.
The entrapping effect of a male-dominated culture is powerfully and subtly woven into the film; Nawazuddin is cruel and difficult company, but Kamala must put her trust in him to navigate her through social and sexual pitfalls, and his sharp divide to the male/female experience is only doubled by one on urban/rural Indian norms.
However, the clearest critique in this film is aimed at the booming construction sites and cheap labour markets of the "Asian Tiger" economies. The human cost of migration to cities and that of unsafe, illegal manual work that often results in a terrible price for the worker and their family is dramatised with nuanced, thoughtful clarity in this impressive debut from Mohandas. Young actress Geetanjali Thapa and "The Lunchbox" (2013) star Nawazuddin Siddiqui make for an especially strong duo with their dedicated performances in this great foreign arthouse choice.