This piece was originally published by Caterina Melona of Connecting Founders.
FilmDoo, today one of the world's largest independent and international movie catalogues online, originally started out with the goal of satiating cinephiles around the globe with a wide catalogue of art-house films and independent cinema, as well as offering a more inclusive outlet for emerging film makers to distribute their stories to an international audience.
Five years after its official launch at the 2015 Cannes Film Festival, FilmDoo now plans to disrupt the USD 60 billion language learning market with its game-based edutainment platform FilmDoo Academy, which helps learners around the world to leverage international films, AI and game technology for language learning.
"We [realized] that we could go beyond the film route and create something very powerful and engaging with our wealth of cinematic content. We have an ideal platform for international language learners," says FilmDoo founder Weerada Sucharitkul.
"We use the power of cinema to address one of the greatest educational needs in the 21st century: helping people learn language in an easy, enjoyable, and affordable way. Currently, the biggest challenge in language learning is low student engagement and FilmDoo provides the solution for that."
While watching films, users can play games and quizzes to test their language skills. They receive recommendations by language level and will soon also be able to play dubbing games over the film scenes.
"We are leveraging the power of technology for language learning and we are fundraising to be able to bring in more technology resources," Weerada explains. Some of the educational features in development are: dual screen functionality, smart subtitles, AI-driven content recommender by language level with API access, easy integration with any Learning Management System to work alongside educational partners' current learning program, as well as a simple-to-use course authoring tool for teachers.
Backed by SFC Capital (previously Startup Funding Club), a leading early-stage investor in the UK, Seedrs crowdfunding investment platform, and several media and tech angel investors, FilmDoo was also awarded a €500,000 grant from the European Union under the Creative Europe Media Programme to further expand its edutainment language and cultural learning platform across Europe.
FilmDoo Academy is now focused on expansion across Asia and the US driven by B2B partnerships with language institutes and corporates – but its appeal is also to self-employed independent tutors who want to create film-based language courses and any individual language learner who enjoys film.
Ted Hope, the former head of Amazon Studios and well-known producer of famous films such as 21 Grams said it best: "Movies have a unique capacity to create empathy for people and actions we don't know or have not experienced." It is for this very same reason that films are perfect for language learning and are the missing link that takes a learner all the way to fluency.
Films help learners to understand the cultural and social context while creating a positive emotional connection with the language and thereby helping to raise student engagement and accelerate their language acquisition, which has been demonstrated by pedagogic best practices.
WHAT IS FILMDOO ACADEMY?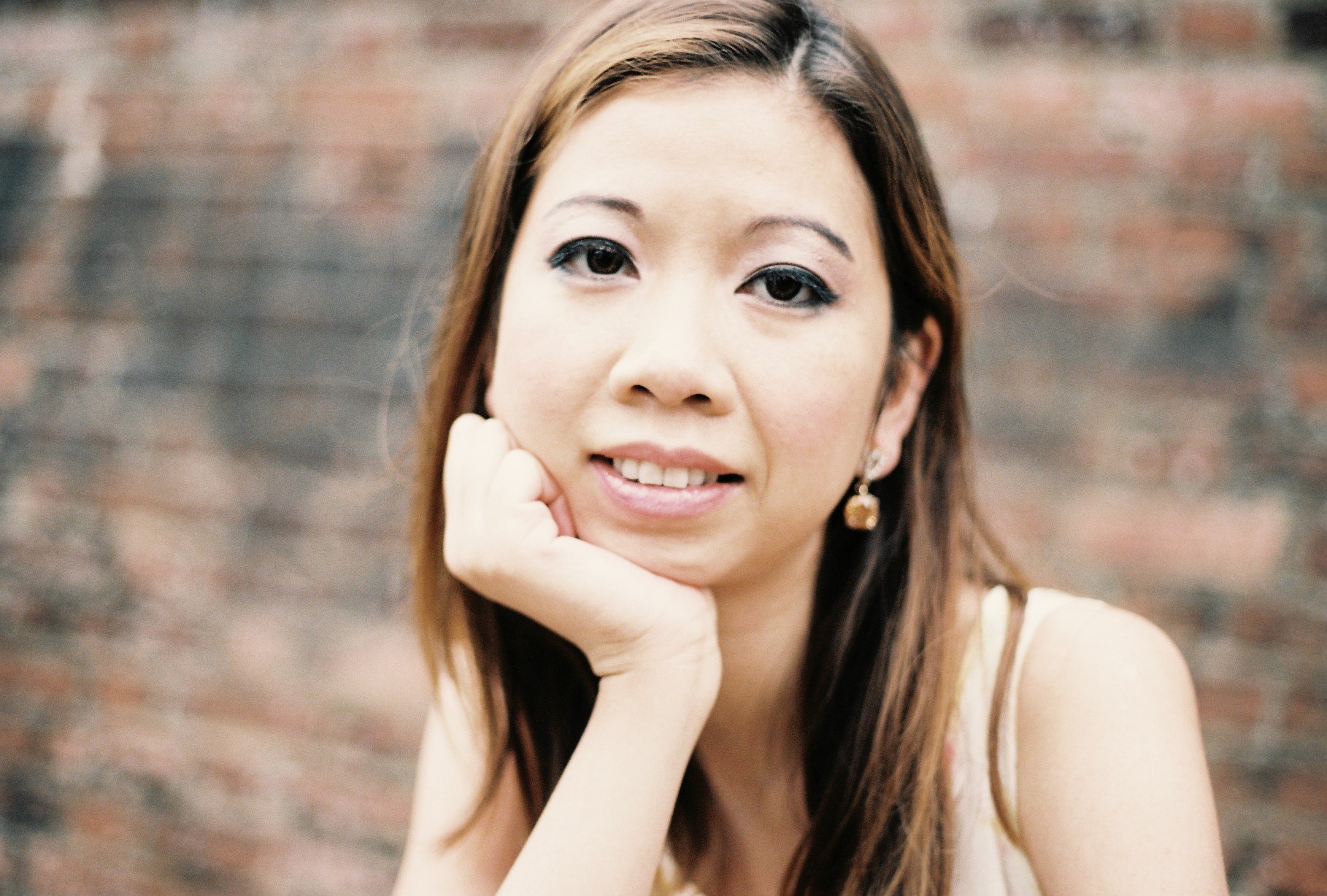 Over the past five years, FilmDoo — whose name was inspired by the Thai word "Doo" which means to look or watch — has secured distribution agreements with 1,300 filmmakers around the world. Now offering more than 3,000 films in 35 languages, FilmDoo has over 260,000 users from 194 countries. The platform has also grown a robust network of industry partners and B2B clients across the globe, including Amazon Prime, Huawei Video, BFI Player, Littlstar and numerous leading language institutions across Asia, Europe, and the US.
The company is now capitalizing on the massive demand for high-quality, effective edtech solutions to improve access to English language skills across Asia at affordable prices.
"Asia is a $170 billion-strong edtech market. Indonesia, Vietnam and of course China and India have some of the fastest young, growing populations. Asia is also home to seven of the top 10 fastest-growing e-learning rates in the world, so Asia is a very strong focus for us," she explains, saying that having an Asian strategic investor will be key to help drive their growth in the region.
Weerada enthusiastically highlights the globally applicable nature of the platform, which appeals to students of any language. "Part of what makes this so powerful is that our platform is not specific to any one language – English and Mandarin are of course in high demand but we are also helping people learn many other languages, either for work, pleasure, or to keep in touch with their family heritage," she elaborates.
Ultimately, the platform's tools are not limited to language learning and could help revolutionize the learning for other subjects as well. "The tools we've developed can also be used beyond language learning. They can also be used for subjects like history and geography. So it allows parents, teachers and tutors to create interactive learning material from any film or video!" she says.
With the launch of FilmDoo Academy earlier this year, the platform's game-based technology is now available to learning institutions, professionals, and corporates wishing to turn any video and film-based content into engaging learning content.
WHY WE'RE EXCITED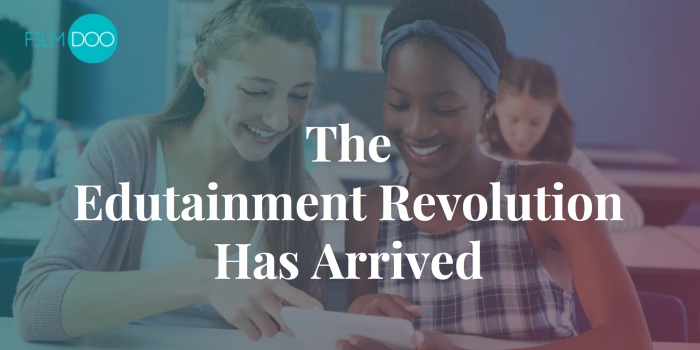 FilmDoo has won multiple accolades for its innovative approach to film distribution. In addition to the half-million Euro grant from the EU's Creative Europe Media Programme, the team has also been invited to pitch at multiple events, becoming the finalists at Launchpad Shark Tank pitching competition in Washington DC last year. Most recently, FilmDoo was selected as a finalist in the EWC (Entrepreneurship World Cup) Thailand National Competition.
FilmDoo Academy's launch this year comes, coincidentally, at an opportune time with many parents and educators forced to take education online almost overnight. The growth of homeschool and the need for parents to entertain their kids at home mean that the tools such as those offered by the platform will be very useful.
"The trend is bigger now; post-Covid, schools need to get online. Student engagement is a big industry need. The world as we know it has changed and shifted to online, which is the new norm. And we need new online tools to adjust into the new normal," states Weerada. "Learners now expect to be entertained, while viewers expect to learn something. The way we learn has changed and the edutainment revolution has arrived."
Weerada emphasizes the power of international cinema to address cultural barriers and speak to the growing need for diversity of thought and inclusive action in an increasingly polarized world. FilmDoo also has its CSR arm, DooDiversity, to help foster diversity in workplaces through film.
"Right now, politically and economically, people are fighting one another. Nationalism is on the rise. The one thing about films that I love […] is that it really connects you and helps you relate to other cultures and people different to yourself. It allows people exposure to underrepresented voices. Our core mission has always been about connecting people through film — that's why I'm excited, because right now, I feel like what we're doing with the edutainment platform at FilmDoo Academy is relevant more than ever [given the current political climate]," she shares.
A GLOBAL COMPANY WITH A LOCAL MINDSET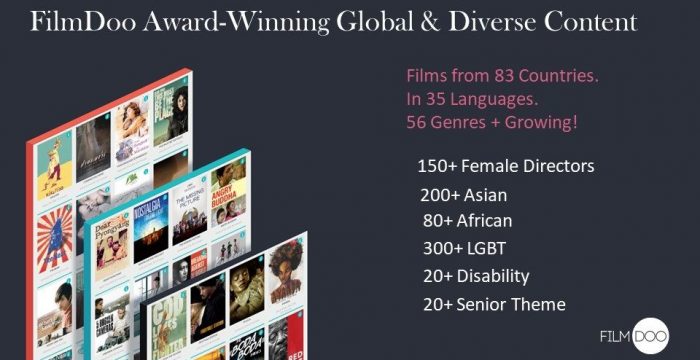 Having lived and studied in eleven countries across five continents, Weerada launched FilmDoo to bring together the three things she's most passionate about: cinema, technology and language learning.
Explains Weerada, a Thai female entrepreneur with a strong background in technology, "We've always been a global company from day one but we're also very local. Our ability to connect with local cultures is key. Our film platform showcases diversity, and also gives us a platform to explore deeper themes such as inclusion of marginalized groups in film and commoditization of culture in the modern world."
Weerada herself had the genesis for FilmDoo during her time in Thailand in her last two years of high school. "FilmDoo would not exist without the Thai arthouse film theatre Scala. Going to the cinema is so much cheaper in Thailand, which is why there is a really strong interest in cinema and a thriving arthouse film subculture in Bangkok when I was growing up — even stronger than in the UK or the US where many non-mainstream films found themselves with limited chance of getting theatrical distribution."
"It's really sad to see many old school cinemas in Southeast Asia like Scala Theatre, now-defunct despite its cult following, not being able to go forward. The fact that I am building a global film platform today all started from the historic Scala cinema which finally closed its door in July this year after just over 50 years. On the one hand, we're developing such modern innovative technologies, but actually I want to pay homage to where I came from, and it was the love of cinema that inspires me to do what I do and to share that with people around the world. I would love to carry forward that spirit in the online world."
Weerada, who has also used discussions surrounding film as a platform to speak out about inclusiveness, shares, "It's quite tough being a female founder…very, very tough. It's very difficult to be taken seriously, especially as an Asian female founder who also faces additional pressures from family and societal expectations. It's important to believe in what you're doing and to have conviction in the purpose that you are working towards."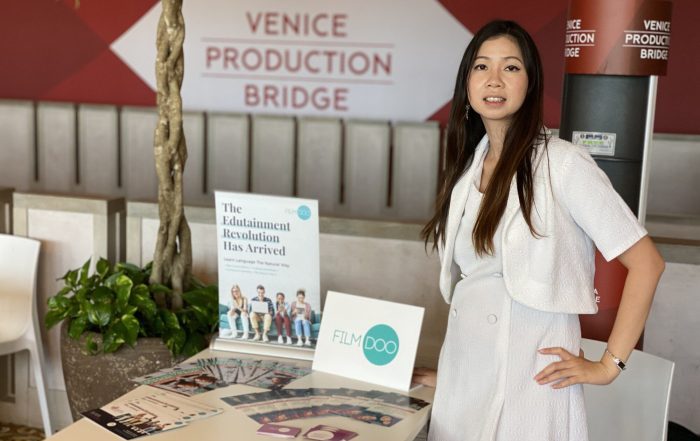 She is confident that FilmDoo will go on to raise this round. "Although in the past I didn't speak up as much and was less involved in business negotiations and fundraising due to expectations of gender roles, I've now learned to take back control of my voice and to know my worth. That's why it's so important for female founders to find their own voice.
"Working with Connecting Founders, I've found they're not just any capital advisor. They focus on supporting female founders because they know how tough it can be as a female entrepreneur; you have to work five times as hard to overcome cultural and sexual stereotypes — even my family doesn't understand what I'm doing sometimes. And if you don't have a background in investment, it's especially important to get a trusted advisor on board who can help accompany you on your fundraising journey — I didn't come from a family with extensive investment background and experience; my mom has a wedding cake business and my dad is a diplomat," she states.
"As you continue on your journey, it becomes even more important to bring on board an investor whom you can go to regularly for advice and strategy. It's important to have a sounding board. Investment isn't just money; if anything, taking the wrong money can introduce different values to your company which could be disruptive. It's about finding an investor who can go on to help you create a much more amazing version of what you're already building today!"
"Film brings all of this together. It's my way of contributing. This is who I am, and it's why what we do is so important and so, so relevant now. It's a very key time for us to get investors, partners, employees as well as people who believe in what we do on board so we can move forward together."
Interested in joining the FilmDoo journey and helping Weerada to build out her exciting edutainment platform? Get in touch at: wps@filmdoo.com