In these past few weeks, the COVID-19 crisis and the subsequent lockdown have created a variety of fresh challenges and opportunities for businesses around the world, and FilmDoo is certainly no exception to the trend.
As we've explained in a series of articles published over the course of this month, online streaming is one of the few sectors of the film industry that has managed to find opportunity in the current international climate. But while the ongoing lockdown has helped drive up interest for the main movie streaming platforms, FilmDoo is now providing an engaging and innovative way to help people learn online, contributing to the current rise in distance learning through our new game-based edutainment platform Esh.ooo.
It has been our plan for a while now to expand into online education through the launch of our new language learning edtech tool. We first made our move into edutainment after noticing that over 80% our traffic was coming from language-related searches. Following a survey to our users – in which over 70% cited language learning as the number one reason they were coming to our main site – we saw an opportunity to repurpose and further build on FilmDoo to allow people to learn languages and cultures through films.
One of the problems many current language learning apps and solutions face is a high drop-off rate due to the repetitive nature of grammar and vocabulary research. However, through both our own research and various other studies, it's been consistently found that audiovisual content, such as films and video, is the one thing most people engage with every day! In fact, people around the world having been learning English through films and TV series for a long time!
That's why we regard film and video as a powerful medium to keep learners engaged, providing a necessary cultural and social context while helping people to understand and appreciate the language in ways that go far deeper than rote memorisation. Coming from an entertainment approach, rather than a pure educational angle, allows learners to immerse themselves more regularly in the desired content to achieve their learning objectives.
Earlier this year, FilmDoo partnered with The Language Flagship to pilot the program across major universities in the United States to help with their blended language teaching. Since then, however, the spread of COVID-19 has forced schools and universities to take their classes online overnight and find new ways to keep their students engaged and motivated. In this new climate, we saw the opportunity to use our edutainment technology to help teachers in ways beyond language learning and expand to other subjects, especially at K-12 level.
By separating our edutainment technology from the main FilmDoo website, teachers, tutors and even parents all around the world can now use the tool to turn any film and video content into interactive course content! We saw this as a great way to help more K-12 schools and universities in this time, as they look for new ways to bring classrooms online and raise student engagement.
And that's how Esh.ooo was born!
The edutainment platform allows for multiple-user and single-player interactions, and can be tailored for both classroom discussions and independent studying. What's more, while users can draw from FilmDoo's vast library of international cinema, the educational tool can also be used for Vimeo and YouTube videos, with other platforms to be added soon.
Check out some of our example courses today!
To help teachers and tutors with their online reaching – and in light of the COVID-19 pandemic – FilmDoo is now offering extended free trials for our newly updated teaching tool. Click here to get your free access today!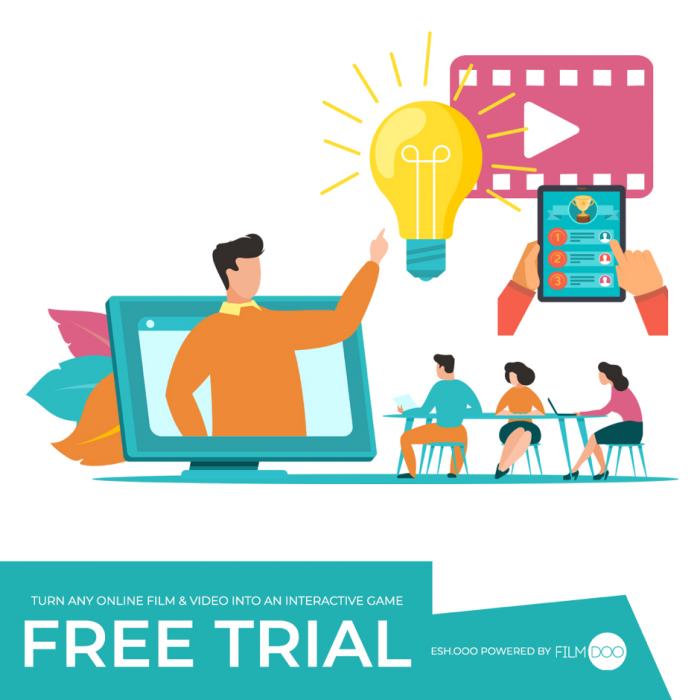 This is our way of adapting to a changing digital landscape and exploring what we can do to help others, using all the resources and technologies we've built to date.
It's an interesting time for us here at FilmDoo, being on the intersection of both Home Viewing and Online Education – two sectors where we are in a key position to make a difference and help out in this new world.
This article was published as part of an ongoing series on the impact and long-term effects of COVID-19 on the film industry.